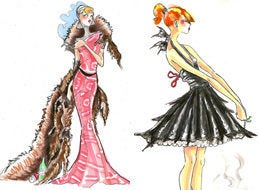 Illustrations by Maddy Simpson.
So, the economy's in the toilet, and we'll all be fighting over cans of Beenie Weenie soon.
But just remember: poverty doesn't have to be inconvenient for those accustomed to the best. Weathering tough times in style just takes a little creativity.
Introducing my satirical feature on Depression-friendly fashion.
Click here to see the entire collection on Slate's new sister website, The Big Money, but a sampling is below.
Because we can't afford champagne these days, we have to resort to the next best thing: gallows humor.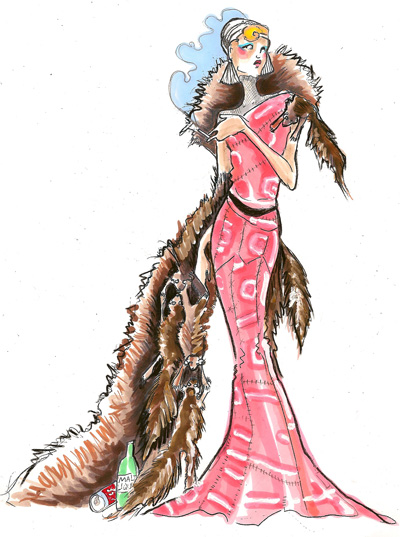 Squirrel stole and restaurant-napkin dress. To help you remember all of those fine meals at La Côte Basque and the Ivy. Both functional and fashionable, the tinfoil turban wows admirers and retains heat in the winter.

Stylish burlap separates. Back to the staples: Rice and potato bags do double duty as the perfect lunch outfit. A clever shoebox purse completes the ensemble.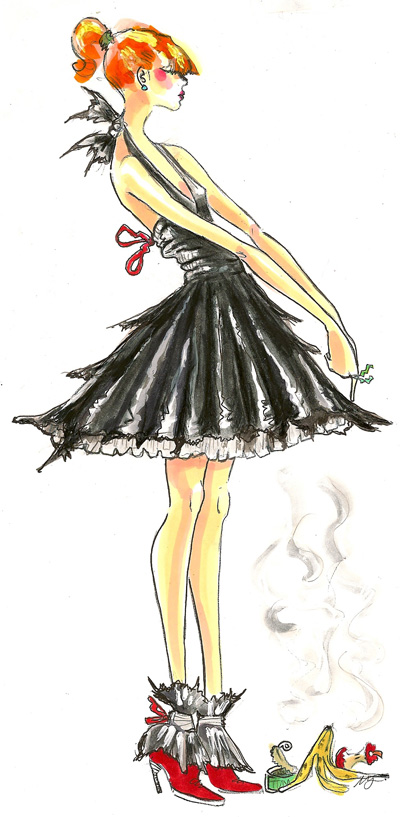 Hefty-bag "Cinch Sack" dress. The Hefty-bag dress--shown here with a girlish newspaper fringe--is an attractive alternative to patent leather. Styling note: Twisty ties make charming rings.


Maddy Simpson is a designer at Ralph Lauren and a freelance stylist.