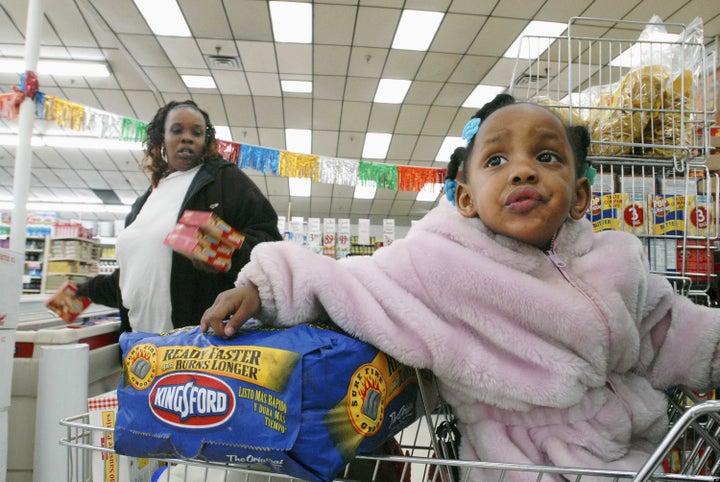 With unemployment remaining high and consumer spending lagging, the economy continues to sputter. To chart the state of the country and the continuing recession as described in Arianna's new book, "Third World America", Huffington Post is compiling a weekly roundup of the latest statistics.
Last week, it was reported that the poverty rate increased by 2 percent during 2009. Among the detailed findings:
45 million people (more than 1 in 7) were living in poverty last year. (Poverty is defined as living at22,025 or below for a family of four.)
The poverty rate increased from 13.2% to 15%, which is the highest increase on record since the Census bureau began recording poverty figures in 1959.
Child poverty jumped from 19% to 20%.
In the 18-64 demographic, poverty jumped from 11.7% to 12.4%.
The hardest hit metropolitan areas are Modesto, CA; Detroit, MI; Cape Coral-Fort Myers, FL; Los Angeles and Las Vegas.
Other numbers that reflect the increase in misery:
The number of food stamp recipients hit 41.3 million in June 2010, an 18% increase over June 2009
The Mortgage Bankers Association said the percentage of newly delinquent mortgages -- defined as at least 30 but less than 60 days in arrears -- fell for three straight quarters last year from a peak of 3.77% but then reversed course this year and stood at 3.51% in the April-to-June period.
One of the factors that is exacerbating the impact of the recession is the crumbling nature of the country's infrastructure, which poses safety hazards to Americans and will cost trillions to repair. According to the most recent American Society of Civil Engineers report:
The number of high hazard dams -- those that, should they fail, pose a significant risk to human life -- has increased by more than 3,000 since 2007, when there were 1,000 dams at risk. (1,819 dams are now in the "high hazard" category)
Seven billion gallons of clean drinking water is lost every day through leaking pipes - which amounts to 23 gallons per citizen per day wasted
One out of 4 bridges are either structurally deficient or functionally obsolete and the current budget of10.5Bn is only half of what is needed just to maintain these disastrous conditions.
According to the most recent report by TRIP, a DC-based transportation research group:
Almost a third of America's major roads and highways are in poor or mediocre condition
US motorists spend67 billion a year for vehicle repairs related to poor roads (324 per motorist)
Worst metro areas, where more than 60% of roads are in poor condition: Los Angeles, San Jose, SF-Oakland, Honolulu, Washington DC
It costs1 to keep a road in good shape for every5.2 needed for related vehicle repair
44% of urban highways are congested, and congestion costs US motorists78.2 billion a year in wasted time and fuel costs
Americans spend 4.2 billion hours a year stuck in traffic
REAL LIFE. REAL NEWS. REAL VOICES.
Help us tell more of the stories that matter from voices that too often remain unheard.