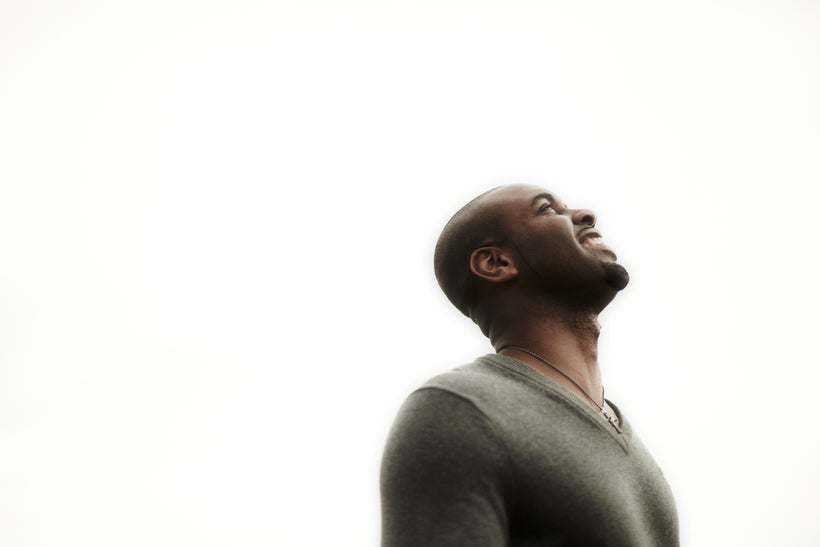 Whew! We are almost at the end of 2016 and if your year was anything like mine, it was full of twists, turns, pulls, and at some points complete halts. However, if you are reading this, you have made it!
As I painstakingly reflect back on all of the Young African American Gay men we've lost this year, it was important that I spoke out about us learning to check in on our community members. We have lost so many of our Brothers to various ailments from Health Complications to Suicide, and even some to the gruesome hands of homicide. I think this is a great time for us to evaluate where we are in life and extend a sincere inquiry about our brother's well-being.
According to studies released earlier this from the Center for Disease Control (CDC) it indicated that "1 in 2 Black Males will be diagnosed with HIV in their lifetime." While this is a huge issue, this is not the only issues impacting Black Gay America. We have to note the fight for social equality, the staggering numbers in depression and anxiety, the lack of socio-economic development, and over consumption of coupling mechanisms or drugs in our community. I'd say we have a great need for learning the importance of self-care.
Since we have uncovered some of the major concerns affecting our community, let's look at Four Reasons why Black Gay Men must start investing in more Self-Care:
1. Every king needs downtime in order to make sound decisions.
No king or ruler ever became successful without taking a moment for self, before evaluating tough decisions. We are often times so overwhelmed with finishing the "to-do" list of life, that we forget about ourselves. We have to pay the car note, buy the groceries, get to work on time, start and maintain the business, be a role model, fix the broken disposal, mow the lawn, try to catch the game, get to the gym, etc... Our plates become so full and normally nothing on that plate suggests "take care of yourself." Before you know it, you are years older and everyone is doing great and thriving, except for you. Take a moment and relax from all of the events going on around you, and enjoy you. Give yourself a break!
2. Lack of Self-Care places your relationships in jeopardy.
Have you ever found yourself snapping at your spouse or significant other because you're overwhelmed with life? It may not have been your intentions to snap, but you did and you may have even taken it a little too far. Maybe you bruised their feelings or worst, you physically lost control and struck them. Yes, unfortunately, this does happen in the worst cases, and it places the relationship in a very complex disposition. Let's face it, no one ever wants to make a mistake that could cause them to end the relationship; yet, most men normally never take the time to whine down. Think about a kettle of water. Water without any heat applied will never boil over. However, when the heating element is maxed out at its highest point, the water will roll and eventually start to boil over. This is the essentially that same metaphorical example we can find in our relationships. We are so busy being busy that we forget that the water in the kettle is nearly boiling over.
3. Your future awaits you.
What's your daily theme song? You know that song that if you hear it; your mood immediately changes for the better? For me, it's "Successful" by Drake ft. Lil Wayne. When I hear that faint beat, my mood changes and I feel like I can do anything. Likewise, you have to build a series of thing around you that make you feel like you can you accomplish anything. It's like the song forces you to recalibrate, relax and reset. How can you accomplish all of the plans and goals you have set for yourself if you don't live long enough to fulfill them? You are promised to live a life of abundance. Your life was predetermined before you were born. Antiquities suggest that the Creator has a plan for you, in fact "...They are plans for good and not for disaster, to give you a future and a hope." Take some time to re-center and take care of yourself, your future needs you!
In the social climate that we find ourselves in today, we have so many people that are looking to for answers to the question, "What Matters the Most?" Is it Black Lives, White Lives, Hispanic Lives, Asian Lives, and the quest goes on and on. I would suggest just as world renowned National Speaker Johnathan Sprinkles would exclaim, "Your Life Matters." No matter what is happening in the status quo, the only person that truly matters to you first should be you. You are the most powerful entity that you have control over. No one can add or subtract your value. Your willingness to take care of yourself is the foremost paramount decision you can make each day. Master teacher Jim Rohn once said, " I will take care of me for you if you will take care of you for me." Essentially, we are responsible for doing whatever we need to do to ensure that we are being the best we can be for ourselves. Then and only then can we help those around us.
Now mister, in the words of my Great-great Grandmother Mrs. Jackson, "Get somewhere and sat down." You are your best asset; ensure that you are investing in it as often as you can. Someone needs you, and you can't be of services if you are out of service. I desire to see my fellow Black Gay Men thrive for as long as possible so let's get back to taking care of ourselves FIRST!
This article is dedicated to my friend the late J'Markus Walker.
Jai Sneed is a dedicated Dating and Relationship Coach. It's his life's work to be a resource of Empowerment and Motivation to Singles and Couples in the SGL/ LGBT Community. Jai is the Founder and President of STAG Singles Professionals Events Firm that provides its members with the Dating Resources, Singles Mixers/Events, also Seminars necessary to achieving their goals in Life and Love. Contact Coach Jai Sneed at sneedjai@gmail.com.
REAL LIFE. REAL NEWS. REAL VOICES.
Help us tell more of the stories that matter from voices that too often remain unheard.
This post was published on the now-closed HuffPost Contributor platform. Contributors control their own work and posted freely to our site. If you need to flag this entry as abusive,
send us an email
.