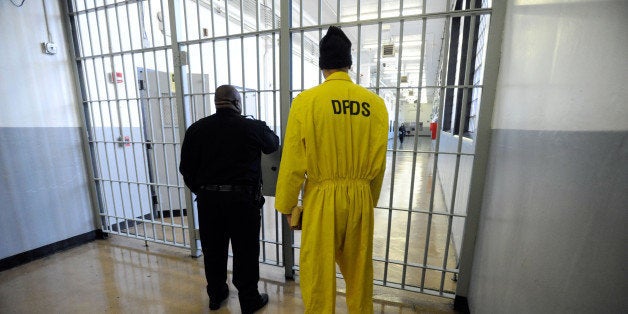 The U.S. has spent an unprecedented amount on incarceration and rehabilitative programs over the past decade, yet the rate of prisoners returning to jail has largely gone unchanged. But curbing those figures may have little to do with additional funding, and more so with tweaking reentry logistics.
According to the Bureau of Justice Statistics, within three years of release, 68 percent of prisoners are rearrested for a new crime -- a concept known as recidivism. But those rates could be reduced if former prisoners were spread out upon release, instead of getting clustered together among a few depressed neighborhoods, according to a new eye-opening study published in the Proceedings of the National Academy of Sciences.
Intrigued by the potential of spreading ex-prisoners prisoners across varied areas, researcher David Kirk analyzed prison data following Hurricane Katrina, which presented a unique research case.
Louisiana, for one, doesn't limit where ex-convicts can live.
And, prior to Katrina, nearly half of prisoners convicted in New Orleans returned to Orleans Parish, Kirk noted. After the hurricane devastated so much of the city, this number dropped to 20 percent as ex-convicts were forced to disperse around the state.
Kirk analyzed one group released immediately following Katrina and another that included parolees released a year later.
He found that for each additional parolee released to a neighborhood per 1,000 residents, the recidivism rate increased by 11 percent.
"Put simply, the alarming rates of recidivism in the United States are partly a consequence of the fact that many individuals being released from prison ultimately reside in the same neighborhoods as other former felons," Kirk concluded.
Upon leaving prison, convicts typically have limited options when it comes to reintegration.
Many states legally require parolees to return to the county where they were convicted or to their most recent residence. Even when they aren't limited by zip code, housing opportunities are scarce, causing many ex-prisoners to congregate together.
In Illinois, for example, half of all prisoners released in 2001 returned to Chicago, according to the Urban Institute. One-third of those convicts resided in just six communities, which were among the most economically and socially disadvantaged in the city.
Encouraging communities of ex-convicts to cohabitate facilitates an environment conducive to committing crimes, according to Kirk.
"Although parole and public housing policies and practices were designed, in principle, to enhance public safety, they may in fact be undermining it," Kirk noted.
However, location alone isn't enough to significantly reduce recidivism rates. In fact, organizations that work to rehabilitate ex-prisoners, often bring convicts together to get involved in empowering programming.
Homeboy Industries, for example, works with young former gang members in Los Angeles and provides job training and placement, in addition to therapy, substance abuse treatment and legal assistance.
"No hopeful kid joins a gang… young people who can't imagine a future for themselves, find themselves gravitating toward gang life," Father Greg Boyle, founder and executive director of Homeboy Industries, said in a HuffPost interview in 2012. "We help them reimagine a different kind of future that plans for tomorrow, rather than planning for their funeral."
REAL LIFE. REAL NEWS. REAL VOICES.
Help us tell more of the stories that matter from voices that too often remain unheard.
BEFORE YOU GO
PHOTO GALLERY
States Sending The Most People To Prison: 24/7 Wall St.