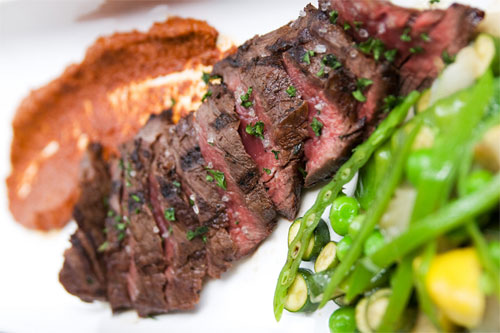 Photographs by Robyn Lee
Traditionally, the Upper West Side of Manhattan has been a place for established chefs to open their first major restaurants. Bill Telepan, Tom Valenti, and Ed Brown all came to the neighborhood to open fairly big, ambitious operations after they had established reputations in other parts of the city. Rarely has the Upper West Side proved to be hospitable to the type of small, young chef-driven restaurant you might find in the East Village or Williamsburg.
But then there's Recipe. David Bank, chef-owner of the fine Thai restaurant Land, took over the adjacent space and brought in friend and partner Shawn Paul Dietzel to run the kitchen. Like Land, it's a very small space--with, it should be said, a memorably cool bathroom. (You'll have to go to see for yourself; some things are better left as surprises.)
Its aim, according to its website, is to be an "intimate neighborhood restaurant featuring rustic new American cuisine inspired by fresh, local ingredients."
"Intimate" is right. When every seat at the bar and tables is full, Recipe holds only twenty-six people. It's a restaurant every Upper West Sider would like to see succeed--a lower-priced, casual, but still ambitious alternative to the restaurants listed above.
But from conception to execution, Recipe is a study in inconsistency. Some dishes are fine ideas deftly executed, while others leave you scratching your head, asking why and how they went off the tracks.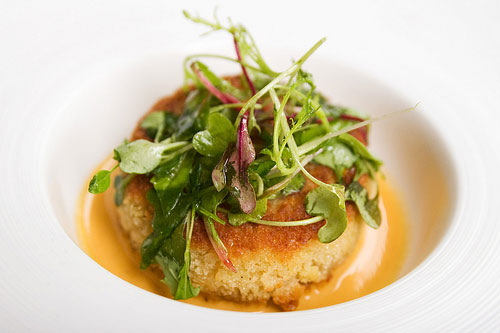 Jumbo lump crab cake ($10), served with Granny Smith apple and summer corn on a puddle of bisque vinaigrette, is all tender crab and crunch. Exactly what I want crab cakes to be.
A tomato & buffalo mozzarella tart ($8) has a buttery crust, one more Provençal than Italian; it's covered in a tangy basil pesto, and mercifully light on the black truffle oil.
Roasted locally grown beets ($8) come with goat cheese, Lolla Rossa baby lettuce, toasted pecans, and a banyuls vinaigrette. Nothing earth-shattering, but mighty satisfying. But the pulled pork rillette ($8), which might be a culinary contradiction in terms, is dull and lifeless, and a foie gras terrine ($9) was so chilled I couldn't spread it on the toast that comes with it.
Entrées are equally inconsistent. A reasonably tender cast-iron seared pork chop ($19) with sugar snap peas and fingerling potato is kicked up a notch by its pineapple sherry glaze.
A beefy grilled hangar steak with baby zucchini, cipollini onion, and haricots verts didn't really need the ancho romesco it came with, but no matter. This is a supremely tasty piece of meat.
Unfortunately, a roasted cornish game hen ($16) was dry; its bread salad, limp and soggy. It comes with one side dish. I chose the macaroni and cheese (wouldn't you?), but black forest ham, English peas, and sweet corn all went into Recipe's version. Too much going on for a proper plate of mac and cheese.
Oven roasted halibut ($21) with eggplant, melted leek, green olive, tomato confit, and broccolini was much blander than it sounds, and grilled whole dorade ($20) was acceptable but equally unexciting.
At lunch there's a ridiculously cheap two-course prix fixe menu, either $9.95 for an appetizer and sandwich or $11.95 for an appetizer and "entrée." I put entrée in quotes, because the terrific grassfed burger served with first rate housemade potato chips is considered an entrée. So is a fine crispy duck leg confit. So spend the two bucks extra for the lunch special that includes an entrée. It's well worth it.
For dessert, have the chocolate pignoli tart (all desserts are $7). The buttery almond crust supplies a lovely crunch, the creamy caramel is dark and not too sweet, and the chocolate is ultra-smooth and hits the right note of bitter. The mango cheesecake and a cast-iron fired banana tarte tatin are both impossibly cute and satisfying alternatives.
I'm rooting, desperately rooting, for Recipe to succeed. All the ingredients are there for it to do so. Like many loaves of homemade bread, it probably just needs a little more time to rise.
Recipe
452 Amsterdam Avenue, New York NY 10024
212-501-7755
Service: Well-meaning if a little unseasoned
Compare It To: Craftbar, Tavern room at Gramercy Tavern
Must-Haves: Tomato & Buffalo Mozzarella Tart, Burger, Crab Cake, Pork Chop
Cost: $35-40 for two courses including tax and tip
Grade: B

Related
Popular in the Community