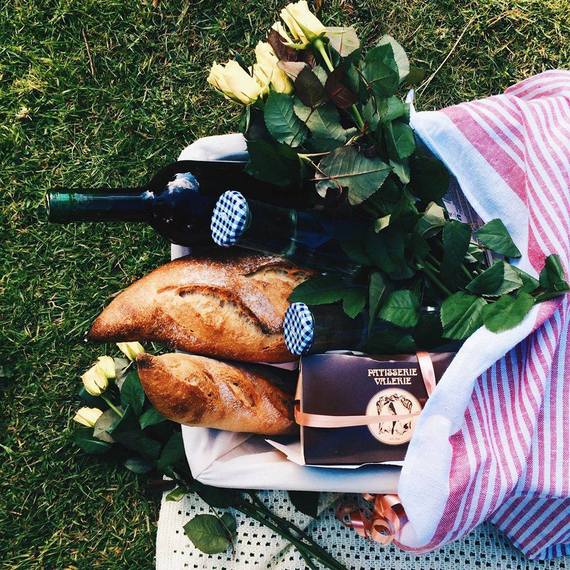 Living up to the standards in my book, 21 Ways to Live a Fulfilled Life According to a 21 Year Old, I decided to plan a romantic picnic dinner for my boyfriend and me. It was such a perfect date. Here's my recipe:
A companion, someone you love, or a good book!
Basket and Basket Cover (checkered or striped tablecloth)
Cute crystal or or glass bottles
Instructions:

Step 1: Choose your companion.
This step is most important because it will help you decide where to have your picnic, what to bring, and what time of day is best. Picnics have a light intimacy but that does not imply that they have to be romantic! Having a picnic can be something you do with a friend, or a book, or even yourself! If you really want to live life on the edge, invite someone you aren't close to but want to get to know. Picnics are such great ways to share moments.
Step 2: Choose a location to have your picnic.

This doesn't have to be a park (though as I'll mention later, gardens are my favorite kinds of location). Rooftops can be really scenic and if you have something, like a tree house, at your disposal, all the more power to you!
Step 3: Spend the day preparing your picnic!
On the day that I planned the picnic for my boyfriend and I, I decided to make a 'me' date out of it. I visited various bakeries and florists so that I was choosing the best sweets for our picnic. I took my time trying out different cakes and picking the wine we would drink. I even had a cute lunch by myself as I planned how I would prepare the basket. Planning a picnic can be just as enjoyable as having one.
Step 4: Prepare your basket.
I will not give a formula for what's the best way to do this is. I wanted my sweets and treats to peek out of my basket so that my boyfriend was intrigued when he saw it. However, you can do things as you please. The most obvious advice, of course, is make sure you aren't putting heavy objects on top of lighter objects. Besides that though, the way you prepare your basket is all up to you!
Step 5: Have your Picnic.
Will you play music? Will you eat dessert before the meal? Will you lay and count the clouds as you finish your wine? Go have your picnic! Also, enjoy!
A Few Tips

Buy the same day you plan on having the picnic. Most bakeries and patisseries bake their goods in the morning. Take advantage of the freshness of your products and don't leave it for a week later!
Check the Weather. It was raining as I was shopping and on my way home I was dreading my lack of planning! Luckily, the sun came out just in time for dinner!
The meal can be whatever you want. I chose sandwiches with french bread and wine because it's simple, but still a little fancy. There are no rules.
Gardens, Gardens, Gardens. As shown in the pictures, the scenery at our picnic was amazing. Luckily, we have a secret garden that's hidden away from the city and has a view of a mountain, as well as a lake. Gardens are so perfect for picnics!
Put your phone down. After you snap those pics, put that phone away and enjoy your food!