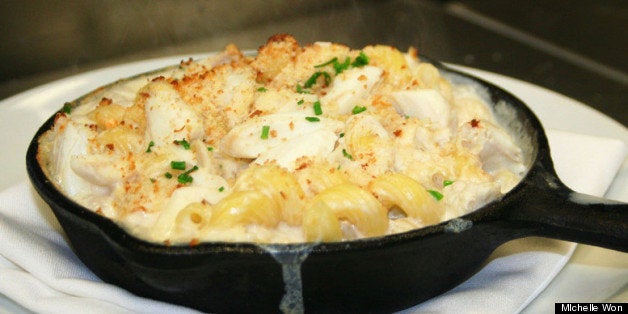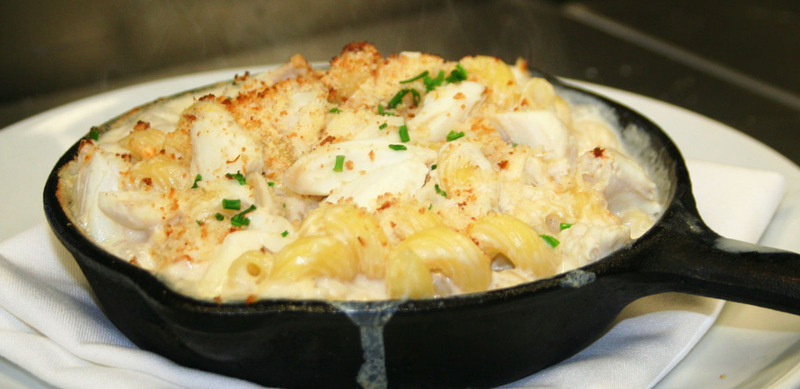 When you think of good food in NYC, you probably don't think, "Oh, let's go to Herald Square." At least I don't. I mean, its kind of a wasteland of chain restaurants and department stores. I appreciate my NY street meat every once in a while, but I certainly don't think of the area as a destination for dining.
Imagine my surprise when I found some bomb diggity blue crab mac and cheese in the neighborhood! I walked into Pennsylvania 6 because I was attracted by the gigantic screens, perfect for watching sports. Look, I get distracted by bright, illuminated things.
I convinced my fiance that we should stay and check it out for brunch and sports viewing. It didn't take much convincing. But Pennsylvania 6 is not your every day sports bar. It looks sporty, but the food is not the expected chicken wings and french fries.
I ordered the raw bar plateau. Yes, that's right ladies. Oysters and lobster and clams, oh my. Afterward, I hit their Bloody Mary bar and made my very own. The first go, I think I added everything under the sun, from sriracha to pickled peppers to blue cheese stuffed olives. I toned it down after that.
Anyway, at that point I was intrigued. So, we went with the blue crab mac and cheese and the huevos rancheros. The mac really did it for me. I took half of it home, and the next day, it was just as good and cheesy and crabby.
(Author's note: There is one other mac and cheese that I love. It's made by my friend Michael Ferraro, the chef/partner at Delicatessen. We call it the MichMac, named after yours truly. It's not on the menu. We whipped it up one night after getting blindingly... tipsy. I'm working on badgering him into giving me the recipe. Here you go, Michael, a very public plea for that recipe. NOW!)
So, for your cooking pleasure, I asked the chef at Penn6 for the recipe and he was happy to oblige. If you are looking for a twist on your mac and cheese, cook this. If you are looking for a twist on your sports bar, visit Pennsylvania 6. Tweet me when you're there; I'm nearby and can help you make a mean bloody.
Blue Crab Mac & Cheese
Serves 4
Ingredients:
• 1 qt heavy cream
• 2 oz Worcestershire sauce
• 2 oz red wine vinegar
• 8 oz cream cheese
• 6 oz fontina cheese
• 8 oz mascarpone
• ½ white onion, diced
• 4 oz butter
• 1 lb Cavatappi pasta
• 1 lb blue crab meat
• Breadcrumbs
Instructions:
In a saucepan, melt butter and cook onion until translucent.
Add heavy cream, Worcestershire, red wine vinegar, cream cheese and mascarpone until almost boiling.
Mix in fontina cheese.
Add crabmeat and cooked pasta and top with breadcrumbs.
Broil until nice and crispy.
Related