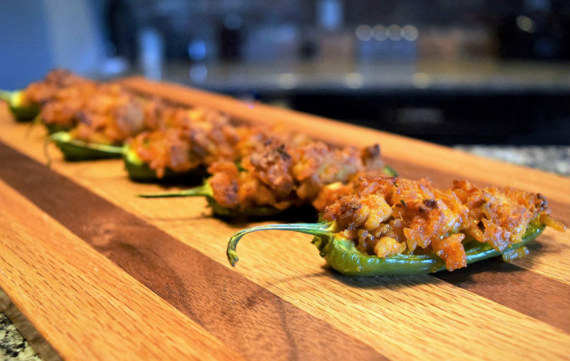 You may know them as jalapeño poppers, armadillo eggs, rattlesnake eggs, or even ABTs. Whatever you call them, stuffed smoked jalapeños rock the grill across the U.S.
A bite-size variant of Mexican chiles rellenos, poppers have been around since the 1970s. Early versions were typically stuffed with cheese, then breaded and fried. Naturally, it didn't take barbecuers long to discover these babies were even better when grilled.
The easiest poppers are made by spooning cream cheese or goat cheese into jalapeños that have been halved and seeded, wrapped with bacon (optional), and indirect grilled until the chiles are soft and the filling is bubbly. Of course you can energize the filling with herbs, spices, and even Thai curry paste.
Below are a couple of my favorites:
Bacon-Cheddar Poppers: A classic combination rides again. Great with sour cream and thinly sliced scallions. Or, take it in a Tex-Mex direction by substituting pepper Jack cheese for the cheddar. Serve with a smoky homemade salsa.
Thai Chicken Curry Poppers (see photo above): All the flavors of authentic chicken curry in a bite or two. You'll blow minds with this one.
6 TIPS FOR TAKING YOUR POPPERS TO THE NEXT LEVEL:
Although there is no way to tell for sure where a jalapeño will be on the Scoville scale (the measure of chile pepper heat), white scar-like cracks toward the chile pepper's shoulder--called "corking"--mean the pepper is more mature and potentially hotter.
Scoop fairly smooth fillings (such as cream cheese) into a sturdy plastic bag or pastry bag before piping into the chiles.
Wear gloves (latex or other protective gloves) when handling jalapeños: The volatile compounds released when they're sliced can burn hands, cause eyes to tear, and even irritate lungs.
Substitute colorful mini bell peppers or Spanish piquillo peppers (both are mild) for jalapeños if your crowd is heat-averse. Please note: Piquillo peppers, grown only in Spain, have already been roasted and peeled. Drain and pat dry before stuffing whole with your favorite filling.
Milk or other dairy products, such as ice cream or yogurt, are antidotes to chiles' heat. Water will not quench the fires, and in fact, may stoke them.
If a popper recipe calls for cream cheese or goat cheese, soften the cheese by letting it come to room temperature. It will be easier to blend with other ingredients.
SIGN UP for Steven Raichlen's UP IN SMOKE newsletter to learn more about barbecue!
Steven Raichlen is the author of the Barbecue! Bible cookbook series and the host of Project Smoke on public television. His web site is BarbecueBible.com.