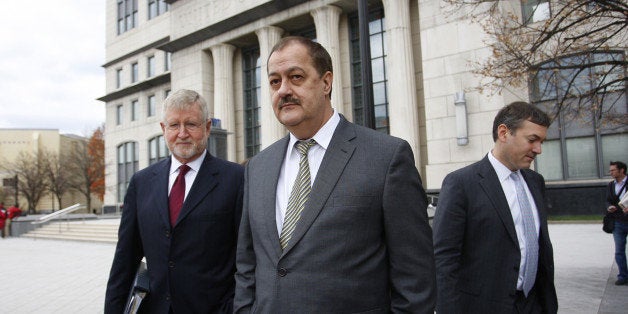 The landmark conviction of former Massey Energy CEO and coal baron Don Blankenship today on a misdemeanor conspiracy charge to violate mine safety laws is a small, but historic first step in holding mining outlaws accountable for their reckless operations. For the first time in memory for those of us with friends, family, miners and loved ones living amid the toxic fallout of the coal industry, this conviction may only serve as a tiny reckoning of our nation's complacency with a continual state of violations, but it could begin a new era of justice and reconciliation in the devastated coal mining communities in Appalachia and around the nation.
With the most serious charges dropped, Blankenship's misdemeanor charge only carries up to one year in prison.
Meanwhile, the trauma of loss for the Upper Big Branch mining families will endure among generations of families.
The tragedy of spiraling black lung disease among coal miners will continue, notably part of the autopsies among 71 percent of the miners lost in the Upper Big Branch disaster.
"Either way there is no justice for the men that lost their lives in the Upper Big Branch Explosion," said Maria Gunnoe, a Goldman Prize recipient in West Virginia, "nor will there be justice for the families that lost so much more than just coal miners. The time has come that there is no other choice but to convict these obvious criminals. Don Blankenship's punishment will never match his crimes against the people of Appalachia."
"Don Blankenship's conviction doesn't feel like victory" added Bob Kincaid, President of Coal River Mountain Watch, "but in the grand scope of more than a century of the coal industry's abuse of the people of Appalachia, it may mark a stating place, but that is a only hope at the very most. My heart aches for all those who suffered and died under Blankenship's avaricious lash. The jury showed him more mercy than he has ever shown anyone in his entire existence on this planet. Even if he serves his one year slap-on-the-wrist, we know already that justice will not be done. His legacy of poisoning Appalachia will persist long after his name has been forgotten."
Popular in the Community