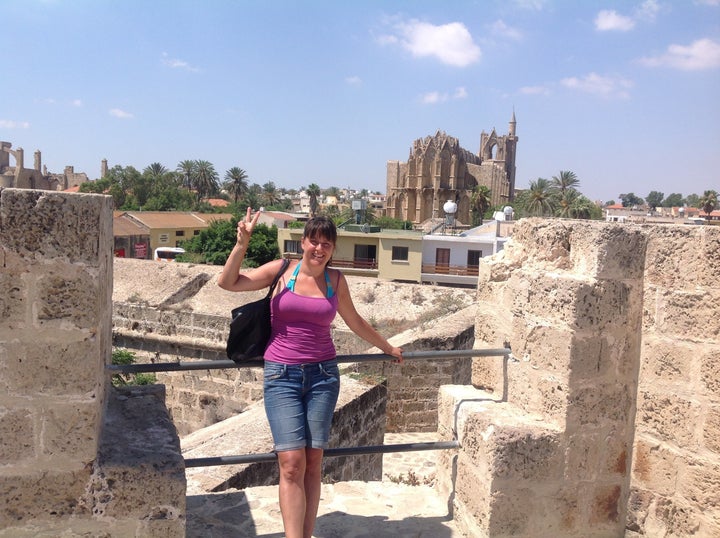 This article is part of HuffPost's "Reclaim" campaign, an ongoing project spotlighting the world's waste crisis and how we can begin to solve it.
My life changed for the better when I left Australia in 2012.
I'd spent 10 wonderful years living large down under, but my husband and I wanted to go on a globe-trotting adventure. Being a journalist allows me to work pretty much anywhere in the world, and my husband's job lets him be based wherever mine is. So it made sense to become digital nomads.
First, we had to drastically downsize our wardrobes and the collection of stuff with which we'd filled our home over the years. Out went the gym equipment, the car, the scooter and the bicycle, along with many clothes that we never really wore.
My husband and I stripped our wardrobes down to the bare minimum so we could fit everything into one suitcase and a backpack each. All I kept were two sets of tops and bottoms for each season, two cardigans, five sets of gym clothes, 10 sets of socks and 10 sets of underwear.
That left plenty of room in my case for treasured keepsakes, which I stored in a canvas bag, itself a memento from a reporting trip. The bag fit easily in my suitcase on top of the clothes. I carried essential freelance work items, including a laptop, in my backpack.
We became minimalists so that we could easily travel with all our belongings, whether on planes, trains or buses. It felt liberating to give away so much to loved ones and charity and be left with so little.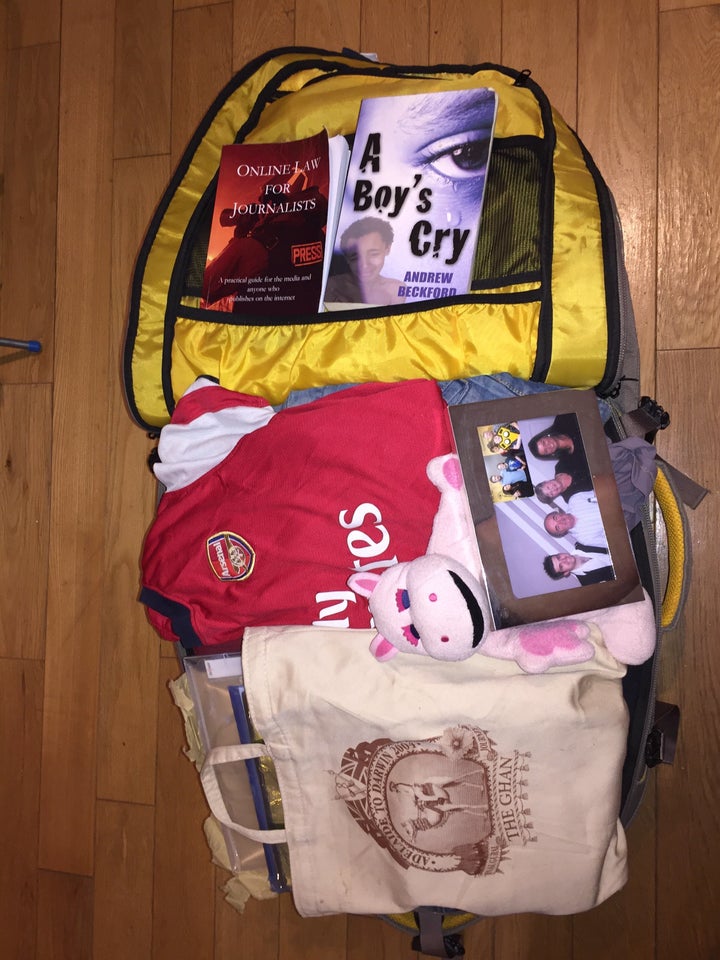 The one thing I couldn't part with was a red dress I'd bought over 15 years ago. I'd used it to stand out from the media scrum's sea of gray suits when I was a reporter in central Australia, a region that dignitaries often visit. I still wear it sometimes now.
Some people thought our lifestyle change was radical, but we just saw it as practical. I'd arrived in Australia as a backpacker and even spent a few months renting a room with no furniture in it at a house-share. I was single back then, but it's amazing how much clutter you can accumulate as a couple settled in the Adelaide Hills. (The barbecue and outdoor heater were nice for winter parties, though.)
Having a small wardrobe and few belongings allowed me and my husband to effortlessly move between countries ― spending 11 months in Qatar, three months each in Mongolia, France and Belgium, and two three-month spells in Spain.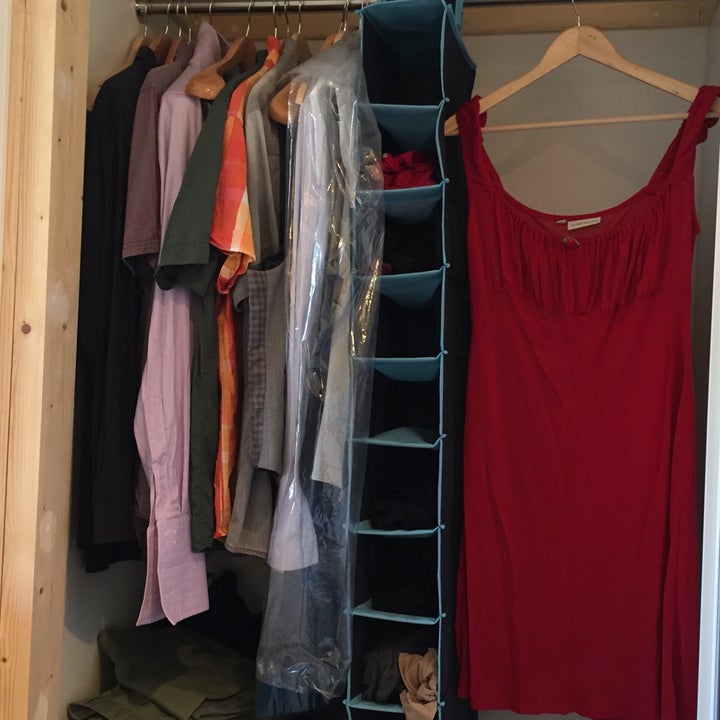 When I was freelancing in Spain and Belgium last year, I had to buy some camera equipment and needed a medium-sized case to store it in. But I've managed to maintain a capsule wardrobe, where you only have around 30 items in your closet.
That kind of lifestyle might sound extreme, but it would probably be easier for you to adopt than you realize. A June study from the British charity Oxfam and the British retailer Marks & Spencer found that people regularly wear only 44 percent of the items in their closet.
"It takes us 15 minutes each morning to decide what to wear, with the average closet containing 152 items," Oxfam said in a statement.
It's no wonder researchers found 49 percent of those surveyed get "wardrobe rage" ― angry outbursts directed toward closets when choosing what to wear. I'd rather save myself the stress and not buy new clothes unless my existing ones become worn out.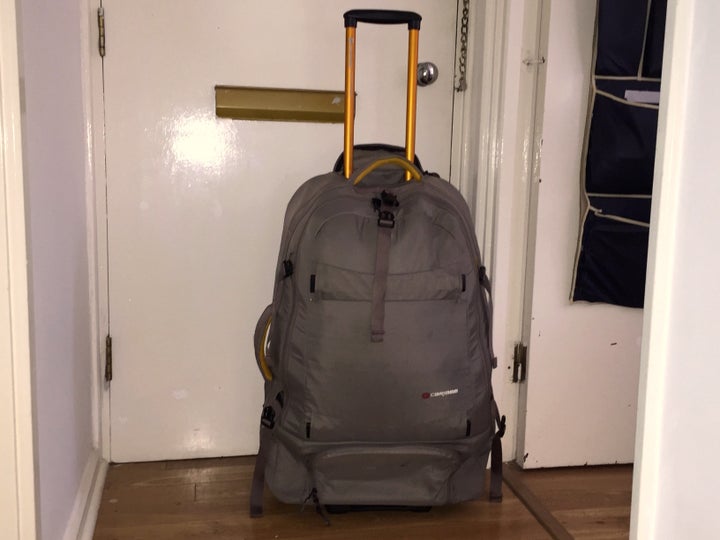 We've mostly rented small, furnished apartments with short-term leases and limited closet space, though one of my previous employers put us up in hotels in Qatar. We've never used a moving company or had to hire a truck.
I prefer to accumulate memorable experiences instead of possessions. Plenty of other people feel the same way: A Harris Poll and Eventbrite Inc. survey found that 78 percent of millennials and 59 percent of baby boomers would rather pay for an experience than own material goods, Bloomberg reported in January.
I may not have much stuff, but I feel blessed to have explored so many different places and made friends around the world. I have no regrets, and even though I'm now in a permanent job as news editor at The Huffington Post, having so few possessions means we retain the freedom to travel. My husband and I have already moved twice since arriving in London from Belgium last October. We could still carry all of our belongings with us if we needed to move again.
Sometimes I miss Australia, but I don't miss all the clutter we'd accumulated there. I'm a minimalist for life now.
My capsule wardrobe:
1 winter coat.

1 denim jacket.

1 blue cardigan.

1 black cardigan.

1 black vest top.

1 white vest top.

1 marl gray vest top.

1 bright pink vest top.

1 red cowl neck top.

1 patterned cowl neck top.

2 pairs of shorts.

1 red dress.

1 orange formal dress.

1 blue formal dress.

1 burgundy work dress.

1 gray work dress.

1 black skirt suit.

1 gray trouser suit.

1 black trouser suit.

1 pair of blue jeans.

1 pair of black jeans.

1 pair of beige jeans.

1 pair of cropped black jeans.

1 pair of cropped tan jeans.

3 sets of workout tops.

3 sets of workout shorts.
Related