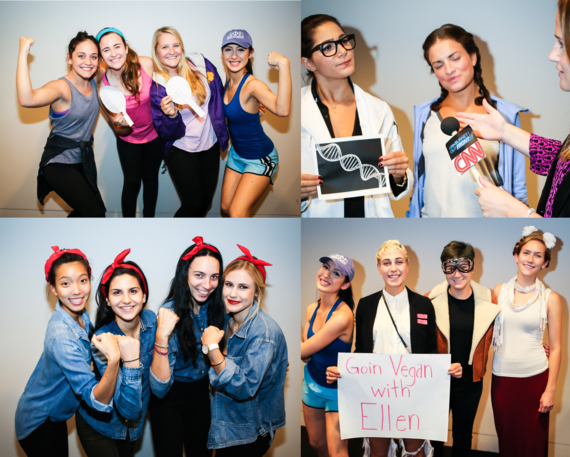 In a noisy headline culture full of vanity and voyeurism, young women must now more than ever develop their own internal compass, and define their own measures of self-worth in all domains of life.
While I'm a venture capitalist who is passionate about investing in early stage technology companies, I believe that investing in young women's confidence is the most important investment I can make. That's why I started SoSheDid.
SoSheDid is working with thousands of young ladies to redefine social culture, starting on college campuses through fun, inclusive events and empowering weekly discussions. We help young women focus on developing their own confident inner voice and staying grounded in this truth--regardless of what the headlines say--by giving them the tools and resources to invest in themselves from the inside out.
Like our SoSheDid logo, the queen chess piece, the most powerful piece on the board, we can move in any direction, command the whole game, and master our destinies. It all starts inside. Our dream is to create positive cultural change through the right amplifiers, such as celebrity role models who use their influence for good and mainstream holidays repurposed with a #SoSheDid spin.
Halloween is the perfect opportunity to bring this to life. This month, we're inviting ladies everywhere to celebrate #SoSheDid style, dressing up as women they admire to celebrate not how they look, but what they've done!
We've all heard and read about how Halloween has notoriously been a holiday where women are viewed as objects and retailers market "sexy xyz" costumes to them. We present an alternative. We're asking women to #ReclaimHalloween, and celebrate their own version of sexy: women who live from the inside out.
Last Halloween, SoSheDid witnessed ladies across the country dressing up as their female heroes. They represented powerful women who've made decisions to live out loud on their own terms.
Call to Action: Who will you celebrate this Halloween? Join the movement, and share your photos using #ReclaimHalloween and #SoSheDid on social media. We'll be picking three winners who will be showcased on our website and receive SoSheDid Shower Kits!
REAL LIFE. REAL NEWS. REAL VOICES.
Help us tell more of the stories that matter from voices that too often remain unheard.