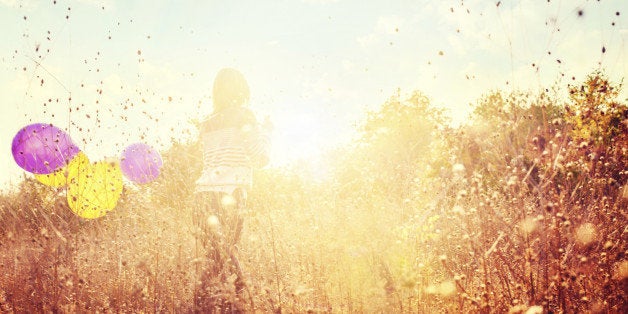 I want to tell you how my painful past made me the soulful writer I am today. Most importantly, I want to share with you how my wounds helped me develop the strength to help other women. I spend the majority of my days writing for women who actively and passionately pursue their dreams.
When I was a child, I faced situations that forced me to be brave. It's amazing how you can find your courage and your voice in the midst of really difficult situations. In my case, I had no choice but to become strong or lose my faith.
I was sexually abused from age 11 to 13. I endured the abuse for so long because of the fear, denial, and manipulation that came with the abuse. I trusted his every word, and I guarded "the secret."
The truth came out at 13, and by 14, I was on the stand testifying. I remember the first time I had to testify on the stand against "him," and I can still feel the overwhelm and anxiety of that very moment.
The district attorney prepped me with questions from the defense, but I never expected the depth of the pain I'd feel on that stand.
They asked me all sorts of embarrassing questions, and they expected detailed answers:
Where did he touch you?
Where did this happen?
Who was around?
Who did you tell?

And then it became even uglier, and an unfair finger was pointed at me:
Why didn't you say anything sooner?
Why did you let this happen?
Did you like it?
Did you say no?
Did you let him?
I sat there being inundated with these questions, and the defense attorney's voice began to grow like a distant hum. The faces in front of me watching all of this unfold began to blur... I felt terrified... a hot sweat crept up my spine and trickled down the palms of my hands.
I thought, "Oh, my God... I have to get out of here. I can't do this anymore."
The case closed. The day was over. He walked away in a jumpsuit and got 2 years behind bars only to repeatedly take advantage of more vulnerable young women after he was released.
I walked away with PTSD that controlled my life and choices for years.
People say that when you are molested or raped, your innocence gets stolen. After having experienced this, which is something I don't often talk about, I can tell you that more than that gets taken.
My strength was stolen. My soul was damaged. I experienced debilitating anxiety, stress, depression, and self-doubt for years. But I didn't allow this experience to steal my voice.
I didn't lead a squeaky clean life after this happened either. I spent years reliving that initial trauma. I allowed myself to be victimized by abuse repeatedly, only with different men, who all resembled that same type of manipulating character.
I invited this suffering into my life because of misplaced guilt. I punished myself by allowing pain into my life because I didn't know how to live any other way.
Like most victims I thought I deserved this treatment.
I always clung to my faith especially in the midst of turmoil. I tattooed the word on my wrist as a constant reminder -- so I'd never forget it.
I got my final tattoo a few years ago, a dandelion and birds flying free -- a beautiful piece of art on my shoulder. It was then that I decided that I had enough. This symbolized a new beginning -- one of strength, honesty, and bravery.
I had to brave the storm. I had to make peace with my past hurts and allow my wounds to turn into scars so I could empower other women like me to face their own fears and embrace their own power and purpose.
I wasn't the typical little girl playing outside. I was much more introspective and introverted. I would spend hours in my room reading and writing, filling pages and pages of journals. I would spend this time reflecting, rebuilding and dreaming about who I wanted to be.
Writing became my therapy. My words were the only way I could free my soul.
And now, years later, I'm happily married and in a healthy relationship. We uplift each other's soul every single day. We have three amazing, spirited children, and I live my dream as a writer.
Most importantly, I speak to women all over the world who all have a story to tell. Their stories may differ from mine, but they all have a past that they need to break free from and share.
As women, we cannot allow our wounds to suppress our courage or let our pain steal our voice. We have to fight for our freedom, and writing is the perfect tool to break the chains that hold us back.
We all influence the world in our own unique way.
The beauty of operating a soul-driven business is that now I can help other women break free and make peace with their own pain.
Michelle Wisdom-Ellis is a New York based copywriter and marketing strategist at Organic Copywriting Creative, Inc. who works with female entrepreneurs to help make their stories come to life and their profits increase with honesty that sells. Her specialties include engaging web copy, compelling stories, guaranteed-to-be-read marketing emails, and captivating sales pages. Michelle infuses character and soul into every piece of writing she creates. She owns a thriving business doing what she loves, is happily married to her soulmate, and has 3 children that light up her life. You can take advantage of her priceless (and free) writing and marketing tips by signing up for a bi-weekly dose on her site.
Calling all HuffPost superfans!
Sign up for membership to become a founding member and help shape HuffPost's next chapter