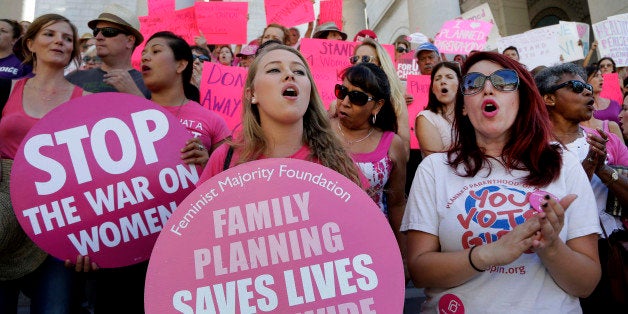 Forty-three years ago the U.S. Supreme Court decided that the right to privacy extended to a woman's decision to have an abortion. In Roe v. Wade, the court upheld a woman's right to choose. However, that right was swiftly undercut by the Hyde and Helms amendments. While the Hyde amendment limits U.S. funding for abortion for most low-income women in the U.S., Helms restricts U.S. overseas funding from supporting safe access to abortion for the poorest women and girls globally.
With much-needed attention to the overabundance of new laws enacted across the U.S. to further restrict access to abortion at home -- more than a quarter enacted in just the last five years -- it is important to consider the devastating effect that our laws and policies have on women and girls overseas.
Sexual violence and rape are used as a weapon of war and torture by terrorist groups like ISIS and Boko Haram. News reports have documented stories of women and girls escaping ISIS through Turkey and Greece and across Europe only to encounter more sexual abuse and rape at the hands of smugglers, officials charged with their care, and even family members.
Women who survive sexual violence in times of conflict should have the option to terminate the pregnancy in a safe environment with appropriate healthcare. However, it is often difficult, if not impossible, for women in conflict zones and areas impacted by humanitarian crises to access abortion services. Restrictions on U.S. funding to aid those in conflict and crisis situations exacerbates the barriers women and girls face when trying to access abortion.
Not only is the Helms amendment a barrier to abortion access in times of conflict, it also blocks access to abortion for women and girls who live in abject poverty and face hunger and malnutrition, for adolescent girls who are forced to marry at a young age, and for those who face a dangerous pregnancy that could result in death or grave illness. U.S. funding must be freed to respond to the crises that so many women and girls face.
Make no mistake, the decisions our government makes have real and lasting consequences for women around the globe.
As we support a woman's right to choose and to make her own health decisions here at home -- in the face of continued assaults on those rights -- it is also critical that we do all we can to help women around the world who are raped in conflict and who experience difficult and dangerous pregnancies. The time is now to move forward with humanitarian assistance that will give these women hope and a better life.
The time is now to reclaim the spirit of Roe and the right of all women and girls to terminate a pregnancy, at home and abroad. The time is now to be bold and end the Hyde and Helms amendments.
Calling all HuffPost superfans!
Sign up for membership to become a founding member and help shape HuffPost's next chapter