 Recently, I've developed a new least favorite piece of jargon. We've rendered the phrase "the art and science of" almost meaningless by using it to describe nearly any endeavor.
But if we were more careful about language we'd see that "art and science" is a nuanced way to think about the unique properties of teaching, one of the most important endeavors in any society.
I recently sat down with a group of teachers for a roundtable discussion as part of a conference hosted by the foundation for educators, and they talked a lot about this art/science concept.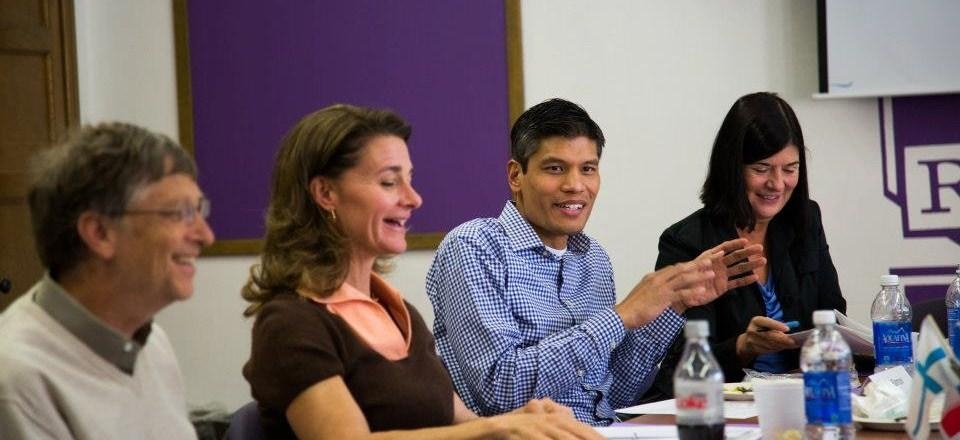 Talking with teachers at Denver's South High School. Photo: Bill & Melinda Gates Foundation.
The art of teaching is about getting your arms around something as dynamic as a classroom full of young students. They bring a constantly changing set of challenges from their lives at home into the classroom, and teachers have to understand them as individuals, earn their respect, and establish basic discipline -- all while engaging them in academic subject matter. Teachers have to spur their students' curiosity for months at a time so that they build a base of knowledge brick by brick, over time.
That's an art. Teachers flex and flow based on the kids in the classroom and the mood on each particular day, but at the end of the week they know the class has to master certain material.
The science of it is about exciting research that examines what tends to work best in the classroom and the rigorous methodology of constant improvement. This field of research is just getting started but the results so far can help point us in the right direction.
Teachers tell me they are hungry for deep and specific critiques about their own teaching, so they can improve in ways specific to them and their students. Our foundation is working with partners to help teachers get substantially more personalized feedback, especially from trusted, trained colleagues and even their own students.
One of the participants in my lunch session told me about how she thinks of her development as a teacher. She said, "We learn by seeing and doing, and we will stumble along the way." I loved that, because it beautifully describes how all human beings grow in every area of life. It's certainly true of students. They stumble, and great teachers pick them up over and over again so they can see, and do, and learn.
To pay proper respect to the art and science of teaching, our foundation is working hard on giving teachers options. They cannot excel with a prescribed, teach by numbers approach. But at the same time, teachers don't want to fly by the seat of their pants all the time. They want the best research about effective teaching, they want in-depth feedback, and they want dedicated time for collaboration and professional development. They also want the freedom to implement the lessons they learn in ways that work for them in their classrooms.
Our goal is to reclaim the cliché about "the art and science of teaching," so that it means something specific and helps us support teachers to do their best work
Related
Popular in the Community