A few months ago we, at StandWithUs New York, together with Israel's Permanent Mission to the UN, embarked on a mission: sharing Israel's story at the UN Headquarters in New York.
The "Israel Matters Display" was created a few years ago to highlight significant issues regarding Israel. It is meant to enrich public discourse about the geo-political situation in the Middle East and touch upon Israel's achievements and advancements in various fields such as technology, the environment and international cooperation. In the course of time we made the display available to students and communities to share at local events and spread the word about Israel in a more comprehensive and inclusive manner. It has been shown all over North America, and even Australia and South Africa.
Unfortunately, Israel's relationship with the United Nations revolves too often around anti-Israel resolutions in the General Assembly, absurd denunciations in various UN forums and, of course, the notorious UN Human Rights Council, which tends to solely focus on Israel and unjustly single her out. Mind you, when the Council was established a few years ago, Israel supported it in the hope we could open a new leaf and it might even "play fair". Unfortunately it chose not to, up to a point where former UN Secretary General, Kofi Annan, though a supporter of the Council's establishment, harshly criticized it, saying: "Do they not have a sense of fair play? Why should they ignore other situations and focus on one area?"
It is in this hot bed of a political arena that we wanted to place our Israel Matters Display. Our desire was to engage people about Israel in a different manner, open their eyes to what Israel is and what she has to offer, beyond the "usual" they are accustomed to at the UN. We truly believe that such introductions are the only path for a meaningful dialogue and, indeed, an eventual progress and solution. The path to reconciliation, albeit long, must begin with a first step, one that is focused on building bridges between people and not building walls to set them apart.
Thankfully, after months of preparations and after discussions between Israel's Mission to the UN and the UN, the latter approved the showing of our exhibition. However, shortly before the exhibition was due to open, the Israeli representatives were informed that three out of the thirteen panels of the exhibition would not be permitted for showing, namely: Arab Israelis, Jerusalem, and Zionism. No reason was given aside from their being "inappropriate".
Naturally, we were appalled by this decision of the UN to censor our display; viewing it as a blatant insult that Israel's core values are rebuffed by what is supposed to be an "all-inclusive" organization. We ask ourselves what happened to the UN, since its establishment? How did the good will and good intentions of those who made it into a reality been distorted in such a way? For the life of us, we could not comprehend why would a panel showcasing Israel's non-Jewish population not be welcome at the UN? How come Jerusalem, whose connection to the Jewish people is unbreakable, undeniable and irrefutable, be disregarded in such a way (especially when the display does mention both Christian and Muslim connection with the city)? Yet, the most offending of all, was the UN's decision to view "Zionism" as inappropriate. Zionism, a respectable movement in the family of nations, is no more and no less than a manifestation of the Jewish People's basic right for self-determination: the indigenous people of Israel's return to their ancestral homeland. How could such a right, so quintessentially elementary to all, become "inappropriate" when it comes to the Jewish people?!
Later on, and after many efforts put in by StandWithUs and by Israel's UN Ambassador, Danny Danon, and his team, the United Nations agreed to put up the Zionism display, but yet still rejected Arab-Israelis and Jerusalem. Why? Well, a spokesperson for the UN secretary general said there was a "misunderstanding" about the Zionism panel, but he wouldn't explain what that misunderstanding was nor provide an explanation for the refusal to show the other two panels.
What is the lesson here? Aside from the importance of standing up for what you believe in, this UN denial presents Israel with a warning sign: our narrative has been hijacked and re-defined. If a UN bureaucrat, even if not intentionally anti-Semitic, felt Zionism and Jerusalem were "inappropriate" Israeli values to share, it means we can no longer take it for granted that our narrative is known and our deep connection with our homeland to be self-evident to all. We must reclaim our story, and tell it out loud, so that the world hears and none doubts the obvious: we are back home again, and we are here to stay.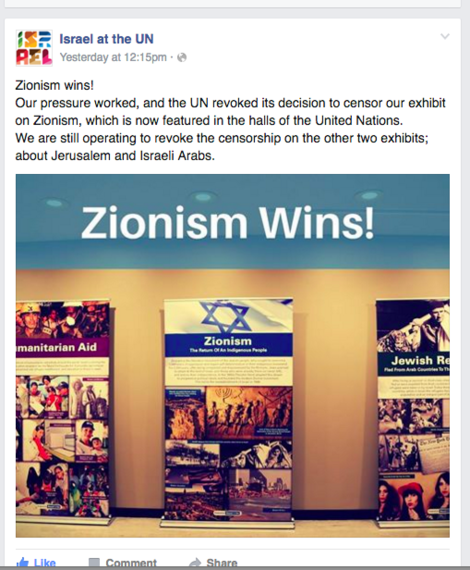 The "censored" Zionism Panel at the UN "Israel Matters Display" (Israel in the UN Facebook Page).
REAL LIFE. REAL NEWS. REAL VOICES.
Help us tell more of the stories that matter from voices that too often remain unheard.