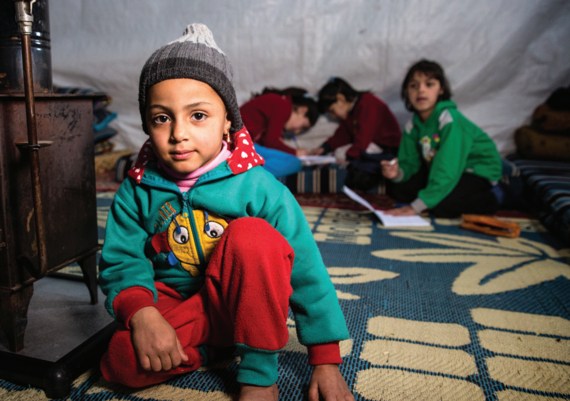 Syrian children in the Zaatari refugee camp in Jordan, where thousands of families rely on electronic food vouchers, or "e-cards," from the U.N. World Food Programme to survive. (©WFP USA / E. Kealey for Tiger Nest Films)
On a cold gray day last January, I accompanied a mother and father named Hussein and Muntaha to buy food at a market in a small town in the Bekaa Valley in Lebanon. For these parents, what would have been an ordinary trip to the grocery store five years ago now seemed like nothing short of a miracle. The couple had fled Syria and now live as refugees in a tent with six children in the Touliyana Settlement.
Their entire savings gone and unable to work to earn money, the family now relies on an electronic food voucher, or "e-card," provided by the U.N. World Food Programme (WFP). What looks like a typical debit card is actually a lifeline to nutritious food. Thanks to these e-cards, this family has access to fresh produce, dairy and meat to feed themselves and their children.
What's even more remarkable is that this innovative approach to humanitarian relief isn't just feeding families in need. It's also helping boost the incomes of local shopkeepers and suppliers. One Lebanese shop owner told me that, thanks to participating in WFP's e-card program, he had already earned enough money to triple his store's inventory because of the expanded customer base. In fact, the agency's e-card program has so far injected more than $705 million into the economy of Lebanon and helped create thousands of local jobs in the food retail sector.
These e-cards also improve the way WFP does business by reducing the cost of food transportation and storage in its overall operations. In addition to Lebanon, WFP has since scaled up its e-card program to reach displaced families in Yemen, Somalia and the Central African Republic. This program would not have been possible without the donated technical expertise and support of Mastercard in developing the card and payment system.
As noted in a report we released earlier this year, leading companies in sectors like logistics, food, nutrition, health care, financial services, water and sanitation have significant technical skills and capacities that can help international organizations and NGOs deliver humanitarian assistance more efficiently and effectively. Mastercard's support launching WFP's e-card program in 2013 is a great example of such collaboration.
And because of WFP's expansive operations providing food assistance to nearly 77 million people in 81 countries, there's a wide range of opportunities for businesses to align with the agency's mission of feeding families in need that are consistent with their core business activities.
UPS, for example, donates technical assistance and logistical support for WFP, as well as a team of specially trained employees who deploy during emergencies to assist aid workers with delivering supplies and mapping delivery routes. The company also assists WFP with supply chain management and coordinating staging areas to handle the distribution of food and relief equipment. In the aftermath of Typhoon Haiyan, UPS flew planes into Manila carrying millions of pounds of WFP's high-energy biscuits to survivors and assisted WFP staffers on the ground with customs clearance.
But given the historic humanitarian crisis the world now faces, more corporate donors--both in the U.S. and abroad--need to think about how their core businesses can align and support humanitarian organizations that help refugees and displaced communities.
In addition to providing technical assistance, in-kind and financial support, the private sector should also explore the investment opportunities in frontline states that are providing a public service by welcoming these families in need. This is not a short-term problem, as the average length of time a refugee is displaced is 17 years. Somali refugees in northern Kenya, for example, have been displaced for nearly three decades. Creating good jobs for displaced families and the communities that host them will be essential in integrating refugees and reducing humanitarian need.
And as the protracted situation in northern Kenya illustrates, the refugee crisis is not confined to the Middle East. Ethiopia, which is home to more refugees than any other country in Africa, is struggling to produce enough food to feed its own people amid one of the worst droughts in decades. In fact, four-fifths of the world's refugees are hosted by low-income countries that are the least equipped to handle such an influx.
The global refugee crisis is not simply a challenge for the world to overcome. It's also an opportunity to promote sound economic development and global stability.

Rick Leach is the President and CEO of World Food Program USA, a non-profit organization based in Washington, D.C. that builds partnerships in the U.S. private sector and promotes public policies in support of the mission of the U.N. World Food Programme, the largest humanitarian agency fighting hunger worldwide.
REAL LIFE. REAL NEWS. REAL VOICES.
Help us tell more of the stories that matter from voices that too often remain unheard.