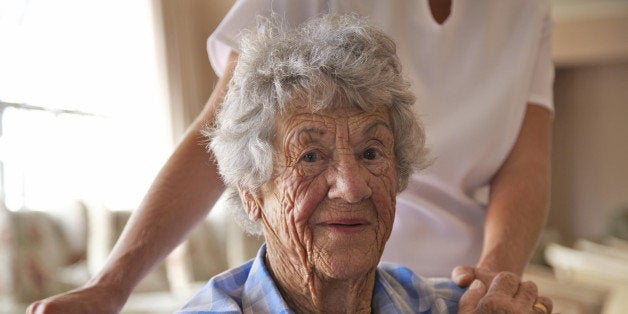 Ed Mitchell of Phoenix, Arizona, is a retired pastor who currently cares for his wife with early-onset Alzheimer's and helps his aging mother, who has Lewy body dementia. From medical appointments to therapy classes and laundry to finances, Ed provides round-the-clock care all while maintaining the house and cooking. Being a full-time caregiver is a daunting, relentless job and the position brings about many challenges that heroes like Ed must learn to overcome.
Of the estimated 5.2 million Americans living with Alzheimer's disease, almost two-thirds are women. This unbalanced ratio is causing more men to take on caregiving responsibilities. In fact, according to the Alzheimer's Association and the National Alliance for Caregiving, more than six million men are caring for someone with Alzheimer's or dementia, almost twice as many as 15 years ago.
When a loved one is diagnosed with Alzheimer's, it is a life-altering experience for everyone impacted; however, just as men and women approach situations differently, caregiving is no exception. There are distinct differences between male and female caregivers that are important to recognize and understand.

1. Processing an Alzheimer's Diagnosis
In my experience, women tend to process an Alzheimer's diagnosis more emotionally, while men process it more functionally. Women need to understand and cope with what an Alzheimer's diagnosis means to them and their loved ones and explore all the options to answer the question, "What's next?" Men see a problem and immediately begin identifying a solution. They see the diagnosis as a challenge that needs to be dealt with.
2. Coping with the Stress of Caregiving
The men I've worked with appear to cope with the stress inherent in caregiving more easily than women. They can complete a caregiving task and move on to the next thing, whereas women internalize their caregiving performance with constant worry and anxiety, leading to increased stress levels.
3. Seeking Outside Help
The men I've worked with often aren't afraid to call on a wider network of friends, family and professionals for help rather than shoulder the burden alone. They are very quick to ask for resources and additional support to help them with a certain situations.
4. Handling Daily Tasks
Men have a more difficult time adjusting to taking on the daily tasks their wives used to handle. A lot of men who are currently caring for a wife or loved one with Alzheimer's came from a generation of very traditional marriages - the wife took care of the house and kids while the husband worked. Men are used to wearing the pants in the relationship, but when they take on a caregiving role, they must now wear the apron and make the bread, too. Cooking seems to be the most difficult task for males to undertake, often relying on take-out meals. Men also struggle with coordinating their wife's clothing and makeup. When their wife has taken pride in her personal appearance, they want to make sure she looks as dignified as she's always been.
At Banner Alzheimer's Institute, we have a support group called Men Who Care, created and led by Ed Mitchell. This group meets once a month and they've created a protective bond with one another. Although the men came to group looking for practical answers to their problems, they have fostered emotional connections, looking out for one another and developing lifelong friendships.
Alzheimer's is a family disease that impacts both those diagnosed and the loved ones who care for them. Take a moment to think about all the men in your life - fathers, grandfathers, uncles, brothers, cousins, spouses - who could one day be affected. I encourage you to sign up for the Alzheimer's Prevention Registry in their honor.
The Registry is an online community of people dedicated to eradicating Alzheimer's disease before another generation is lost. Registry members receive monthly newsletters sharing the latest news surrounding Alzheimer's and brain health, as well as opportunities to participate in prevention research. Visit www.endALZnow.org to learn more.
REAL LIFE. REAL NEWS. REAL VOICES.
Help us tell more of the stories that matter from voices that too often remain unheard.