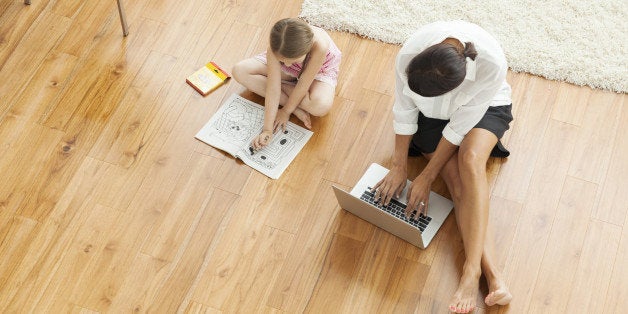 On every fourth Thursday in April, employees across the country bring their children to work offering a valuable opportunity for these daughters and sons to observe their parents in a different light. April 24th of this year marks the initiative's 21st anniversary where 37 million children and parents and more than 3.5 million workplaces across the country have since participated.
While this day is recognized once a year for most professionals and their children, working mothers who telecommute from home have the opportunity and challenge to experience this on a more day-to-day basis. Carolyn McKecuen, president of the Take Our Daughters and Sons to Work Foundation, notes, "We want the kids, parents, teachers and workplaces to all help students see the value of their education by linking it to the world of work." Excellent mission, and let's add to the discussion all the other things along the path from education to a job that involve our life choices.
Undoubtedly, it's important for children, especially our daughters, to see us in a professional environment because successes can be empowering, positive influences. According to A Woman's Business, we are the reflection they need to grow up to become confident women. But, as most work-from-home mothers would agree, children are sometimes overexposed to our professional personas.
Is this damaging in some way? What happens when every day is Take Our Daughters and Sons to Work Day? The positive message we're sending our kids is that the workforce is adapting to better meet the needs of employees with perks such as flexibility and remote working. But, the snag is that sometimes our children witness the negative aspects of professional life as a telecommuter, such as fatigue from working late into the night, being glued to some device or another at all hours, or maybe stress from attempting to find that elusive "balance."
It's not just Mom or Dad that needs a separation from work -- our kids need it too. If there aren't clear boundaries, they won't learn the right way to work from home, respect our time "on the clock," and internalize at an early age what work/life alignment truly means.
As we empower our kids to learn about the many career choices they have, let's also teach them that perfect balance is an unrealistic expectation. It's not about balance, but rather work/life satisfaction. Finding their dream job goes beyond what they "do" at work every day; it includes involving personal interests, and managing family, finances, and health and wellness. It's about finding work that blends well within our lives and leads to success and fulfillment.
The best way to teach is to model the lesson with a "do as I do" approach, so the first step is addressing your own work/life alignment needs. Mom Corps YOU is an online community for those seeking guidance from expert resources on how to better integrate the personal and professional aspects of our lives. Upcoming events include "Entrepreneurship is a Marathon and a Sprint" on April 17. On April 24, internationally renowned coach and author, Jamee Tenzer, will divulge "The True Secret to Time Management for Working Moms."
I would love to hear how you are planning to celebrate Take Our Daughters and Sons to Work Day whether you work from a traditional or home office. What do you think are the most valuable lessons we can teach them on this day?
Calling all HuffPost superfans!
Sign up for membership to become a founding member and help shape HuffPost's next chapter