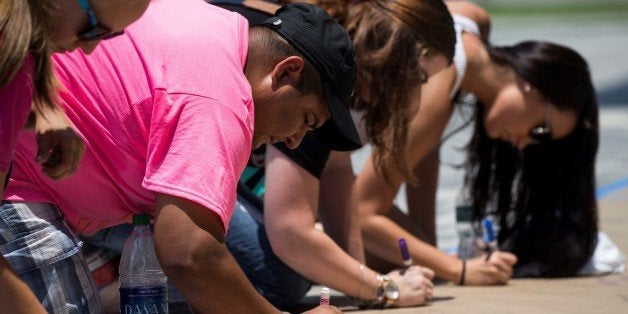 This morning I awakened to what is being described as the most deadly mass shooting in U.S history. After checking my social media accounts I tuned in to CNN for more information about the shooting that occurred in Orlando, Florida around 2am this morning at Pulse, a gay nightclub. At least 50 people are dead and 53 are injured.
As an American I was devastated, but as a bisexual Latina I had many more reasons to be both angry and terrified. This wasn't just an act of terror; it was a horrific hate crime. There are so many marginalized people that have been and will be touched by this tragedy and for this reason it is crucial that we frame our conversations considering all of the intersecting identities of the people affected.
Much of the reporting done has centered on ISIS and whether the shooting was ISIS inspired or ISIS directed. Although I understand how ISIS involvement is a significant aspect of the ongoing investigation, my initial fear was the continued hatred that would be directed at Muslim people.
Unfortunately, instead of coming together I know many will use this tragedy as fuel for racist and divisive sentiment. While we maneuver through all the information flooding the Internet it is important to recognize that regardless of the shooters identity or his religious beliefs, Muslim people as a whole are not responsible for one man's hate filled actions. They do not owe us anything and they especially are not under any obligation to prove to us that they are good people.
At least 50 people are dead, that is 50 LGBTQ+ people. This is a significant factor considering the shooter's' father claims his son's' actions may have been motivated by having recently seen two men kissing. Still this seems to be secondary to reports about the shooters pledge of allegiance to ISIS.
More importantly, let's also keep in mind the many obstacles the LGBTQ+ community still face. One of these obstacles is actually being discussed today as blood banks urge people to donate. This is the lifetime ban of gay and bisexual men from donating blood. The ban was implemented in 1983 during the AIDS crisis and was only lifted last year. However, the FDA still recommends that gay and bisexual men be banned from donating blood 12 months since their last sexual encounter with another man. The ban has been temporarily lifted for today in light of today's events, but it does bring into question whether the ban should exist at all considering all blood is screened anyway.
Lastly, I want to acknowledge that the people in the club were celebrating Latin night, not to mention this was during Immigration Heritage month. This means that many Latinx people were in attendance. As the victims are identified and their families notified, the language barrier for some will prove to be an obstacle in helping families understand what has happened and will undoubtedly lead to further delayed communications.
Another factor is that of race and gender. The Latin Night event was advertised by a flyer featuring two Black and Latina trans women. Considering that in the first couple of months of 2016, 10 trans people have been killed and most of them have been people of color, this is an intersection that can't be ignored. Rather than garnering support and attention for Black Lives Matter, Brown Lives Matter, or Trans Lives Matter, we should consider that there are people who hold within themselves more than one of these identities and learn how they are affected by multiple systems of oppression based on these intersections. Only supporting one movement will not meet the needs of these people.
As we express our grief, many of us will post articles detailing the horrific events of today. We do this not only to help others understand, but to help ourselves understand how in 2016 the most powerful and diverse nation in the world is still unable to accept our differences. However, there is so much more we can do.

This was an act of violence made possible by poor gun control in America and the fact that the shooter was on the FBI's radar and still was allowed to purchase a gun and keep a job as a security guard is indicative of this. As President Obama said today, "it is too easy to buy a gun in the U.S and we have to decide if that's the kind of country we want to be and to actively do nothing is a decision as well." It is important we contact our legislators about gun reform.
Those who live near Orlando have been urged to donate blood. You can also volunteer at the hospitals and donate to the Go Fund Me page that has been created to raise money for the victims and their families. In addition, don't forget to show some love and support for Pulse Nightclub during this difficult time.

Apart from all this, one of the most caring things you can do is check in with your LGBTQ+, Latinx, and Muslim friends and loved ones. Ask them how they are doing and be ready to listen with an open mind and without judgment. At this time we must learn to love and accept each other, not in spite of our differences, but because of them.
Popular in the Community