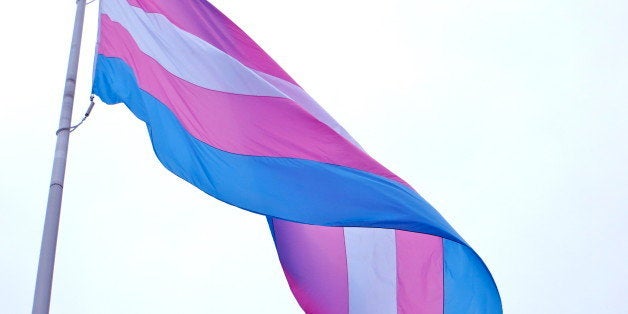 As a suicide-prevention organization, The Trevor Project knows how important it is for young people to feel accepted for who they are and know that someone out there cares about their future. That's why we're standing alongside national organizations, colleges, and communities nationwide during Transgender Awareness Week (November 14-20) to help raise the visibility of trans* people and the unique issues they face.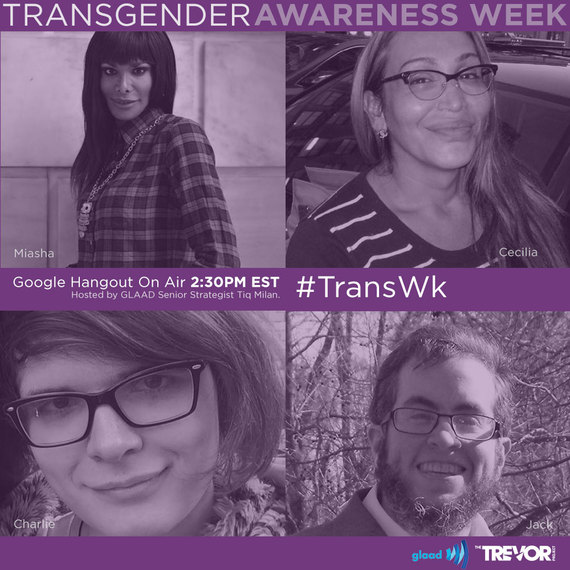 Trevor's social-media platforms feature quotations from trans* youth -- including TrevorLIVE Youth Innovator Award Honoree Skyler Kergil and Trevor supporter Jazz -- as they share what makes them truly happy. On Thursday, Nov. 20, we are also excited for "Trans Awareness Week Google Hangout on Air," hosted by GLAAD Senior Strategist Tiq Milan. During the hangout, Tiq will be joined by Jack Ori, a Trevor volunteer; Charlie Kerr, a member of the Trevor Youth Advisory Council; and Miasha Forbes, a human-rights activist, to talk about trans* visibility, awareness, and more. We hope you can join us!
Every day, The Trevor Project makes it a priority to offer nonjudgmental support for transgender and questioning youth who have nowhere else to turn to for help. Our crisis-services volunteers go through extensive training to understand the distinct challenges these young people face, and they continue to learn about various LGBTQ topics throughout the year. TrevorSpace, our secure social network for LGBTQ youth and their allies, gives members a chance to choose from a myriad of gender terms; they can use more than one or forgo a label completely. For some youth, this can be the first time they've ever identified as their true self.
Our newest resource, the Trevor Support Center, features accessible information about gender, transgender and gender-nonconforming identities, and more. No matter how old you are or where you live, this life-affirming online hub allows readers to explore a wide range of topics, Q-and-As, and resources in a way that promotes visibility, spreads awareness about diverse identities, and offers support to youth around the country.
For example, in our "Trans* + Gender Identity" section, we talk about how most of us were taught that there are only two genders (men and women) when in reality, there is a wide spectrum of additional gender identities out there. Above all, who we are is something each of us decides for ourselves. It shouldn't matter if we identify with the gender we were given at birth (which is called being "cisgender") or if our gender is fluid and changes over time; everyone's experience is unique, valuable, and valid and deserves respect.
But even with educational and affirming resources like the Trevor Support Center, there are far too many youth who encounter hate, rejection, and even assault just because they identify as, or are perceived to be, transgender. Researchers estimate that over 40 percent of transgender people have reportedly attempted suicide. In school, 80 percent of transgender students stated that they felt unsafe because of their gender expression. This year, Europe's Trans Murder Monitoring (TMM) project reported that there have been over 1,500 reported murders of trans people worldwide since January 2008. To honor the people we have lost to anti-trans violence and discrimination, Transgender Remembrance Day is observed on Nov. 20.
Thankfully, society is slowly changing to be a more affirming and accepting place. Shows like Transparent and The "T" Word are promising advancements in visibility and understanding. Heroes like Laverne Cox, Janet Mock, Geena Rocero, Chaz Bono, Laura Jane Grace, and Lana Wachowski are starting invaluable new conversations about what it means to be transgender. Organizations like The Trevor Project will continue to be there for trans* youth who need lifesaving help or want to connect with someone who simply lets them know that it's OK to be who they are. Advocates will continue to push forward in the fight for true equality, and for the rights of trans* people nationwide who face disproportionately high risks and discrimination. Whether or not these pivotal steps continue to make a difference is up to all of us. As author and activist Jennifer Finney Boylan said in GLAAD's recent video series, I AM: Trans People Speak:
People don't need to understand all the ins and outs of what it means to be trans in order to be loving. If we begin with love, everything else will flow from there. And the things that we need to understand will flow from that as well.
If you or someone you know is feeling suicidal, please call the Trevor Lifeline at 1-866-488-7386 or the National Suicide Prevention Lifeline at 1-800-273-8255.
Popular in the Community