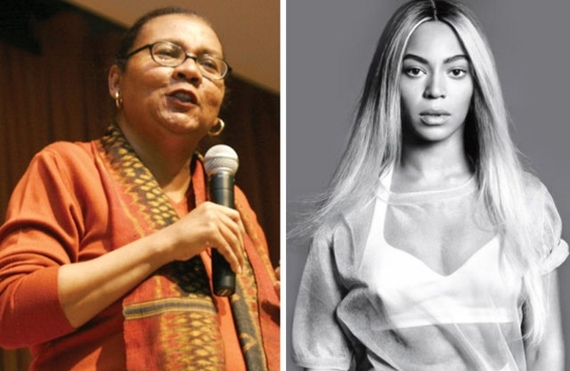 Don't you just hate it when two people you love and adore can't seem to get along? It's even worse when one of them sort of appears to be trying but the other refuses to budge. It can tear you apart when you're not sure whose side you should be on, when you wonder if you can truly love them both when they don't appear to love each other at all. Is it possible to be loyal to both of them? All of these thoughts and questions come to mind for me when I think about bell hooks and Beyoncé. Two queens, two trail blazers, two bold Black women who give me strength and joy. They are also two women, however, who do not seem to get along. Their relationship (at least through statements) is filled with so much tension that bell hooks has gone to the extent of calling Queen Bey a terrorist.
Before I delve further into the seeming conflict, I want to first briefly speak to the qualities that I adore so much about both of them. Beyoncé, in my opinion, is an exemplary business woman and performer. She has achieved incredible success and has recently, more than ever before, really done her part to showcase the narratives of other Black women - uplifting them as she continues to rise. This is displayed, for instance, in her selection of celebrity and non-celebrity appearances in "Lemonade." Bell hooks is a critical thinker and author who has shaped my views of feminism and Black feminism, and she has given me tools to empower myself in knowledge through her words. She is a guiding light for Black women in a world where so many forces attempt to control our bodies, minds, and souls. I could go on and on about the positives - In fact, one of the very few things that I dislike about them is that they don't vibe with each other.
So why don't they?? Well it all seems to have started in 2014 when, during a conversation on one of Beyoncé's magazine covers, hooks stated that Beyoncé was: "Colluding in the construction of herself as a slave" and that she saw a part of Beyoncé as a "terrorist especially in terms of the impact on young girls." She followed this by explaining that Beyoncé was simply playing into the impossible beauty standards that society places on women through the use of objectifying imagery in the media. As far as I know, Beyoncé never issued a response to hook's statements. The next issue between these two arose very recently concerning Beyoncé's latest project: "Lemonade." Many have given Beyoncé praise for presenting Black girls with a gift made for us by one of us. Many have also been moved by the honesty of the songs and her honoring generations of Black women and the struggles they have powerfully overcome. But of course, hooks stood opposite the crowd of supporters and Beyoncé fans. She instead wrote a critique of "Lemonade" where she describes it as: "capitalist money making at its best... [That] exploits images of Black female bodies..." She states that it is "not radical nor revolutionary" and that it "glamorizes a world of gendered cultural paradox and contradiction."
While this conflict and disagreement seems to leave little impact on the two of them or their careers, it can be difficult for someone who is such a fan of them both. I like to remind myself, however, that this is simply testament to the fact that Black women are as diverse as there are stars, that we cannot be categorized or confined, that we do not always agree with each other. But that we do challenge one another. It also serves as a reminder for fans that critique of either of them is completely acceptable and in fact welcomed for them to both further develop their assertions and stances. I would love to see the two of them together in conversation to hear what advice they might give to their mutual fans, and I would be overjoyed to witness them collaborate in the future. But for now, I will continue to love both of them with my own feelings of praise and critique.
Calling all HuffPost superfans!
Sign up for membership to become a founding member and help shape HuffPost's next chapter