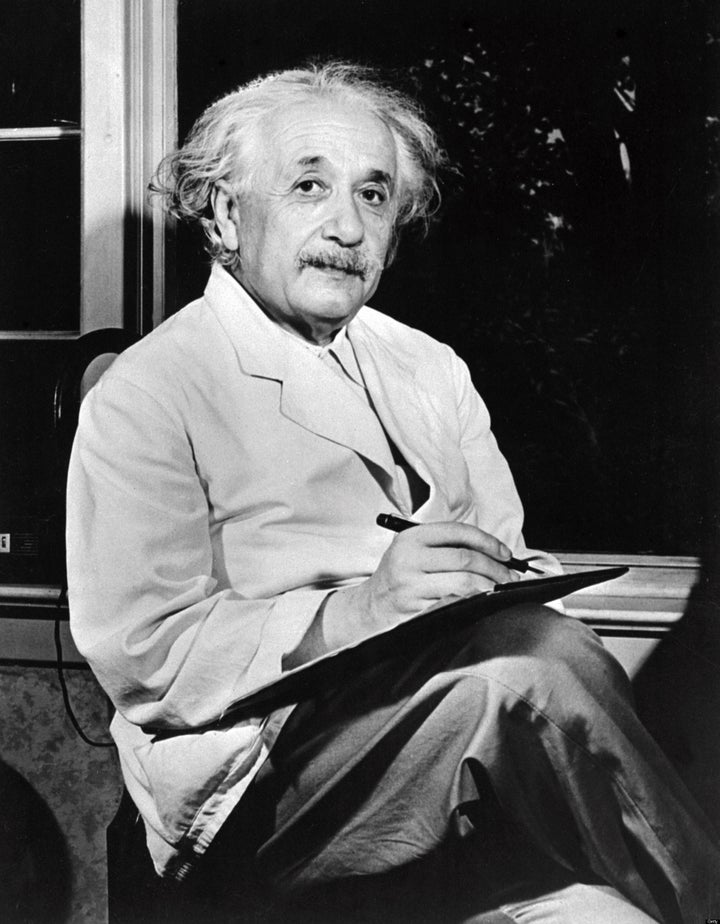 In the beginning, I sought out people with an overt passion to reconcile science and religion in their discipline and in their person. Sir John Polkinghorne is one of the most prominent of these globally--a Cambridge quantum physicist who also became a Cambridge theologian in midlife and has written eloquently about finding both science and religion necessary to interpret the "rich, varied and surprising way the world actually is." I found his approach revelatory as I was cautiously finding my own way back to religion after Berlin. As a physicist, Polkinghorne sees a universe that is "supple" and "subtle"--a mix of determinism and of freedom--and this informs his imagination about the nature of God, what happens when we die, and what happens when he prays.
But as the years progressed I've been equally intrigued, and driven to new places in my own thinking, by scientists like the theoretical physicist and novelist Janna Levin. She is exploring the shape and finitude of the universe. She is fascinated by mathematical insights into how we can know what is real and true and how free we really might be. She is not a religious person in any sense, but her scientific inquiry is philosophically and spiritually evocative, rich in the raw materials of theology. Albert Einstein was more like Janna Levin than John Polkinghorne. His famous quip that "God does not play dice with the universe" is often wrongly imagined as a statement of faith, when in fact it was a clever barb tossed in a strictly scientific argument. Focusing as he did on the evolution of stars and galaxies and on intangible substances of light, time, and gravity, Einstein seemed to present little to offend religion. But as much as or more than Darwin's natural laws of evolution, Einstein's laws of physics could not tolerate a meddling divine hand.
Einstein approached science itself with a religious awe, as the physicist Freeman Dyson tells us. Yet as a young colleague of Einstein at Princeton, Dyson saw him become more philosophical as he grew older, leaving behind a rich body of reflection on the "mind" and "superior spirit" behind the cosmos. And as the astrophysicist Paul Davies describes in these pages, modern imaginations have yet to catch up to the potential spiritual implications of the way Einstein reframed our understanding of space and time. Einstein's dismissal of a "personal God" might have struck some in his time as heretical, but his self-described "cosmic religious sense" is intriguingly resonant with twenty-first century sensibilities. There has simply been too little space in our public life up to now to hear such echoes.
Here, as in so many other realms of life, a wider lens of perspective can make all the difference. For example, it is important to see--though this basic fact is rarely invoked alongside global characterizations of the "religion versus science" scenario--that only in Christianity were defining battle lines drawn after the Enlightenment between the forms of knowledge that religion and science pursue. Those battle lines galvanize a few of the traditions of Christianity and others inconsistently or not at all. The first presiding bishop of the U. S. Episcopal Church to be elected in this century is a marine biologist by training. The scientist who presided over the Human Genome Project that first mapped human DNA is an evangelical Christian.
Antiscience perspectives are even more marginal in the sweep of the world's great religious and spiritual traditions. There are few strident Jewish voices in the science-centered "moral values" debates of American culture of recent memory, from abortion to stem-cell research. And there are theological, not merely cultural, reasons for this. Religious virtues of "justice" and "healing" weigh heavily in discerning the manifold implications of "the sanctity of life." Islamic theology similarly offers a distinctive approach to issues such as evolution and the moral status of the fetus, hence the lack of famously strident Muslim antiscience voices. The physicist V. V. Raman describes in these pages how Hinduism's overarching regard for beauty and the arts has helped it avoid a point-counterpoint between the different forms of knowledge that science and religion convey. Hinduism's offspring, Buddhism, is in a class of its own. Einstein liked to imagine Buddhism as the religion of the future, capable of embracing the best of scientific and spiritual approaches to life. In recent decades, Buddhist spiritual technologies of mindfulness and meditation have presented themselves with transforming effect in Western lives and Western medicine.
As we bring this debate closer to the ground, in fact, and expose it to the plain light of the everyday, the suggestion that science and religion are incompatible makes no sense at all. In the vast middle of modern Western culture, scientific and religious insights coexist and intertwine for the most part peaceably. We encounter and respond to the fruits of science in our doctors' offices; through experiences of birth, illness, and death; in the ever-evolving technology at the center of ordinary life. Opinion polls promote hyperbole and false dichotomies. Ask Americans to choose between God and Darwin and they'll opt for God. But generations of Christian Americans have also grown up learning about evolution in scientific textbooks and about a God behind creation in the biblical book of Genesis-and intuitively reconciling them, instinctively imagining that both might simultaneously be true.
As both John Polkinghorne and the Darwin biographer James Moore describe in these pages, Genesis is in fact a compelling example of how treating sacred text seriously, reading it respectfully on its own terms, is the surest, strongest antidote to our polarized religio-cultural debates. This is a text infused with purpose, but that purpose was not to narrow our pursuit of understanding the natural world. For centuries, until the medieval period and the Reformation, great Christian theologians knew this and honored it. To treat Genesis as a commentary on science is to ignore its cogency as text and teaching, just as to read a poem as prose is to miss the point. It is more complicated than that, but it is also that simple.
And just as a more three-dimensional approach to the Bible can provide new starting points for an old conversation, so can a more three-dimensional look at the history of science. Even when they struggled against bitter religious resistance to their ideas, the likes of Copernicus, Galileo, Kepler, and Newton believed that their discoveries would and should widen human comprehension of the nature of God. The more we could understand about the world around us in all its intricacy, their reasoning went, the better we would understand the mind of its maker.
Charles Darwin belonged to that lineage. The Origin of Species was not the first text to break from religion, as our cultural narrative has come to assume. It was the last classic scientific text to engage theology directly. James Moore lays this out forcefully. And for the religious scientists in these pages, no intellectual compromise is needed to embrace evolution as ingenious--to understand creation as an ongoing, inborn capacity of a world endowed with independence rather than as the one-act invention of a puppet-master God. James Moore also makes the compelling suggestion that in documenting the freedom of the world to define its own fruitfulness in and through chaos and struggle, Darwin liberated humanity from belief in a God who preordained every cancerous cell and shifting tectonic plate, every social and physical injustice. Even the creationists of our time have been liberated-in part by Darwin--from belief in this kind of God.
Related
Popular in the Community