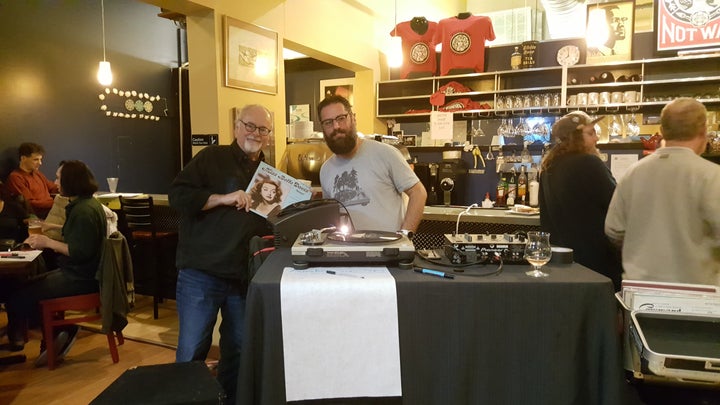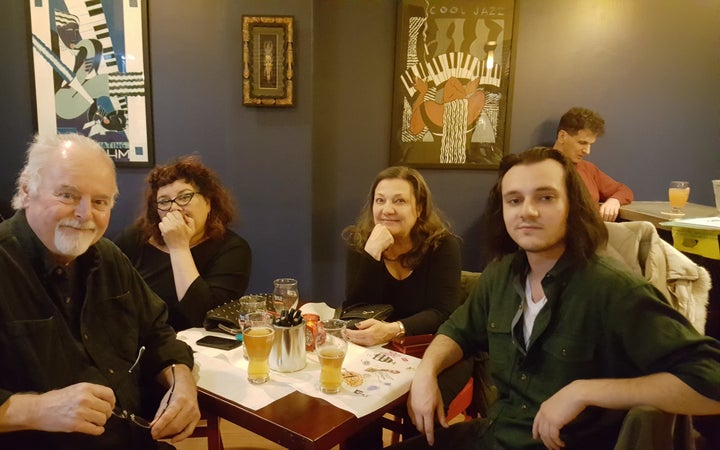 Locals of this Boston suburb know the rest. But could the famed "City of Sin" become the "City of Spin?"
One community mainstay is Seth Albaum, a 41-year-old former public school teacher and founder of upsidemedia, LLC, and LynnHappens.com, a website where he chronicles local festivals, City Council meetings, art events and other city goings-on.
Albaum, who owns a downtown home with his wife, Jennifer Adler, also heads the Downtown Lynn Neighborhood Association. He serves on the Lynn Cultural Council and the Lynn Museum / Lynn Arts Board of Directors, and is a member of the Lynn Area Chamber of Commerce and the North Shore Latino Business Association.
A DJ who often spins at Gulu-Gulu Cafe in Salem, Mass., his latest venture is the all-vinyl 33 1/3rd Thursdays. "Bring some records and sign up to share some special cuts with us," he invites Facebook page members, while adding that 45's are okay, too. No mic hogger, he urges them to introduce their tracks, if they wish.
"I'm opening up my turntables for record collectors and regular folks to dust off their boxes of old records, to share them with a crowd in an open mic style," he explained to HuffPo.
According to an April, 2015 Newsweek article by Lee Barron, record sales in 2014 grew by more than 50 percent to over a million units sold, the highest number since 1996. In July, Billboard reported vinyl sales, still growing by 11.4 percent, reaching 6.2 million.
On the vinyl spin and tell's inaugural night in Lynn, Albaum called the all-ages scene a form of musical crowdsourcing. "People who collect vinyl don't often share it," he observed. "This gives them that opportunity."
Bob Bond, a local photographer who lives across the street from the cafe in a former 1891 shoe eyelet factory now called the Boston Machine Lofts, brought "Miss Bette Davis Sings," from which Albaum spun "They're Either Too Young or Too Old." Noting the disc's Citadel Records copyright of 1976, Albaum mused about when it was actually recorded. "I think this is the record that gave William Shatner the courage," he said.
The coffeehouse, which had just opened on Nov. 2, is named for a group of University of Munich students who resisted the Nazis. A book about White Rose core member Sophie Scholl is prominently displayed; Scholl, brother Hans and others were ultimately executed for their efforts. Coffeehouse co-owner Kato Mele was inspired by their story of bravery. Other bookshelves, and artwork and decor fill the space.
"We're trying to become a center for artists in the cultural district," said general manager Patrick Nelson, a musician, artist, and bartender born and raised in Lynn.
"Seth and I sat down a few months back and talked about different things we could bring in," recalled Nelson. "He said that he had attended an event like this in Cambridge."
Carol Jefferson and her son Eli came from Topsfield. "My cousin Cat DeLeon designed the logo for the coffeehouse," said Jefferson, who said that they came to support Albaum. She added that she wished she hadn't lost many of her vinyl records.
"The CD is efficient, and brilliant," said Bond. "But when you play a CD next to an album, your ears like the album more. There's just more warmth and depth."
Another generation agreed. "I feel like it's more of an activity," said Eli. "The times when my friends and I sit around listening to a record, we are really sitting and listening to the entire album, instead of switching between songs and artists."
Elizabeth McKim, who lives in Bond's building, brought a stack. "We don't have a record player anymore, so I took them out of storage," she said. McKim brought some jazz: Spencer Davis, Dexter Gordon, Miles Davis' "Bitches Brew," and some Dizzy Gillespie, as well as "The Best of Mississippi John Hurt," John Lennon's "Imagine," and Paul Simon's "There Goes Rhymin' Simon," and other pop albums.
"When I came in, I was very happy to hear 'Tea for the Tillerman,' as that was one of my favorite records in the early 70s," she said.
Why did she come in? "Community, arts, and sharing vinyl," she responded. "And we want this coffeehouse to become a central gathering spot for downtown Lynn, which is filled with various artists and writers," she added, noting that across the street is the RAW Art Works center for teenagers, and that the Lynn Museum & Historical Society are in the immediate area. "We have an arts resurgence in Lynn," she said.
Following an introduction about Boston-based pop raconteur Jonathan Richman's "Roadrunner," DeLeon then told the burgeoning crowd about the late 70s UK 2 Tone movement, before Albaum started up "Gangsters" by the Specials. "In the late 70s, gangsters were terrorizing the UK," DeLeon explained, before adding, "Just like they are now in our country."
As that time was also fraught with racial and gender bias-fueled turbulence and right-wing ascendancy, DeLeon's post-election analogy seemed more than a bit apropos.
Albaum plans to feature an album side each month. On Nov. 17, it was Side A of the Ric Ocasek-produced, Guided by Voices LP "Do the Collapse."
"To be sure, it's about showing off records and not skills, as we'll only have one turntable!" Albaum cautions on the Facebook page. "How many songs you get to play depends on how many people bring records. So get there early, and get on the list!"
The next 33 1/3rd Thursday in Lynn is Dec. 15.
Susie Davidson tweets at @SusieDavidsonMA.