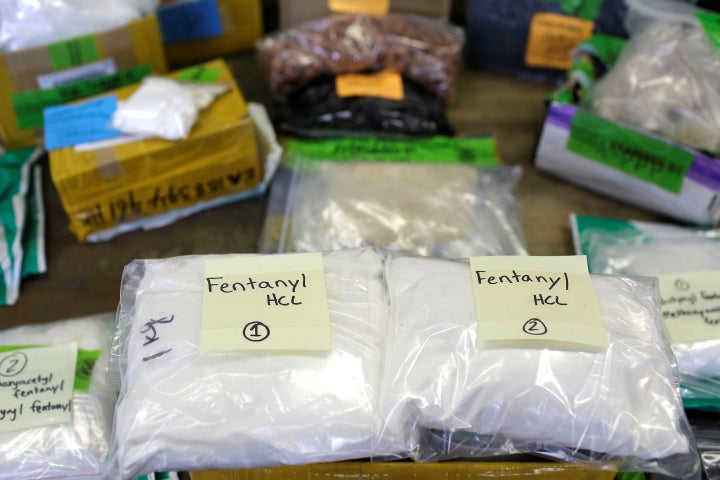 Drug overdose deaths killed a record 72,287 Americans last year, according to new provisional estimates from the U.S. Centers for Disease Control and Prevention. The 9.5 percent increase from the previous year's estimate translates to 6,000 more deaths.
The rising estimate represents nearly 200 Americans dying from a drug overdose every day.
Because some recorded overdose deaths are still under investigation, the numbers won't be finalized until the CDC releases its official mortality numbers in December.
The new estimates indicate that the record deaths were largely driven by synthetic opioids, primarily fentanyl, which is 30 to 50 times more powerful than heroin. Synthetic opioids were involved in an estimated 29,406 deaths in 2017, up from 19,413 deaths the previous year.
Some experts believe laws aimed at curbing prescriptions may be doing more harm than good.
"The rise in overdoses across the country is definitely a direct result of powerful fentanyl analogs that are readily available on the streets," said Dr. Hansel Tookes, an assistant professor at the University of Miami Miller School of Medicine. "Unfortunately, with tougher prescribing laws, more people with pain and opioid use disorder are being pushed toward these powerful street drugs."
While overdose deaths involving fentanyl ― along with cocaine and meth ― all rose, heroin deaths plateaued between 2016 and 2017 and now stand at 15,958, which could be an early indication that the opioid epidemic is reaching its peak.
The highest death rates were in West Virginia, Pennsylvania and Ohio, but a few states ― including Massachusetts, Vermont and Wyoming ― saw their overdose rates fall.
Additionally, New England states including Vermont, Massachusetts and Rhode Island, where deadly synthetic opioids like fentanyl first appeared, are starting to see a decline in opioid overdoses. All three states have made efforts to expand access to harm-reduction methods like clean-needle exchanges and the overdose reversal drug naloxone, as well as access to addiction treatment for residents.
Still, experts are cautious. Fentanyl has largely been sequestered east of the Mississippi River, where white powder heroin is prevalent. West of the Mississippi, where black tar heroin is more prominent, fentanyl has traditionally been less of a problem, since the two substances are more difficult to mix. Should distributors find a way to mix fentanyl into black tar heroin, that could upend the relative safety from fentanyl the western U.S. has had up until now.
Support HuffPost
The Stakes Have Never Been Higher
Related
Popular in the Community