"Down in New Orleans where the blues was born, it takes a cool cat to blow a horn" - Mardi Gras Mambo. Mardi Gras season is in high gear in the City of New Orleans, which expects a record tourist season as this will be the latest Fat Tuesday in 150 years, coinciding with Spring Break.
The only dark cloud so far was a day of thunderstorms canceling many of Saturday's parades and moving the Endymion Super Krewe to Sunday, March 6, following the Krewe of Bacchus. Bacchus royalty is Andy Garcia; and Kelly Ripa and CNN's Anderson Cooper are reigning over Endymion with Bravo TV's Andy Cohen as a Captain. Orpheus, which rolls Monday March 7, was founded by New Orleans-born Harry Connick, Jr. and its celebrity monarchs this year are actors from HBO's Treme.
In addition to parades, French Quarter marching clubs include Krewe du Vieux; Krewe of Cork celebrating wine and pouring glasses along the route; Mystic Krewe of Barkus an all dog parade; and Divine Protectors of Endangered Pleasures (DIVA). The official kickoff to Mardi Gras in the French Quarter was the greasing of the poles at the Royal Sonesta, which is exactly what it sounds like. For 41 years, local luminaries have coated poles supporting the hotel's balcony with petroleum jelly to ensure revelers can't climb up for Mardi Gras, and a crowd cheers for the winning celebrity greaser.
Carnival in New Orleans is ever evolving, and the all-female Krewe of Muses included a record number of marching clubs this year. Marching instead of riding offers a way to participate with lower membership fees and without the expense of throws. Fat Tuesday marching clubs include the Krewe of St. Anne which parades from the Marigny, and for those who like to stay put along the route Rex the King of Carnival will roll after the wildly popular Zulu Parade.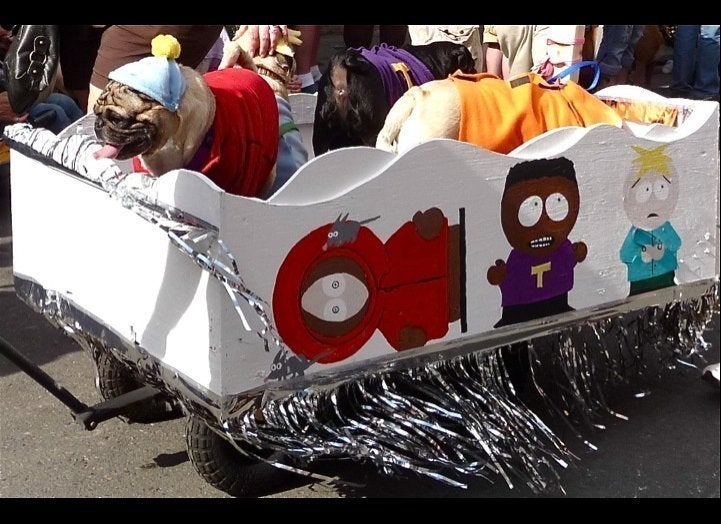 Mardi Gras Revelry 2011 (PHOTOS)