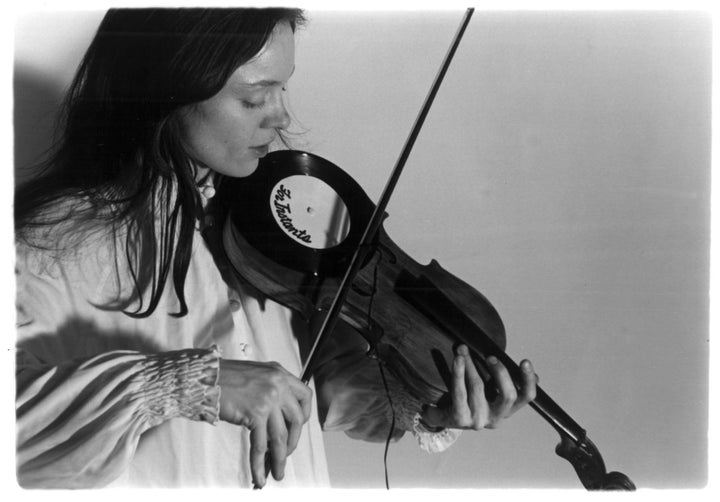 "It's a subject that a lot of people can relate to in different ways. Older generations relate to vinyl records because they have a nostalgic connection to it," René Morales, MAM's associate curator, told HuffPost Miami. "Then there's a young generation who collects vinyl records for their own reasons. There's a kind of trendiness to records right now."
[View images from the exhibition below.]

Organized and originally shown at the Nasher Museum of Art at Duke University and aided by a grant from the Knight Foundation, 41 international artists will show off 99 pieces of record art and works inspired by vinyl.
The first exhibit of its kind, "The Record" includes work from the last 50 years: drawings, photographs, installations, and paintings, as well as pieces using sound, video, and performance art.
New York City and Paris-based artist and DJ Xaviera Simmons took a series of photos while traveling in North Carolina and gave two different photos to each of her musician friends to write a song about them. The songs were compiled into a limited edition vinyl record.
Simmons will also be sitting on the first of three panels hosted by the museum, with Morales, artist William Cordova, and exhibit organizer Trevor Schoonmaker.
"It's amazing. It's really unique, it's really refreshing," Simmons said of the exhibit. "Held in different hands, it could be a very kitschy show, but it's not. It's very fresh and unique."
Houston artist Dario Robleto has four sculptural pieces in the exhibit that merge his passion as a DJ with his segue into art.
Like a DJ mixes two records together to make a new song, the artist wondered what would happen if this was done in the literal sense. In his works, he melts records together to create new art.
He will also be leading one of the exhibit's lectures, discussing the history of music recording and the DJ culture.
"The beauty of this show for me is that it challenges contemporary thinking that records are just this outdated relic," Robleto told HuffPost Miami. "There has never been a moment as the decades pass where visual artists haven't been inspired in some way by the vinyl record as an object and a sound source."
"The Record" and its events also demonstrate the role Miami has played in the recording industry -- not just today, but going back decades to KC and the Sunshine Band, Miami Sound Machine, and 2 Live Crew. One lecture discusses the city's iconic Miami bass sound.
"Miami was actually a big center for recording in the '70s. In particular, The Eagles recorded Hotel California here," Morales said.
The unique exhibit won't be confined within the walls of the museum but will also hit the road in the Soundbomb Bus -- a '70s Volkswagen Minibus a la Jamaican Sound System trucks traveling to Miami's parties blaring music and offering up space to create vinyl art.
"The Record" opens Saturday and closes June 9 with a DJ sound battle. Prices for events vary but generally cost $8 to attend; see the full schedule of parties, lectures, panels and special events for the exhibit here.
Click below for a sneak peek of works from "The Record: Contemporary Art and Vinyl":
Related
Popular in the Community