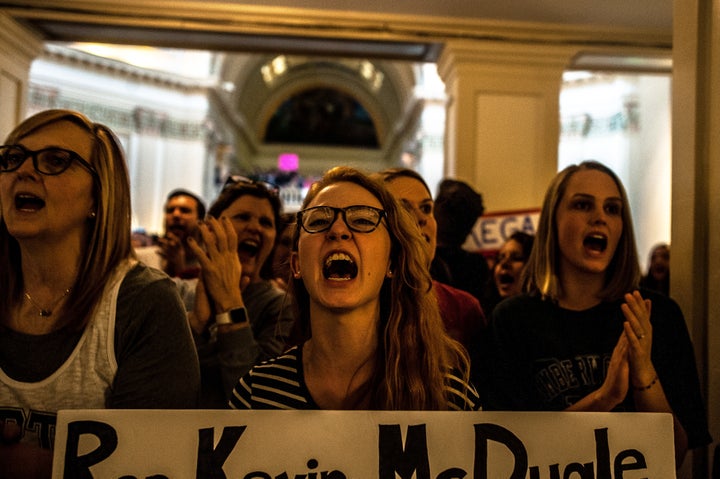 The massive teacher walkout in Oklahoma is coinciding with candidate filing days for state office, and so far a record number of Oklahomans are throwing their hats into the ring to challenge the status quo.
The Oklahoma State Election Board says 458 people filed as candidates on Wednesday ― the first day they could do so ― which is the highest number on record going back to 2000, the first year for which the agency has data. The next biggest year was 2014, when 419 filed on day one.
Bryan Dean, a spokesman for the agency, said it does not break down the filers by occupation, though anecdotally many of the candidates appear to be teachers. 
"The enthusiasm surrounding the ongoing demonstrations is likely at least partially responsible for the numbers we've seen," Dean explained.
Dean said candidates were on pace to set a record for day two filings on Thursday as well. The third and final day to file is Friday. 
Teachers around the state walked off the job on April 2 to demand more money for schools, and thousands have since descended upon the state capitol in Oklahoma City each day to pressure lawmakers. The walkout is part of a wave of teacher strikes taking place in red states that have passed tax cuts while slashing education funding in recent years.
The candidate filing numbers are just the latest indication that the ongoing teacher rebellions could have lasting political implications. In West Virginia, Oklahoma, Kentucky and Arizona ― all states where strikes have occurred or are currently in the works ― teachers have been prodding one another to run for office or campaign on behalf of candidates, mostly Democrats, who will prioritize education.
As HuffPost reported last week, teachers in Kentucky are now jumping into state races, just as they battle lawmakers over cuts to teacher pensions and school funding.
The civic engagement has been amplified quite a bit.

Beth Wallis, Oklahoma teacher
Peggy DeFrange, a retired teacher who filed Wednesday to run for an Oklahoma House seat as a Democrat, has had her campaign up and running since August, with education being her top issue. She was part of the last teacher walkout to hit the state, back in 1990.
"We've had such major tax cuts in Oklahoma ... Oklahoma has just not been an education-friendly state," she said. "I know what it's like to walk into a classroom and not have enough textbooks and not have the resources you need.
"I've been accused of playing the teacher card [as a candidate]," she added. "Yes, I'm a teacher. If that's what it means, then I'll play the teacher card."
Republicans control both chambers of the statehouse as well as the governor's mansion in Oklahoma. The majority of those who'd filed to run for office as of Thursday did so as Republicans.
The teacher walkout stretched into its ninth day Thursday. Although lawmakers had passed a pair of revenue-raising measures, it still had not met the funding demands laid out by teachers at the outset.
Beth Wallis, who teaches in the Tulsa suburbs and has been protesting at the capitol, said she hasn't seen her fellow teachers so politically active before.
"The civic engagement has been amplified quite a bit," Wallis said. "A lot of them are running for office now, because that's where the problem originates."   
REAL LIFE. REAL NEWS. REAL VOICES.
Help us tell more of the stories that matter from voices that too often remain unheard.