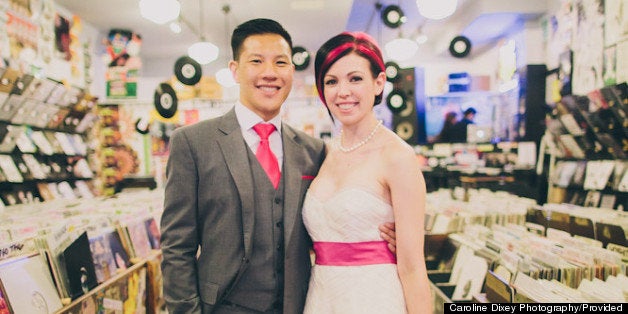 Chicago DJs Dani Deahl and Fei Tang had returned to Gramaphone Records many times since their first date at the venerable Lakeview record store two years ago, but when they showed up Sunday, it wasn't to spin vinyl — it was to tie the knot.
Deahl and Tang, both 30, said "I do" in front of 50-some guests Sunday afternoon in a unique ceremony Gramaphone owner Jason Bradley said was a first for the 44-year-old record shop.
(See photos of Deahl and Tang's wedding and reception below.)
Deahl told HuffPost Chicago neither she nor Tang is religious, so getting married in a record store rather than a church or other traditional venue felt the most natural.
"We had no bridal party and had our parents ordained as ministers so they could marry us," Deahl said. "We thought it was more meaningful to have them marry us versus someone we didn't know, plus it was a representation of the melding of two families."
The pink and black record store wedding was hinted in the couples' invitations, said Weller.
"The save the date was a ticket stub, and the invite was a 45, custom designed," Weller said. "The invitation even had a custom sleeve with stickers on 'record.'"
Tang designed the invites to mimic a Ticketmaster stub, but Deahl said the design may have been too good:
"Some of our family members were momentarily confused when they got them in the mail because they were so exact, they thought they were actual event tickets."
'LET'S RUN AWAY TO VEGAS'
The music-loving pair first met in 2010 at the weekly Porn & Chicken dance party after Tang, who organizes the bash, invited Deahl to spin "so he could ask me on a date." The pair hit it off and on Record Store Day 2011, the two went to Molly's Cupcakes for their first date, and later to Gramaphone to deliver the treats to the busy staff.
"A couple weeks after [our first date] we had a Vegas wedding themed Porn & Chicken where Fei fake proposed to me with a tin wedding ring that was on the bar," Deahl said. Shortly after, Deahl said jokes into running away to Vegas to get married turned into a genuine decision to get hitched.
Tang eventually replaced the tin wedding rings the pair had been wearing for almost two years with a custom-designed ring for Deahl made with pink diamonds set upside-down with the pointy side out. Weller said the couple's wedding bands are engraved with the sound waves of each other saying "I do."
'I'VE NEVER SEEN ANYTHING LIKE IT'
"[John] told us to stay true to what we wanted and not give in to surrounding pressures that were bound to come our way," Deahl said. The singer revealed he received blowback from some guests at his own wedding when he chose to have a vegan reception, but reminded the couple the wedding should first and foremost reflect who they are.
"We weren't setting out to be weird or out of the box for the sake of doing it -- we felt it was important to be genuine and thoughtful with all the details so it truly reflected who we were as people."
Deahl said some relatives were surprised by the choices, saying they had never seen anything like it. Rather than lighting a traditional unity candle at the ceremony, the couple instead opted for shots of Jameson at the altar.
Still, the pair didn't toss tradition out the window entirely. The couple honored their parents with a traditional tea ceremony at the home of Tang's mother (his father is deceased) as a nod to Tang's Chinese heritage.
The couple also held on to traditions like the mother-son and father-daughter dance: Tang and his mother danced to Tupac's "Dear Mama" while Deahl and her dad rocked to Adele's cover of Bob Dylan's "Make You Feel My Love."
Weller said the couple was "willing to break all the rules" when it came to planning the ceremony and reception. "Planning with creative people is awesome, and they really took the reins on this," Weller told HuffPost. "They're very successful, hardworking people, and they really brought it all together."
According to Deahl, the personal touches helped foster a sense of intimacy among couple and their guests, with plenty cutting loose by the night's end.
"We even caught my 92-year-old grandma taking shots of Jameson out of the bottle."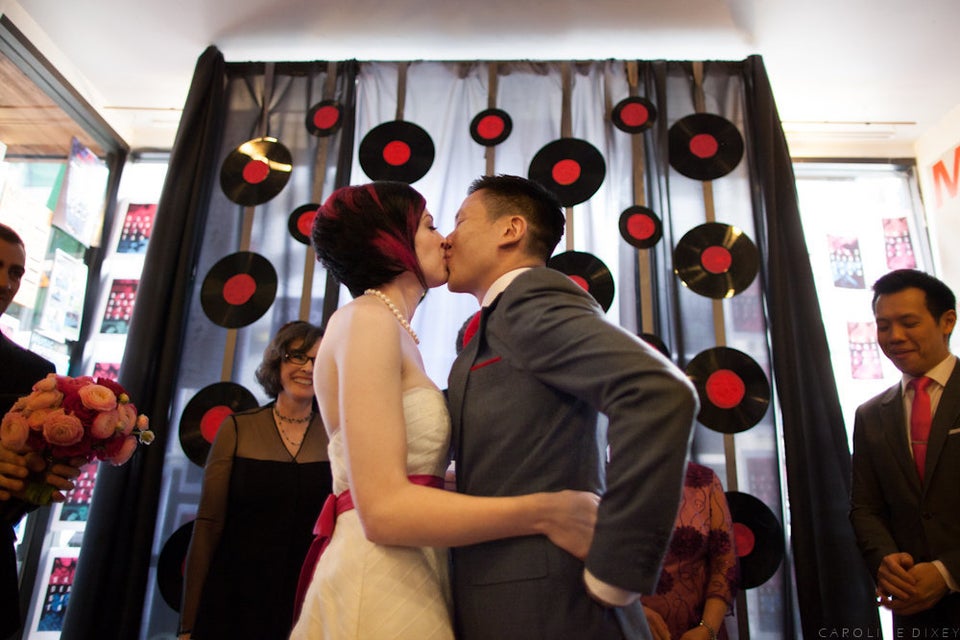 Record Store Wedding Truly Rocks
Related
Popular in the Community