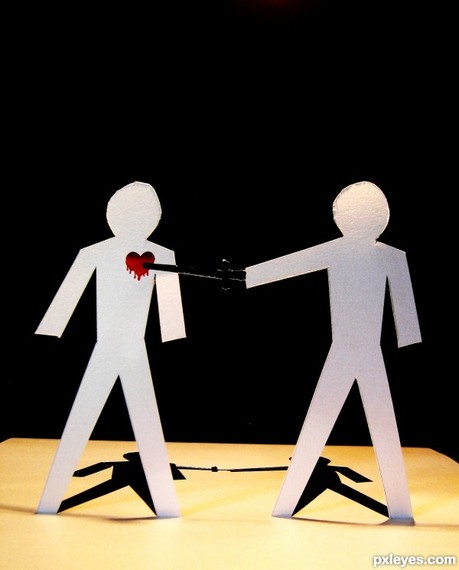 I understand it hurts, and it hurts really badly. No one deserves to be treated the way you were. No one deserves to feel emotional pain tearing through their body or bringing them to their knees. You did nothing to deserve this and it is not your fault.
In 2009 I went through a profound betrayal that uprooted my life and sent it swirling into space. (The full story in my book mentioned later in this article.) I had lost all perceived control of what helped me feel "safe" in the world, and I was teetering over an abyss of depression and anxiety so deep that if I allowed myself to fall in, I may have not ever recouped the strength to pull myself out.
I now lovingly refer to that abyss as "victimhood."
After a betrayal rocks our life, it's quite easy to attach to the thoughts and actions that accompany victimhood. After all, we were the receiver (victim) of another's selfish, thoughtless and cruel actions. We know it was unfair and we can easily get stuck in the dense emotions that accompany that truth.
It's healthy to feel and process emotion. Anger, shame, pain, blame and other emotions we experience are healthy indicators of where we need healing.
However, processing and progressing is very different from becoming stuck in one's story and forever living in victimhood.
At some point, we must decide what we are going to do with our story of betrayal.
The question is:
Am I going to grow and evolve from this?
Or
Am I going to allow his/her behavior to negatively shape my life forever?
Dr. Joe Dispenza, a scientist, researcher, author and lecturer, says it so succinctly, "Memory without the emotional charge is called wisdom."
When we can get to a place where our story is no longer emotionally charged, we know we have healed.
But how do we get there?
The Path to Betrayal Recovery -- You CAN do it
They say time heals all wounds. I agree and I disagree. Yes, over time our pain may decrease even if we don't do the work, but that is mostly because other more pressing matters take precedence as we grow older and we tend to forget part(s) of our story. We may think we are "over it" until the shadow of our unhealed wound bares its ugly head causing us to act out in some hideous way.
In order to truly heal from betrayal and move forward in empowerment and self-worth, we must commit ourselves to our recovery no matter what it takes.
1. Be willing to heal -- As with anything we want to accomplish in life, we must first set an intention. I am willing to heal from this. We must become radically clear that we are moving forward no matter what.
2. Believe your life is not over -- I have found through years of research and personal experience, that each person who adopted this belief and acted from it, not only healed from their betrayal, but found a new and better relationship on the other side.
Which is a fabulous segue to the next step.
3. Healing changes your energy level -- We all function at a certain degree on an energetic scale. When we do the work to heal ourselves, we actually raise our energetic level. An improved energy level always attracts improved partners and friends. We don't run the risk of repeating an old pattern with a new partner because we have far surpassed the level of attraction we were at when we were with our betrayer.
4. Build a supportive community -- Our community has the capacity to lift us up or keep us defeated. It's not that it is impossible to grow in a negative community, it's that it will take a heck of a lot of confidence and focus to do so and those two traits are definitely not in abundance after a profound betrayal.
Be willing to find a mentor or group who has gone through what you are going through. The best teacher is someone who has been there. Allow their wisdom to guide you and feel the support of your community wrapped around you.
You will only be alone if you allow yourself to be.
5. Love yourself -- Oftentimes, it's a lack of self-love that gets us into these messes and it is abundance of self-love that will get us out! It may sound like a ridiculous notion, but I am living proof on what dedicated self-worth work can and will do! Be willing to reframe your mind regarding who you are and what you are worth. Read books on your topic and attend lectures and workshops. Fill your mind with healing words and wisdom.
6. Find the gift in the betrayal -- I know... at first glance you want to scream at me, "What gift?! There is no gift in what he/she did!" I understand completely. I felt that way too; however, if we look close enough, there is always a gift. By focusing on the blessings in our lives (gratitude practice) we actually energetically align to the manifestation of what we want more of. Additionally, good feeling thoughts promote good feeling emotions and a peaceful mind allows us to make great decisions for our lives.

7. Forgive them -- Friends, forgiveness is for you, not your perpetrator. Forgiveness means letting go. It means understanding and having compassion for the darkness of your perpetrator and knowing it had nothing to do with you. It means releasing the toxic tie binding you to him/her. Remember, forgiveness is not condoning their behavior, it is detaching from it. If you are finding yourself super resistant to forgiveness at this time, at the very least set the intention:
I am willing to forgive.
For more on Kristen's life changing book, related articles or personal coaching, please visit: www.kristenbrown.org.
My book From Doormat To Sweet Empowerment -- A spiritual guide to reclaiming your personal power in relationships and life outlines the 9 keys steps I took to recover my self-worth after "my tsunami" in 2009.The shift in my life was so fascinating I felt driven to share my discovery with the world.
Calling all HuffPost superfans!
Sign up for membership to become a founding member and help shape HuffPost's next chapter