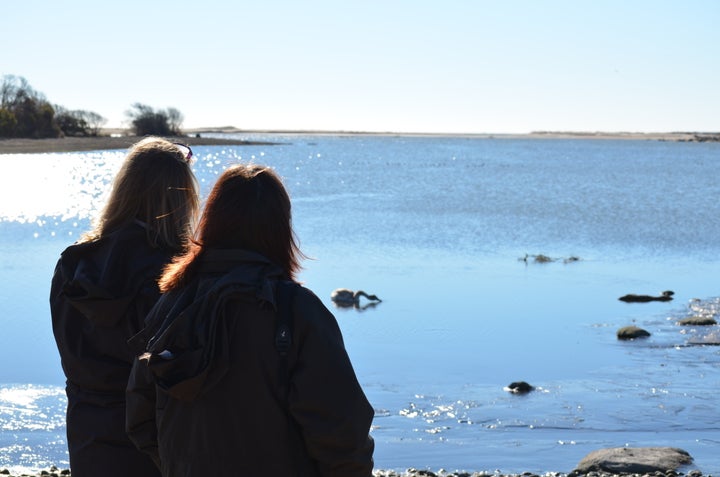 I live on the Texas Gulf Coast. I have lived through a lot of hurricanes and tropical storms. Yet last month, I flew into New York City for a hurricane. Why? Following my recent book launch, I had a lot of important media events, including a potentially game-changing TEDx talk, scheduled starting on October 30. This SQ work is my passion and mission. I didn't want to miss these events because of cancelled flights.
So I left on the second-to-last flight out of Houston to Newark, and arrived at my hotel hoping that Sandy would be more hype than horror. As a storm veteran, I brought a flashlight, extra batteries, boxes of granola bars, and other food with me. I verified that the hotel had a backup generator just in case. I confirmed we were not in the Zone A evacuation area. I stocked up on some bottled water, filled the tub, and hunkered down. Over the next few days, the local news crew became my primary companions.
Hurricane Sandy exceeded the worst expectations. Tragedy was everywhere. I watched the local news for hours and hours a day. I prayed like crazy through the storm and afterward for those who were suffering. I am still praying.
My appointments were cancelled, the conference postponed. Yet I was glad to be there in Manhattan for the week. Why? Because it was a chance to experience (not just think about) life, and what really matters. Here are a few of the truths I was grateful to re-experience. Perhaps you experienced this too?
Life is precious. When the ordinary worries are stripped away and you realize how fragile your body is compared to the power of such a storm, you remember that every breath, movement, color, sound, smell, taste, and touch is a precious experience. Dropping into the mindful experience of each sensation is nourishing. And never more so than when you realize that for some people facing this storm, today will be their last day in their bodies. How long will I be in mine? Treasure the moment.
People are precious. Heartbreaking stories of children ripped from their mother's arms by the waves, a father electrocuted saving his family, the storm surge rising inside a house while a teen sent her last Tweet. The panic of everyone trying to find out if loved ones are okay. How often do we say "I love you," or "thank you," or make time for people over tasks? Treasuring people -- the second great takeaway from Sandy.
Heroes are everywhere. Heroes come in a million shapes and roles. The first responders were amazing. So were the government employees, utility employees, shelter volunteers, and the reporters who gave us updates. Neighbors checked on neighbors. Deli owners slept in their stores so they could stay open to feed people. People with electricity put out power strips so others could charge phones and contact loved ones. Understaffed, dealing with their own pain, hotel employees worked long hours to keep guests cared for. Taxi drivers worked through gas shortages and gridlock to get stranded people to flights so they could go home. Lots of people took in friends who needed some place safe to stay.
So how do we go forward from this?
The adrenaline rush is over. The long rebuilding and recovery is ahead. The urgency of surviving the moment gives way to the sadness of personal loss and infrastructure devastation and day after day of work. So many lives, homes, and businesses are destroyed. Debris are everywhere. Gas is rationed. Simple things have become hard. What is the spiritually intelligent response? Here are some of my ideas. I welcome yours.
Feel the grief -- and let it flow through you. I think it's a "spiritual bypass" to not allow people to feel their sadness. It's okay to suppress tears in the crisis moments. But once the crisis has passed, it's good to grieve and to cry. Tears help us cope, and some doctors believe that crying helps us release toxins. But more important, grief makes us human. Grief cracks open our hearts. From our own sadness comes compassion for the sadness of others. We don't want to "cling" to our sadness or victim stories. We want to feel the grief and let it pass. Each day, as many times as it takes, feel it, acknowledge it, let it move through you. It can take months or years of feeling and releasing. It's okay.
Focus on gratitude. As soon as you can, and as often as you can, find something to be grateful for. It could be a kind smile, or a warm blanket. It might be the electricity crews, the police, or a puffy white cloud. Find something each day to be grateful for. Find 50 things, if you can. It's easy to find things that are wrong. Seek to find what is good and beautiful. Focus on it. Say "thank you" a lot -- to your own body, your mind, and your spirit. Say thank you to as many other people as you can. When something good happens, watch your words. Rather than grumble, "Well! It's about time," try saying, "I am so grateful. I will do my best to never take X (e.g., heat) for granted again."
Ask for help. Even heroes know they need other people. Don't try to be super-human. Let others help you. Ask for help when you need it. Ask people. Ask agencies. Ask professionals. And ask whatever you call the essence of life or spirit for the grace and strength you need.
Offer help. Whenever you can, offer to help others. We feel better when we can make a difference for someone else. And by "paying it forward," we feed a virtuous circle -- amplifying the help available for all.
Inspire people. Give hope where you can. On the day after the storm had passed singers, presumably from Broadway, came out to stand on the TKTS roof/stairs and belted out uplifting songs for anyone in the Times Square area to hear. I opened my window and soaked it in. They had their voices, and their hearts. They shared both.
My guiding question for a high SQ life is "What would love do in this situation?" What should we do as we recover from Sandy, or any of the storms of life? We should do what is loving toward ourselves as well as what is loving toward others. We need a lot of love to get each other through hard times.