My comments today are about the recently published Complete Works of Pat Parker and more broadly the Sapphic Classics series. I focus on the three phases of the work: editorial, production, and distribution to consider how I have been working as an editor and publisher and also to challenge all of us to think more rigorously and act more boldly to preserve and protect LGBTQ literature.
The Sapphic Classics began with my shock that Minnie Bruce Pratt's Crime Against Nature was out of print. Crime Against Nature was the first Sapphic Classic, since then A Midsummer Night's Press and Sinister Wisdom have published three more: Cheryl Clarke's Living as a Lesbian, What Can I Ask by Elana Dykewomon, and The Complete Works of Pat Parker, published last October. Parker was always a glimmer in my eye for this series, but it took time to build our publishing expertise to do this ambitious work.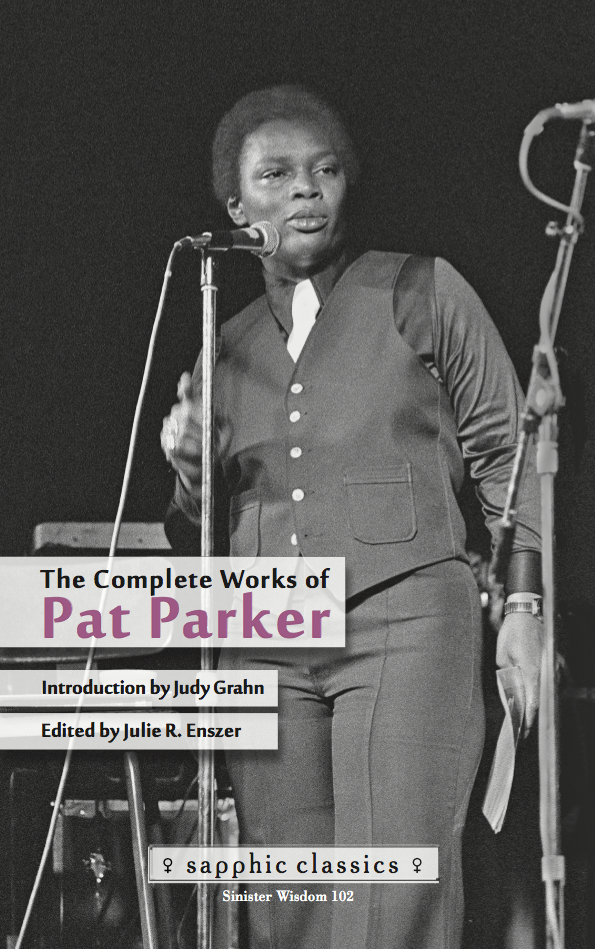 Editorially, I worked with Parker's heir and rights owner for a number of years to secure permissions and create a publishing plan. With regard to the editorial work, two questions feel crucial to engage when republishing work. First, whose work should be republished? Fundamentally, this question is about canonization of LGBTQ literature and preserving LGBTQ history. Second, who are the right people to involve editorially? As a white woman editing Parker, I engaged contemporary African-American writers in the manuscript review and in the promotion of the book. As when Parker was alive, I want multiple communities to embrace Parker's work.
Production is the area where we all see the benefits of commercial innovation. Producing beautifully published books is easier than ever before. Yet, ease of production raises an important question: what is the right format for republishing work? Two books are instructive. Ruth Simpson's From the Closet to the Courts: The Lesbian Tradition, first published in 1976 by Viking, was reissued by her family in a 30th anniversary edition in 2007. It did not find a wide audience both because it was not visually appealing and the case for its contemporary relevancy was not made. Scholar Michela Calderaro edited and introduced Spring Evenings in Sterling Street by Jamaican poet, Eliot Bliss. Calderaro could not find a publisher for the project so she released the collection beautifully as an ebook. While technology eased the production and distribution of the ebook, it has not found a wide readership, which is sad for us all. Bliss's work is extraordinary and she is and important figure in our literary history.
If there has been enormous innovation in producing books; distribution suffers from a lack of innovation. How do we find LGBT readers? How do we bring non-LGBT readers to LGBT lit to build larger audiences? Everyone in the field—publishers, allied organizations, readers, and writers—fails to address these questions in significant ways. We must think creatively and invest significant time and money in audience development for LGBTQ books to thrive. Finally, and perhaps most importantly, how do we promulgate the idea that buying books, reading books, and supporting the work of authors and artists is a crucial investment in the intellectual capital of our communities? Investing in the intellectual development of our communities is a vital way to nourish people for the struggles that face us.
Remarks from a workshop with the same title at the AWP Conference on Saturday, 11 February 2017 at 1:30 p.m. at the Washington (DC) Convention Center. I am grateful to the organize Philip Clark for the opportunity to speak and think about these issues.
Calling all HuffPost superfans!
Sign up for membership to become a founding member and help shape HuffPost's next chapter