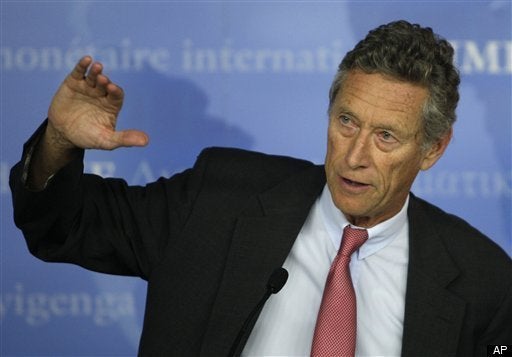 JOHANNESBURG (By Phumza Macanda and Ed Cropley) - Europe needs to strengthen its financial rescue fund to reduce the risk of renewed global instability as U.S. tax cuts and buoyant emerging economies help propel the recovery elsewhere, the IMF said on Tuesday.
Rich nations should nurture their slower growth rates by keeping monetary policy loose, while inflation pressures may force a number of emerging economies to raise borrowing costs, and global growth engine China should look to revalue its yuan currency sooner rather than later, it said.
In an updated World Economic Outlook, the International Monetary Fund said the global economy would likely expand 4.4 percent this year, a touch higher than the 4.2 percent forecast in October. It expects growth of 4.5 percent in 2012.
But, in an update to its Global Financial Stability Report, the Fund said the effective size of Europe's financial rescue fund should be increased and that its banks needed rigorous stress-testing to help restore market confidence.
"Problems in Greece, and now Ireland, have reignited questions about sovereign debt sustainability and banking sector health in a broader set of euro area countries and possibly beyond," it said as it released the reports in Johannesburg.
The worry is that the European Financial Stability Facility, which has a headline value of 440 billion euros but an effective lending capacity of around half that, could be wiped out if a larger European economy needed rescuing.
There have been EU discussions on beefing up the fund so it can lend the full amount, but there has been resistance from Germany, which says it must be part of a wider set of measures expected in March.
The IMF said Europe's banks needed further stress-testing -- as scheduled by the region's policymakers -- to ensure they could withstand any future shock. Non-viable banks should be closed, it said.
The link between weak balance sheets of European banks and governments was a primary reason why the International Monetary Fund said global financial stability was still at risk nearly four years after the financial crisis struck.
The Fund forecast a lift to a global economic recovery which began to gain pace in 2010 from a package of U.S. tax cuts enacted late last year. It said a separate stimulus package in Japan would also help.
"More generally, signs are increasing that private consumption... is starting to gain a foothold in major advanced economies," it said.
Advanced economies have been a drag on global growth since the financial crisis erupted and the IMF said they still posed the biggest risk to recovery.
It also kept pressure on Beijing to allow the yuan to strengthen, in contrast to French President Nicolas Sarkozy saying on Monday it was not his job to tell China what to do with its currency.
"Sooner or later it will be the logical thing, the necessary thing, to appreciate," IMF head of research Olivier Blanchard told a news conference. "We think it could be done faster. We think that the yuan is undervalued."
It raised its 2011 growth projection for advanced economies to 2.5 percent, but warned the pace was not sufficient to make a dent in high unemployment. It said rich nations needed to keep loose monetary policies to bolster growth.
"As long as inflation expectations remain anchored and unemployment stays higher, this is the right policy from a domestic perspective," it said.
The Fund forecast U.S. growth of 3.0 percent this year, a sharp increase from 2.3 percent forecast in October for the world's largest economy.
It was less positive on other advanced economies -- keeping its euro zone forecast at 1.5 percent and raising Japan slightly to 1.6 percent -- but saw growth accelerating somewhat in 2012.
Emerging and developing economies, which include China, India, Brazil and Russia, were expected to keep up brisk growth, although the Fund noted inflation pressures rising, particularly from high food and energy prices.
"Many countries are close to potential," IMF head of research Olivier Blanchard told a news conference. "That probably means that in a number of countries monetary policy may need to be tightened in order to maintain inflation under control."
It revised up its 2011 growth figure for emerging economies to 6.5 percent and saw similar growth next year. For China, the IMF maintained its 2011 growth forecast at 9.6 percent.
The IMF said the surge in private investment flows into emerging market economies would likely remain strong, buoyed by low interest rates in mature markets. It cited inflation as the key risk and said tighter monetary policies were needed.
With emerging economies accounting for almost 40 percent of global consumption, a slowdown in these economies "would deal a serious blow to the global recovery," the IMF warned.
(Reporting by Lesley Wroughton; Editing by Matthew Tostevin, Patrick Graham, John Stonestreet)
Calling all HuffPost superfans!
Sign up for membership to become a founding member and help shape HuffPost's next chapter