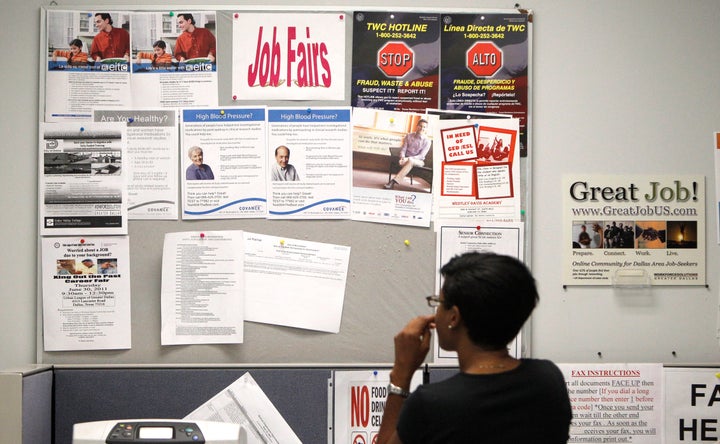 The recession, famously, hit men hard.
It was dubbed the "mancession," with male-dominated industries, like construction and manufacturing, among those shedding the most jobs. The gap in the unemployment rate between men and women grew to a 60-year high. Between December 2007 and June 2009, the official duration of the recession, 6.4 million jobs disappeared, and 74 percent of them were held by men.
Now, though, it's women who are losing out on the recovery. An extensive study from Pew Research, released Wednesday, shows that in the past two years, men have added 768,000 jobs, while women have lost 218,000.
In 15 out of 16 economic sectors, men have done better than women in the recovery. Since June 2009, there have been five sectors -- including finance, manufacturing, and the federal government -- where men gained jobs and women lost them. In five others -- among them education and health services, and leisure and hospitality -- men gained jobs at a faster rate than women. And in another five sectors, including construction, information, and local government, women lost jobs at a faster rate than men.
There was just one sector, state government, where women gained jobs while men lost them.
The findings of the Pew report may not come as a complete surprise to some. In January of this year, the economist Heather Boushey noted at Slate that men had far outpaced women in terms of 2010 job growth. "In total throughout 2010," Boushey wrote, "men gained slightly more than a million jobs, while women gained a paltry 149,000."
The Pew study observes that recoveries don't usually happen like this. In five periods of recovery since 1970, women either gained jobs faster than men or incurred fewer job losses. The report adds that the current recovery "is the first since 1970 in which women have lost jobs even as men have gained them," but that "it is not entirely clear why."
Since 2009, men have gained ground in a number of industries. For example, The Washington Post points out that men account for 39 percent of new jobs in health care and education since 2009, even though they'd only held about 23 percent of jobs in those sectors before the recovery.
Overall, according the the Bureau of Labor Statistics, the unemployment rate is currently 9.5 percent for men and 8.5 percent for women, similar to pre-recession rates, according to the Post. The national unemployment rate is 9.1 percent.