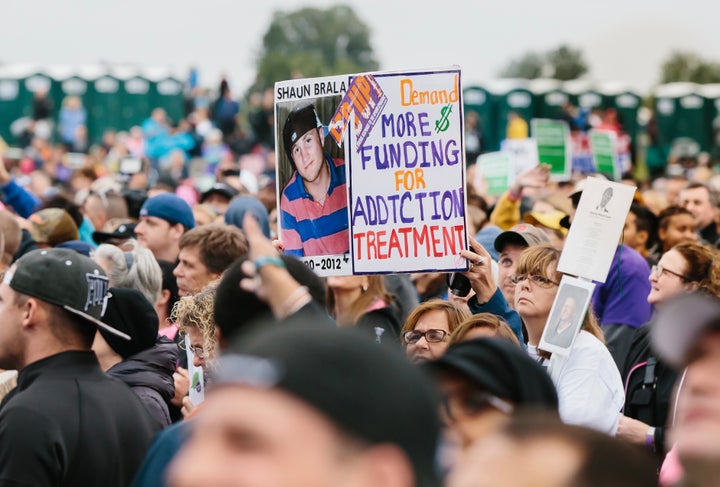 What's in your recovery tool kit? How do you maintain your recovery on a day to day basis? One thing that recovery advocates, doctors, and addiction science all agree on is connection. Other, healthy people are the key to finding recovery and staying sober for long periods of time.
There are other things, too: meditation, mindfulness, and different kinds of group therapy are all methods that people use to heal from drug and alcohol abuse. It sounds simple, but self care, learning more about addiction, and connecting with people in the recovery community are the "prescription" for our illness. Slowly, research is catching up with what grassroots activists, harm reduction groups, and recovery groups have known for a century. We need help, and for that, we support each other.
In the midst of the drug epidemic, it's easy to give up and feel like we're not making progress. The federal government is ignoring the health crisis that kills hundreds of Americans daily. The media holds up celebrity relapses, tragic accidents, and sensational stories as negative examples of what addiction is like. But under it all, the recovery community is working tirelessly to make connections, help people in crisis, and find solutions to this baffling mental illness.
We can't wait for someone to rescue us, so we've built our own lifeboats. Our community, out of necessity, has created some innovative ways to deal with the drug crisis.
This might sound like a fantasy, but it's not. One amazing example is the Alano Club in Portland, Oregon. Their Recovery Toolkit series is changing the way that we treat substance use disorder. By focusing on holistic, integrated recovery support, the Alano Club has created a simple set of "tools" for people who need help achieving long term recovery. Weekly yoga and meditation classes, mindfulness workshops, writing sessions for people who want to learn to tell their recovery stories, and even courses on healthy eating, addiction, and relationships. The classes are free and totally open to the community: anyone who walks in can get the help they need. The Club is home to hundreds of mutual aid support groups every week.
I think the Alano Club is an incredible example of where peer supported recovery is going. It's not a treatment center: it's a nonprofit. It's a member of the Facing Addiction Action Network, one of 600+ groups dedicated to helping people in recovery. It also looks beyond immediate need to the larger forces at work. The Club's advocacy training workshops teach people how to lobby for change and communicate with people who don't know the truth about substance use disorder. This is groundbreaking, in the recovery world. In fact, the Alano Club was just recognized by FAVOR's Joel M. Hernandez Award, the highest national award given to a recovery community organization. It also got a Focus on Innovation Award from Addiction Policy Forum for its work.
What's important is that the Alano Club is a one-stop resource for people in Portland, but its mission and materials could easily be adapted to any other recovery club.
That's the beauty of recovery: it really does go everywhere. I wish there was an Alano Club in every county and state, all across America. Many of us are lucky to live near major cities, and find connections there. But recovery, and the tools to get it, should be free and open to everyone. Those resources should be available to everybody who needs them, no matter where they live.
Many thanks to the Alano Club and the hundreds of recovery community organizations, non profits, churches, community groups, families, and recovery advocates who are pushing back against the drug epidemic. Your work is so valuable, and, in this public health crisis, essential.
You may not always make the front page, but we see you. Thank you.
Ryan Hampton is an outreach lead and recovery advocate at Facing Addiction, a leading nonprofit dedicated to ending the addiction crisis in the United States.