On January 25, the television show Recovery Road debuted on Freeform (formerly ABC Family). The program is rapidly approaching 200,000 Facebook likes, 30,000 Instagram followers, and 10,000 Twitter followers and should reach the 250,000 mark by conclusion of the first season later this spring. A decision on whether the show is to be renewed for a second season will be announced in the next several days. However, with audiences failing to reach 500,000 for the first six episodes, a second season is far from assured.
A December 2015 MTV article provided a sneak-peek synopsis of the show:
Based on the young adult novel by Blake Nelson, the series centers on Maddie (Jessica Sula of the U.K. series Skins), a real wild child who struggles to put her life back together after being busted for drugs and alcohol at school. Maddie is ultimately ordered to complete her junior year of high school in a sober living facility for teens struggling with addiction.
At first, Maddie rebels against Spring Meadows and all of its "rules," but she grudgingly begins to open up to her fellow housemates, who include Daniel Franzese (Mean Girls), Kyla Pratt (The Proud Family), Lindsay Pearce (Glee), and Sula's Skins co-star Sebastian de Souza.
Recovery Road is noteworthy in that it is one of the first television shows to highlight the process of recovery without shining a permanent spotlight on the horrors of addiction. Some individuals in the recovery community may disagree with the show's portrayal of the recovery process, but it is undoubtedly a step in the right direction. We have come a long way from not seriously addressing any behavioral health issue, to only seeing the horrors of addiction, and now finally being able to witness recovery through the media lens.
Show co-founder and co-executive producer Karen DiConcetto has begun opening up about her uncle's struggle with addiction. In December, I served on a SAMHSA-sponsored panel with DiConcetto, and we talked about the show's long-awaited premiere and the media's opportunity to bring recovery into the national spotlight.
The panel discussion, titled Navigating the Social Framework of New Found Recovery, included topics such as integration of addiction and mental health recoveries, recovery support on college campuses, and using one's own story to enact change in the community. On the topic of storytelling, DiConcetto discussed the writers' room thought process on how they wanted to portray recovery. These words stuck with me: "Addiction is the great unifier... it affects everybody." The sober house in which Maddie lives has individuals in recovery from all walks of life and with various lengths of sobriety. Portraying different faces of recovery, as well as multiple pathways that recovery can take, is a great first step in addressing issues of recovery by the media.
An article from The Guardian highlights DiConcetto's hope for Recovery Road to be a conversation starter:
Recovery Road is a bold show wrapped up in a palatable and accessible teen drama that makes for fun television viewing. The show will also undoubtedly give some parents--and perhaps teens--pause as it plainly shows that a high-functioning teenage girl can have serious addiction issues. DiConcetto hopes that it will start a lot of conversations between friends and families. "Our hope all along was for this to be the kind of show that people can talk about afterwards," said DiConcetto. "Because addiction is something that should be talked about. We want to help de-stigmatize it and hope that society at large starts to support people who are struggling with addiction and their families."
Time will tell whether the media spotlight continues to shift from active addiction to active recovery. This kind of attention to recovery needs to be present in film, at mega-events such as award shows or the Olympics, and throughout social media as much as possible. As today's youth mature, their ideas and realities are increasingly affected by what they see in the media. Doubters need only to observe media influence in the current Presidential election activities to understand the media's seemingly infinite reach.
Recovery Road is one step on a long journey to educate America on new ideas around behavioral health and addiction. In the same way that there are many faces and voices of recovery, we need many media faces and voices advocating for social change. Presidential candidates are shining a light on issues that have too long remained in the dark. Although their goal is to garner support from key constituent groups, we can use this attention to shape the media's role in the recovery movement and help create long-lasting, positive change.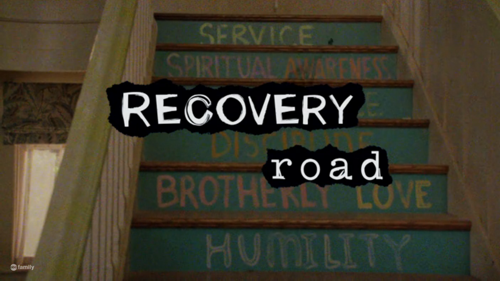 Calling all HuffPost superfans!
Sign up for membership to become a founding member and help shape HuffPost's next chapter