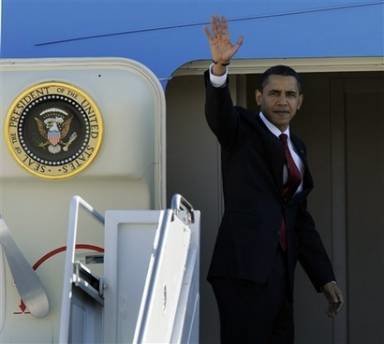 The Obama White House has officially launched its stimulus-tracking website, recovery.gov, giving the public a new-media portal through which to follow the progress of the legislation and, more broadly, the economy.
"Recovery.gov is a website that lets you, the taxpayer, figure out where the money from the American Recovery and Reinvestment Act is going," reads the site. "There are going to be a few different ways to search for information. The money is being distributed by Federal agencies, and soon you'll be able to see where it's going -- to which states, to which congressional districts, even to which Federal contractors. As soon as we are able to, we'll display that information visually in maps, charts, and graphics."
So far, the webpage includes a breakdown of exactly what was in the stimulus package such as $288 billion in tax relief, $144 billion for state and local fiscal relief, etc. ... They also have a U.S. map that tracks, state-by-state, where jobs have been created and/or saved -- a reminder to lawmakers who voted against the plan that they might face political ramifications for their opposition. The actual data points on which projects are receiving what kinds of funds won't be live, it seems, until the money is actually spent.
"Once the money starts to go out to build new roads, modernize schools, and create new jobs, we'll be able to give you the details on spending," the site reads. "Right here on Recovery.gov, you'll be able to see how, when, and where your taxpayer dollars are going."
One other interesting feature: the White House is encouraging readers to "share your recovery story." It's the type of interactive addition that can prove a win-win for the president's staff. They don't have to search for success stories, and the public feels like it is working in tandem with the administration on this huge political project.
Popular in the Community