Gary Wozniak is cultivating an urban farming initiative in Detroit that he says could create 18,000 new jobs in the city over the next two decades. Those kind of numbers are likely to perk up the ears of job-seekers in the Motor City, where the unemployment rate hovers around 23 percent, according to the Bureau of Labor Statistics.
Wozniak, a former financial consultant, is the driving force behind a nonprofit called RecoveryPark, which is developing three separate but related agricultural projects: an urban farm spread out over a 2,475-acre zone on Detroit's east side, a food processing center and an indoor fish farm. (Click here for a slideshow of Detroit's up-and-coming development projects.)
Talk about large-scale urban agriculture in Detroit in recent years has largely focused on financial services magnate John Hantz, whose plan for the world's largest urban farm evolved into a deal last year to create a 140-acre commercial tree-farming operation in the city.
The nonprofit RecoveryPark, initiated in 2008, has a very different focus. The operation is looking to hire ex-prisoners and recovering drug addicts, people who usually face barriers to employment. That's a mission close to Wozniak's heart; a recovering addict who spent three and a half years in federal prison because of drug-related activity, the project is a chance for him to give back to others who are recovering.
Early funding for the initiative is coming largely from philanthropic groups like the Erb Family Foundation, which has given the project a $1 million grant. While RecoveryPark is still in the wind-up phase, Wozniak hopes to launch the first 30-acre farm by the end of this year. All three projects are expected to be under contract by that time.
Over the next 15 to 20 years, RecoveryPark hopes to establish year-round indoor farms on about 1,000 acres in an area located between the Dequindre Cut, Van Dyke Avenue, I-94 and a southern boundary that runs along Jefferson and Vernor. The city of Detroit recently granted the group site control over the land.
Greg Willerer runs a one-acre Detroit farm called Brother Nature with his wife, Olivia. He told The Huffington Post that plenty of urban farmers and environmental activists around the city are skeptical of RecoveryPark, but Willerer said he's hopeful about the project because of the mission's foundation in social justice and the opportunities it could offer local residents.
"What's central to the RecoveryPark project are the people who are going to run it are usually the people who are written off," he said. "Instead of just throwing them into a halfway house, this is a way that people who want to turn their lives around are being given an opportunity to do so."
Wozniak estimates the farms alone will employ 5.2 people per acre, but the number jumps to about 18 people per acre when related jobs like food processing and marketing are figured into the projection.
"Instead of us selling tomatoes at Eastern Market, what we want to do is take the tomatoes and we want to make tomato sauce, pasta sauce, juice," he explained. "Because there's jobs in the farming, but the real jobs are in production and the distribution of the food."
The entire operation will be oriented toward supplying grocers and restaurants in Metro Detroit's emerging fresh food market. Anything RecoveryPark grows, packages or processes will be delivered to customers in a 60-mile radius within 48 hours. The farm operation plans to begin by supplying leafy greens and herbs, and later expand to tomatoes and other fruits and vegetables.
The nonprofit also intends to serve as a neighborhood business incubator. Participating for-profit businesses will need to pay a licensing fee on gross sales and agree to be part of the RecoveryPark community of businesses. Each of these startups will need to sustain themselves and turn a profit within 18 to 36 months, Wozniak says.
Workers on RecoveryPark projects will be also given the opportunity to become stakeholders: The organization's developments are structured to become worker-owned cooperatives, modeled after Spain's Mondragon Corporation. Wozniak hopes that, within three to five years, each new project will transition into an employee-owned venture connected to the larger RecoveryPark collaborative.
"Long-term, if we're really successful as a team incubating this and all the values just like Mondragon, RecoveryPark the nonprofit can just go out of business," he said, "We won't need to exist anymore because it will be a self-fulfilling organization."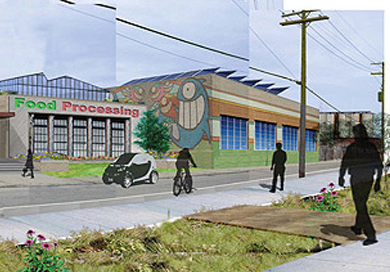 RecoveryPark
Related
Popular in the Community