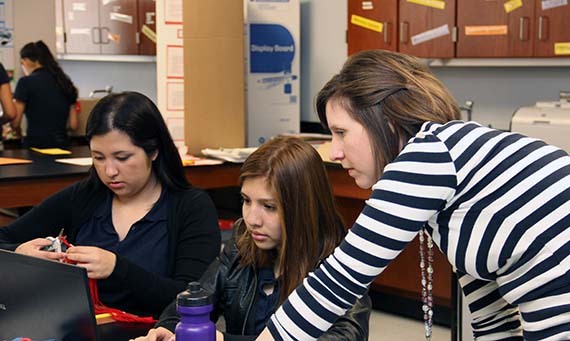 Source: Project Lead The Way, Inc.
In January, Business Insider released a list of the top 15 jobs with the lowest starting salary. Six of the 15 occupations were teachers. With regard to these careers, the article's author states, "Passion should always trump paycheck," and notes that this is especially true for those interested in working with children. I wonder whether this same logic applies to pediatricians?
But perhaps the Business Insider study does help explain why of those going into teaching, only 23 percent come from the top third of their college graduating classes. If this is not incredibly alarming, it should be. As Michael Milken explains, "Once upon a time, U.S. college graduates near the top of their classes routinely entered the teaching profession. In fact, 90 percent of the new American teachers in the early to mid-20th century came from the upper third of their classes." In countries like Singapore, Korea and Finland, Milken notes that nearly 100 percent of teachers rank among the top third of university graduates.
If the United States is to continue as a world leader, we must lead the world in education. And to provide the highest quality education, we must attract the highest quality teachers. This is perhaps most important in the areas of science, technology, engineering and mathematics - or the STEM subjects. For students to be prepared for the future workforce, especially in areas like computer science, engineering and manufacturing, they need great teachers.
To recruit great teachers, we must first change the narrative about teaching. Most teachers have been unfairly indicted for poor student performance, failing schools and low test scores. While teachers are essential to students' academic success, we cannot ignore the effects of poverty and our nation's unwillingness to invest in high-quality early childhood education and more time in school. We find the resources for what we believe is important - like $1.7 billion annually for testing. We cannot test our students to excellence. Instead, we have to inspire them, and this begins with great teachers. Sure, there are ineffective teachers, just as there are ineffective people in many professions, and they should be held accountable. But rather than indicting the entire profession as ineffective, let's elevate the vast majority of teachers who are doing a wonderful job with our children.
The second major change is rejecting the status quo by significantly increasing teacher compensation. We cannot offer beginning teachers $35,000, followed by several years of low incremental wage increases and expect to attract and retain our best and brightest students. Yes, many who teach do not choose the profession for the money, but there are a lot of people who do not go into teaching because of the poor earning potential.
In STEM - where teachers with computer science and engineering knowledge are so critical - salary is a major barrier to entry. College graduates with degrees in math, science, engineering and computer science are in high demand, not just in teaching, but in the broader workforce. K-12 education is competing with companies for these graduates. At $35,000 per year, schools are approximately 60 percent below the average market salary for computer programmers and software engineers. To solve this issue, we must increase compensation in general, and pay more for professionals in high demand subjects. We cannot compete for great talent by refusing to compete financially.
Finally, to meet the growing demand for STEM teachers, we must collaborate with industry partners and create alternative pathways for industry professionals to teach. However, many states have maintained regulations that make this difficult or prohibitive.
Several states are addressing policy issues to help attract STEM professionals to the classroom, such as South Carolina's Work Based Licensure Area Competency Requirements. A bill under consideration in the Minnesota House of Representatives contains provisions that would allow district and charter schools to recruit community experts as teachers. In Virginia, lawmakers are considering a bill that would lead to the creation of industry certification exams. And in West Virginia, the State Senate has proposed a bill that would allow the superintendent to issue alternative teaching certifications in areas of "critical need."
Teachers do some of the most important work in our society; they are educating the next generation of the American workforce and our country's future leaders. To become the best, our students need the best. It is time for the United States to change our narrative, compensation and regulations. In doing so, we will lead the change in education we desperately need and our children deserve.
Dr. Vince Bertram is the president and CEO of Project Lead The Way, a national nonprofit organization dedicated to STEM curriculum and teacher training. He is the New York Times bestselling author of "One Nation Under-Taught: Solving America's Science, Technology, Engineering, and Math Crisis." Connect with Dr. Bertram on Twitter @vincebertram.
REAL LIFE. REAL NEWS. REAL VOICES.
Help us tell more of the stories that matter from voices that too often remain unheard.