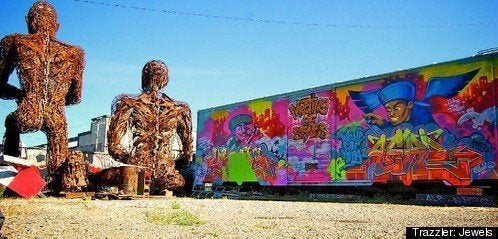 Maybe it's the mild weather and thriving back-yard culture--California is a hotspot for artistic recyclers. Creative reuse of scavenged materials is nothing new--in fact it seems to be a human instinct that, for some, can border on obsession. While there are trained artists--perhaps inspired by Gaudí's early 20th-century mosaics or Marcel Duchamp's readymades--who sculpt and construct large-scale artworks made from repurposed cast offs, many more are dreamers with ordinary day jobs who abhor waste, have a penchant for collecting, and seize upon an unstoppable urge to create something beautiful from the flotsam and jetsam modern life.
We love the sense of whimsy and ingenuity that pervades these 11 places, among them a desert mountain of discarded tires, a colorful oasis in the desert, a library of junk, as scrap yard on the bay...
Calling all HuffPost superfans!
Sign up for membership to become a founding member and help shape HuffPost's next chapter