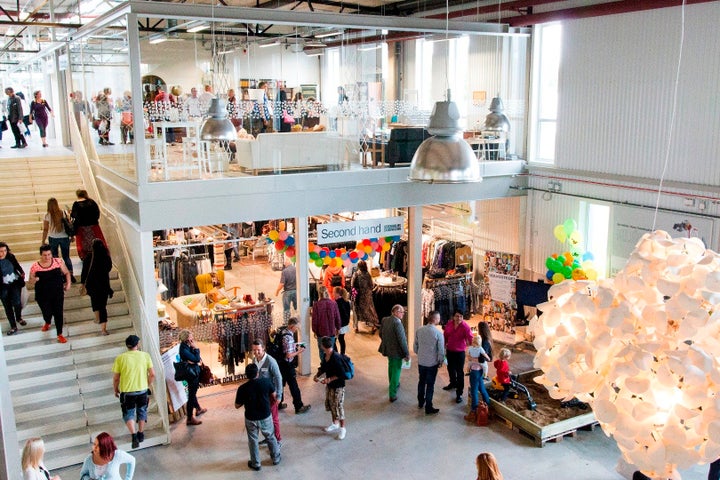 ESKILSTUNA, Sweden – Cato Limås is beaming as he clutches a white paper bag bulging with toys and china keepsakes that he and his girlfriend have picked up for their newborn baby.
It's less than an hour since they arrived at the ReTuna shopping mall, a two-story complex of secondhand stores on the outskirts of Eskilstuna, a small riverside city 70 miles west of Stockholm.
"I think it's fun to find something that people have used, and we can use further," Limås says, unwrapping an unusual cow-shaped money box to demonstrate. "If you look at the things they're selling here, they're almost new. So actually why bother buying new stuff?"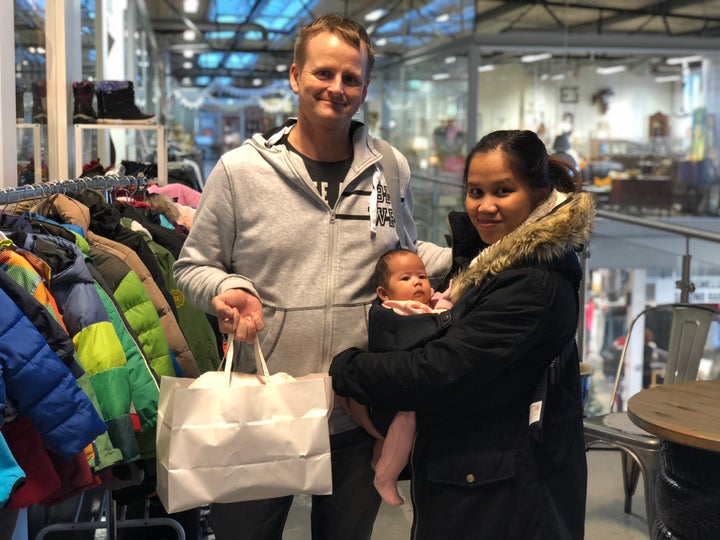 The couple haven't been here before. They live a 90-minute drive away and heard about the mall after Limås stumbled upon a YouTube video about it. So far, the family's shopping has cost a total of around $7 (66 kronor), which he laughs is "more or less" the cost of a coffee and a Swedish cinnamon bun. But Limås is keen to point out that saving money isn't his main focus.
"It's about resources. Reuse can only be a good thing," he says definitively.
Sweden has long had a reputation for flying the flag for sustainability. More than 99 percent of ordinary household waste in the country is recycled (although 50 percent of that is burned for energy). Separating trash and depositing it in shared containers in apartment blocks or dropping it off at recycling stations has been part of most Swedes' weekly routines since the 1980s. More recently, there's been a boom in demand for organic products and a resurgence in urban city gardening. The country has passed legislation compelling it to become a net zero greenhouse gas emitter by 2045.
But in today's "make, take and trash" era, the Nordic nation still faces the same battle with mass consumption as everywhere else. A recent report for the World Wildlife Fund suggested that if the whole world consumed in the same way as Swedes, we'd need 4.2 planets instead of one.
"Even though people do care about sustainability … we're still consuming and living way above our paychecks," argues Rosanna Endre, a project leader for Greenpeace Sweden. "We still have Black Friday".
ReTuna, which recently celebrated its third birthday, is designed to help tackle rising consumption on a local level, promoting Eskilstuna as a "green role model" for other Swedish cities. Run by a municipal energy company, which has been tasked with running organizations that have climate benefits, it is the first mall in the world with a focus on sustainable shopping. The goal is to enhance the experience of shopping for secondhand goods by collecting niche stores under one roof, removing the need to scour classic thrift stores spread across the city or to trawl through digital marketplaces.
Almost all the items on sale are from public donations, dropped off by locals at the mall's drive-thru depot, located next door to Eskilstuna's main recycling plant. ReTuna staff group similar items together in storage zones for each of the mall's 11 units, which include a vintage furniture outfitter, a bicycle shop and a bookstore.
"I have my own list of things I need for my stores, like pottery, so when a box of pottery comes into this mall it's placed in my little area," explains Maria Larsson, who runs the homeware and plant shops.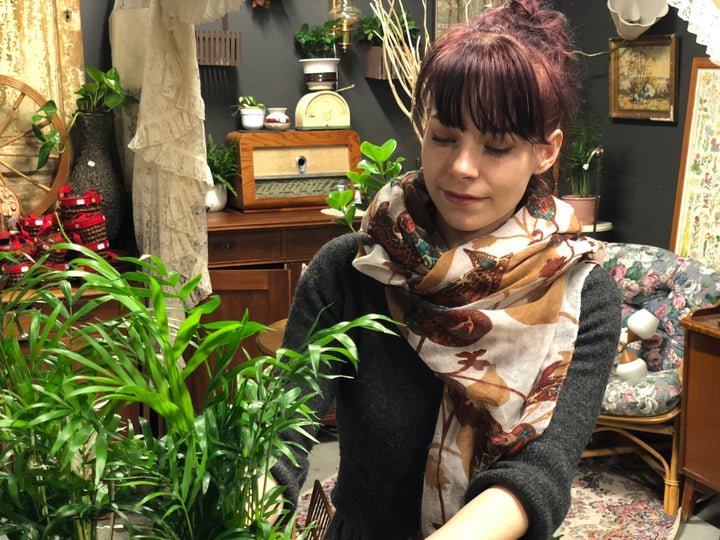 Larsson has just spent the morning sifting through the latest arrivals in the huge concrete storage room. Things she thinks won't sell have been put aside for other shops ― chipped vases, for example, that could be used to hold flowers to dress up a window exhibit.
"When you sign the contract here [to have a store], you also sign that we want to keep the waste at zero. That's what we want. It doesn't always happen, but we really, really try," says Larsson, as she examines a bright red coffee jug.
Larsson, 27, is among more than 50 staff working at the complex. She grew up in Eskilstuna, but was working in southern Sweden as a gardener before she took on her role.
"I love secondhand. Everything I own is secondhand ― even my cats! So when I heard about ReTuna I moved back 600 kilometres (350 miles). I quit my job and everything, just to open this store."
The mall has also played a role in generating employment for immigrants seeking their first taste of the Swedish labor market. Many of the stores use a national program which subsidizes the salaries of newly settled residents for up to two years. It also offers adult education courses focused on design-based recycling. It had sales of 2.5 million Swedish krona in 2015 (about $275,000) the year it opened, rising to 10.2 million SEK ($1.12 million) in 2017.
"We're saving the environment, we're making job opportunities and we're offering products to those with a low or mid-low income. … I feel like it's a win-win situation," says Amjad Al Chamaa, 34, a Syria native who manages a shop that sells restored electronics and offers repair services.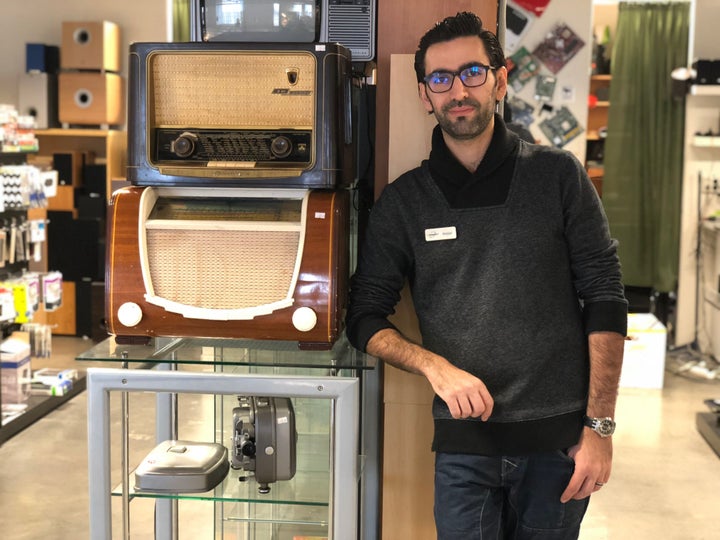 Although ReTuna is the first mall of its kind, it is part of a global resurgence in physical spaces designed to encourage consumers to stop feeling the need to buy everything new and to donate items that they no longer need ― supporting what's known as the circular economy.
The 20,000-square-foot ReUse Center in Ann Arbor, Michigan, is among the bigger initiatives in the U.S., specializing in reselling household, building and gardening materials.
In Finland, a chain of huge secondhand markets named Kierrätyskeskus have opened, selling large furniture items and electronics alongside more traditional preloved items, such as books and textiles.
But within the environmental community, there are ongoing debates about the long-term effectiveness of these kind of schemes against a global backdrop of profit-driven mass production.
"When it comes to the secondhand stores, way too little ends up there because what is produced today is often of such low quality that no one wants to sell it in a secondhand store" says Rosanna Endre from Greenpeace Sweden.
Endre says there needs to be stronger political and industry-level efforts to ensure that businesses make products that are easier to repair or reuse.
"There is a mindset that you should have new stuff and companies need to shift that mindset," she says, and "find other ways to make a living around that".
Other nonprofits are tackling the problem head-on, such as Cradle-to-Cradle, co-founded by U.S. architect William McDonough and German chemist Michael Braungart. It offers open source education to manufacturers in the U.S. and Europe who want help selectingmaterials and techniques to produce sustainable consumer products that have ongoing value.
"The goal is to design-out the concept of waste and create regenerative products," says Thijs Maartens, a senior engagement manager for the organization.
But Maartens admits that, especially in the U.S., where there is weaker industry regulation, it could be some time "before the mass of the market will start moving."
"We are still trying to understand the numbers [required for] realizing that circular economy from a manufacturer's and production perspective," Maartens says. "So, it's a bit of a leap of faith at this moment."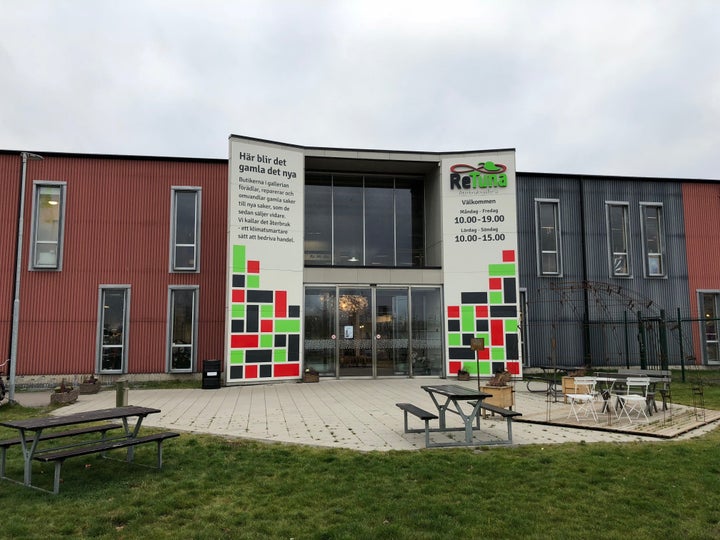 In the meantime, projects like Eskiltuna's ReTuna are picking up pace, largely because the public seems to enjoy the experience of visiting them. The Swedish mall is about to build a new storage area, freeing up the current space for even more shops to move in. Several other municipalities are mulling similar projects in different parts of the country.
"It doesn't feel like you are going to a flea market, it feels more like you are going to a fancy shop and it's easy to find things," says shopper Terese Nordqvist, 40, who lives 250 miles away but always visits ReTuna when she's in Eskilstuna, where her parents live.
"It's good for the environment and you never know what kind of treasures you'll find."
For more content and to be part of the This New World community, follow our Facebook page.

HuffPost's This New World series is funded by Partners for a New Economy and the Kendeda Fund. All content is editorially independent, with no influence or input from the foundations. If you have an idea or tip for the editorial series, send an email to thisnewworld@huffpost.com
Support HuffPost
The Stakes Have Never Been Higher
Related
Popular in the Community