Those who deem newspapers relics of the past might be surprised to find out that their wrappers could be the textiles of the future.
As I walked through a casino area at a charity event earlier this summer, I couldn't circumvent the swarm of people surrounding one of the blackjack dealers. Interested and slightly concerned, my friend and I wove through the crowd, only to discover a woman showing people her tote bag. Now, this was no Birkin. It was better.
Brindel Rothspan, a 71-year-old native of Los Angeles, CA has been knitting tote bags from recycled newspaper ties for the past three years. She says making them is simple, but I think she's just modest. According to Brindel, "All you have to do is tie the strings together and knit four strings at a time into a big square, fold it up, sew the sides, and put a handle on it!" Maybe that's easy for someone who has been knitting for the past 60 years. As a little girl, Brindel used to watch movies with her Grandmother and knit blankets for the Red Cross.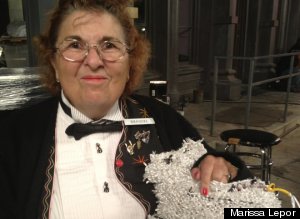 But now, instead of helping soldiers, she helps the environment. And this great idea started the same way that many others do: a cup of coffee and some creativity. An active woman in her senior center, Brindel meets her coffee group once a week, greeting them with a coffee in one hand and a newspaper in the other. After realizing how many newspaper ties they threw away, she started saving them and tying them into a big ball, initially indenting to make a rug. Well, the idea morphed a little, but now I think it's safe to say that she has mastered her technique.
These adorable and durable bags are truly showstoppers. Not only did three of Brindel's bags just win first, second, and third place in the Plastic Recycling category at the Orange County Fair earlier this summer, but also she told me that people constantly stop her on the street to ask her about her fascinating creations. She even experiments with color -- pink, green, white, black, blue. Who knew recycling could be so much fun? Brindel sells the bags for $35 each and has recently started to make $5 water bottle holders as well. But Brindel doesn't do it for the money; she simply enjoys making them.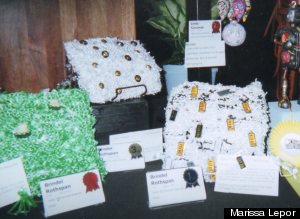 And just to make it even better, Brindel's bags have helped bring her community together. Her friends and neighbors in her senior center save them for her and wrap them around her doorknob if they can't find her. One of her friends, Gilbert, who works for local newspaper, collects scrap newspaper ties for her and recently gave her a giant bag of green ties. Considering that each bag consists of over 100 strings, Brindel can use all the help she can get!
But even if we are too far to collect ties for Brindel, we can always look for our own ways to reuse the trash we typically throw away, no matter where we are. Some people use old CDs and DVDs as reflectors on bicycle wheels and driveway entrances. Others wrap presents in old newspapers. Who knows, maybe you'll be like Brindel and knit your community together, one newspaper tie at a time.
REAL LIFE. REAL NEWS. REAL VOICES.
Help us tell more of the stories that matter from voices that too often remain unheard.