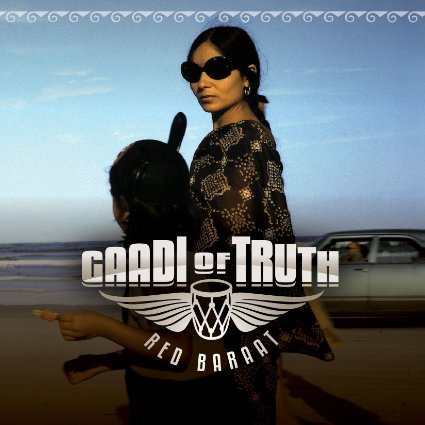 I remember the one time I saw reggae king Bob Marley in concert, and from the instant that he struck up his first chord, my date and I stood up and kept dancing on our feet with the rest of the stoked audience 'til the end of his encore. One love, indeed.
Well, the one thing about checking out a Red Baraat performance anywhere -- and the New York-based, Bhangra funk band has entertained crowds worldwide from Bonnaroo, Mardi Gras and the Monterey Jazz Festival to the White House and the 2012 London Olympics, to last summer's Make Music event in New York -- is that you will be raised to your feet and you will not keep still.
Go ahead, make your day and check out Red Baraat in concert. This infectious "dohl 'n brass" eight-piece band is presently on tour across America, including New York's Bowery Ballroom (March 7) and Los Angeles' Echoplex (March 19). During this nationwide tour, the band will also headline its annual Festival of Colors event, which celebrates the Hindu holiday of Holi and which is marked by public gatherings of families and strangers sharing songs, dance and the exchange of "colors." Red Baraat's Festival of Colors sees it curate performances of music and art highlighting the South Asian Diaspora in America at events (March 5-8) in Washington (D.C.), Boston (MA) and Brooklyn (NY).
And, all these high-energy performances will be in support of Red Baraat's new record, Gaadi of Truth, which the Rochester-born bandleader, Sunny Jain, talks about:
Gaadi, in Hindi, means a car or train, so we're talking about our journey, where we perform 150-170 dates a year on the road around the world. We meet different communities and people, learning about one another, which all leads back to an understanding of pluralism and a multiplicity of viewpoints, versus a certain ideology of politics or religion that's often thrust upon us by media. Because it feels like when you meet different people, we're all just human beings. The lesson of Gaadi of Truth is about this journey, and inside that is a party pack of tubes and brass and drums, and having good times.
Jain, who grew up listening to his dad's Bollywood music tapes that prominently featured dhol percussive rhythms, also studied jazz music at Rutgers and NYU, and he wanted to bring those influences into Red Baraat, recalling:
In putting Red Baraat together, I looked for diverse musical backgrounds. I didn't want it to be perceived as another jazz project of mine or a replica of an Indian brass band. I brought people that added to my musical vision with backgrounds that I didn't come from -- the Gospel church, European classical, ska, reggae -- a pluralistic background. The idea of pluralism was instilled in me through Jainism, an Indian religion over 6000 years old that I grew up with. Anekantavada, one of the main tenets of Jainism, refers to a multiplicity of viewpoints and that there is no absolute truth. But pluralism carries into my music making as well.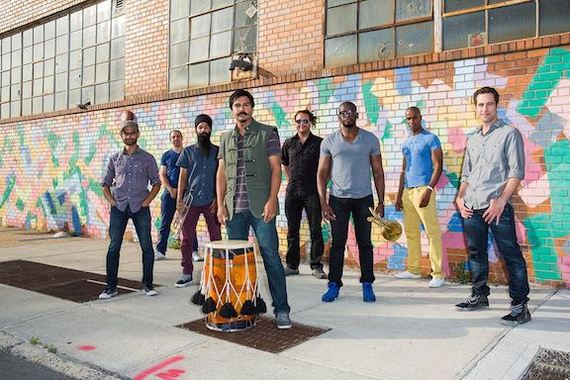 That mission of expanding pluralism into art was highlighted at the Make Music event last summer in Brooklyn when Red Baraat was commissioned by NPR to compose and premiere a new piece of music called "100+ BPM." The performance, which Jain calls the "epitome of musical pluralism," involved 350 people of all backgrounds, ages and musical sensibilities coming together to make an awesome sound live -- samba groups, high school marching bands, drum lines from pro sports teams and even classical musicians showed up. He further adds:
I believe strongly in multiple creative minds of disparate backgrounds coming together to make something greater. I've always disliked defining music by genre. I find it limiting. The coexistence of all types of music colliding, seeping, affecting one another is pluralism. And music is a universal language that binds peoples regardless of race, sex or age. Red Baraat is at the tip of the cultural spear -- not only a reflection of the trendsetters in Brooklyn, but a product of the evolving tastes and world views of a new culturally globalized generation.
If Bob Marley's message of "one love" was an anthem for a previous generation, then Red Baraat's "pluralism" is one for a technologically interconnected world still severely separated by issues like race and economic inequality.
Check out Red Baraat and follow the band on Facebook.
Calling all HuffPost superfans!
Sign up for membership to become a founding member and help shape HuffPost's next chapter