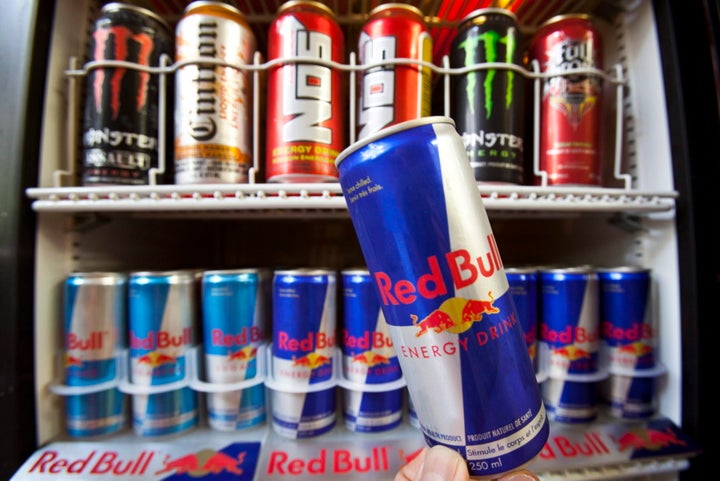 Red Bull Records has stayed under the radar, silent under the umbrella of the massive beverage company, putting the artists first, and doing something very old school -- artist development.
Starting a record label was a natural progression for Red Bull owner, Austrian businessman Dietrich Mateschitz. Not only is Mateschitz a music fan, he views Red Bull as a lifestyle brand, not a mere beverage company. In fact, the company owns four soccer teams, one hockey team, two stadiums, an arena, a TV Network, a mobile network, four state-of-the-art recording studios, a two-time world champion F1 team, and yes, the energy drink that "gives you wings."
Greg Hammer, managing director of Red Bull Records, who started the label, is reluctant to talk too much about their success. He smiles and adjusts a quote from the film Fight Club.
"The first rule of Red Bull Records is you don't talk about Red Bull Records."
This motto has served the label well since it began four years ago by a group of talented major label refugees.
Red Bull Records didn't start with a flashy press release. In fact, the company's first release, "Rush" by Brooklyn-based band Black Gold, didn't even list Red Bull Records as the label. Of course, while an indie label, Red Bull Records has the luxury of a parent company that is not in a CD-based business. This has afforded the label freedom to truly take its time to nurture acts.
"Our mandate is to find artists and support them," says Hammer. "We are in the business of building careers. It's really about the artists. We purposely avoid blatant branding because it takes away from the music. We want our artists to be judged by their art, not by their label."
Red Bull Records has only singed a handful of artists including Black Gold, Twin Atlantic, AWOLNATION, and Innerpartysystem.
Plus, it's a full service shop. The label is distributed by RED in North America and EMI in Europe. Marketing, radio, sync licensing, publishing and A&R is all handled in-house. Its artist deals collect on multiple revenue streams, but only where Red Bull Records feels it can bring value, which, thanks to the parent company, is on multiple levels. PR is outsourced because of the diversity of the acts.
And diverse it is, the roster spans from hip-hop, electronic to rock.
"We look for artists who can have a cultural impact, who are left of center but ultimately have the potential to reach a larger audience," Hammer says. "Our goal is to find artists that don't sound like everyone else. We don't aim to be a 'niche' label, but we try to find diverse artists musically, that are truly talented, but may take a bit more time and effort to find an audience."
The label has not only achieved critical acclaim, but with AWOLNATION, it has scored a veritable hit.
AWOLNATION's Aaron Buno says:

"There were a couple of labels that were interested but they were very 'industry.' It was all the same stuff that I'd been through with other bands.I wasn't looking for a lot of money, I wanted control. I always wanted to produce my own record. Red Bull is the only one that came to me and said, 'We like you and we'll let you do what you do. We want to help your vision.' Not to mention that they have a really great (recording) studio (in Los Angeles) that I can use whenever they don't have acts in there. I've had endless amounts of hours in that studio and it doesn't cost anything for me to use it."

The recording studios and other music projects are a vital part of the Red Bull DNA. The brand hosts events and programs such as the music genre mashing competition/collaboration "Red Bull Soundclash," music producer's competition "Red Bull Big Tune," MC battle competition "Red Bull EmSee," the battle of the bands styled "Red Bull Bedroom Jam," and the world-traveling series of music workshops and festivals titled "Red Bull Music Academy," which is now in its 14th year.
Most of these musical roads lead back to the Red Bull Studios, now located in Los Angeles, London, Auckland and Cape Town, where artists who are "friends" of the brand, have won competitions or are signed to the label, get to use the state-of the-art recording facilities. More studios are planned to open in 2012.
"The goal of the studios is to provide artists throughout the world the opportunity to work in a world class facility for free," Hammer explains. "Once again, since the industry has gone through such a tumultuous last few years, there are less, truly world class studios out there. The goal with the studios is to give artists direct assistance in the making of their music."
So what does the future hold for Red Bull Records?
"To grow slowly and steadily, while never getting to a place where we can't properly service our artists," Hammer says. "We can't ever get to be so large that we forget what we are here to do, which is to provide the best possible opportunity to a talented and diverse roster."
Calling all HuffPost superfans!
Sign up for membership to become a founding member and help shape HuffPost's next chapter