Felix Baumgartner captured the attention of the web on Sunday when he jumped from a capsule 128,000 feet above Earth and landed safely on the ground in New Mexico.
Baumgartner's leap from the stratosphere (an event dubbed "Red Bull Stratos" by its energy drink sponsor) broke the record for the highest-ever jump from a manned balloon and possibly made him the first person to break the sound barrier during freefall. The feat also made the Austrian daredevil a YouTube sensation.
According to AllThingsD, "The previous record for a single Web video service: Around 500,000 concurrent streams, which Google served up during the Olympics this summer."
The Associated Press reports that the official word has not yet been given on whether or not Baumgartner broke the sound barrier with his body. [UPDATE: At a press conference on Sunday afternoon, the Red Bull Stratos team reported that the highest speed Baumgartner achieved during freefall was 833.9 miles per hour. According to the RBS mission website, the freefall speed needed to break the sound barrier from the altitude Felix jumped is estimated to be about 690 miles per hour. To put that into perspective, the speed of sound at sea level is 761.207 miles per hour. Congratulations, Felix!]
YouTube has published a blog post about the accomplishment, in an email to The Huffington Post, confirmed that the live stream of the Red Bull Stratos jump holds the record for most concurrent live streams: 8 million.
"There's two numbers to consider," wrote a YouTube rep in the email, "the total number of livestreams (total number of streams we sent out over an entire event) and the concurrent livestreams (the number of livestreams being watched simultaneously at any one moment)."
Support HuffPost
The Stakes Have Never Been Higher
Related
Before You Go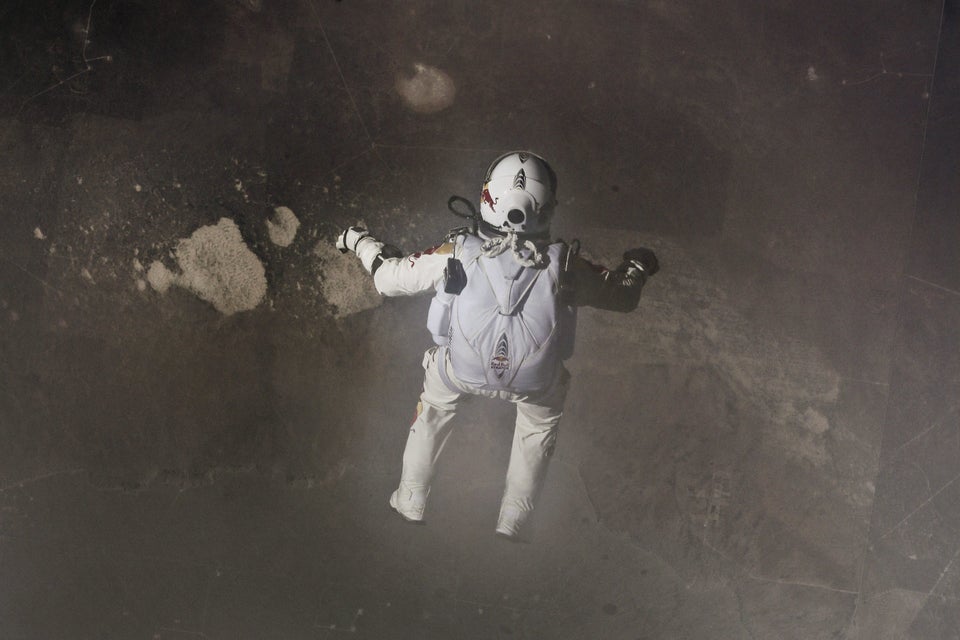 Felix Baumgartner's Record-Setting Skydive Attempt
Popular in the Community