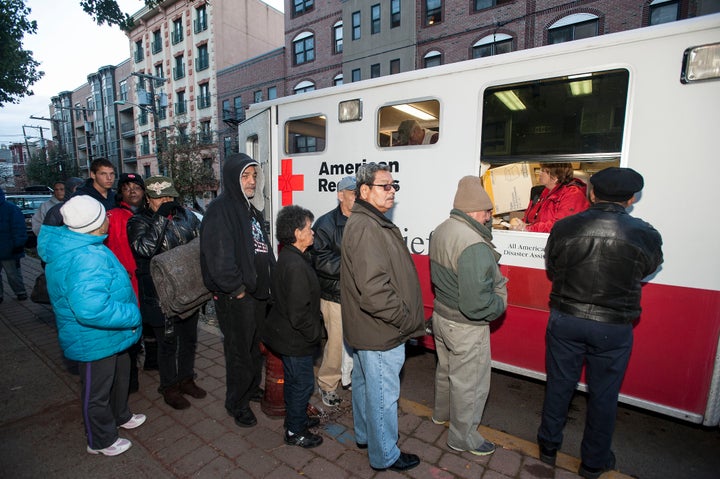 HOBOKEN, N.J. -- Edwin Jimenez stood behind a pushcart filled with food and supplies on Jackson Street in Hoboken, N.J. A woman hustled by, and did a double-take. "Where did you get the cleaning kit?" she asked.
Jimenez motioned to an American Red Cross emergency response vehicle, one of two that had recently pulled onto the street. A line 10 deep had formed as people waited for hot meals, blankets and canned water. Jimenez was there to help his grandmother, Dolores Martinez, who lives on the second floor of a housing project nearby and has been without power since Hurricane Sandy hit.
"There was too much water, it was to the top of the cars. I have never seen anything like it," said Martinez, motioning to the street around her, which had dried by Sunday afternoon. With her grandson's help, she had stocked up on salty snacks and Oreos, a handful of waters and one of 30 Red Cross "mop kits" -- filled with bleach, trash bags and dust masks -- that were scooped up in minutes.
"It's not everything," Martinez said. "But whatever we get, it's helpful."
As of Sunday, The American Red Cross, the non-profit charged with alleviating human suffering in the wake of emergencies, said it had distributed 481,000 meals and snacks and 33,000 relief items like rakes and hygiene kits, and had logged some 38,000 shelter stays along the Eastern Seaboard, since Hurricane Sandy hit. All 323 of its emergency response vehicles had been deployed -- possibly a first, said Patricia Billinger, a spokeswoman for the American Red Cross. On Sunday, the organization was readying to deliver 80,000 blankets as temperatures begin to dip.
"Right now, we're still focused on basic needs," Billinger said. "We're focused on feeding, and we're focused on shelter."
The organization has six fixed feeding sites on Long Island, four mobile kitchens in New York and 63 emergency response vehicles delivering food to Staten Island, Queens, Brooklyn, the Bronx and parts of Long Island, according to Billinger.
But its early response to Hurricane Sandy has been sharply criticized by some, including Staten Island borough president James P. Molinaro who lashed out at the organization in a televised press conference Thursday, saying it was, "nowhere to be found."
"We understand people are frustrated," Billinger told The Huffington Post. "We're definitely trying to get into every neighborhood we can, as soon as we can. On Staten Island, has every person who needs help from the Red Cross received it? No. But we're providing more and more help."
Ky Luu, head of the Disaster Resilience Leadership Academy at Tulane University, said such criticisms are premature.
"It's too early to say whether there have been any gaps in terms of the response," Luu said, stressing that even with an organization as large as the Red Cross, resources are finite.
"This is going to be, I think, more challenging than Katrina in the sense of the large geographical areas that were impacted," Luu said. "From a logistical perspective, it's going to be very complex and difficult to manage."
Billinger said the Red Cross works with government agencies, local emergency managers and community agencies to get an early sense of where resources are most needed -- some spots are "obvious," while others are brought to the agency's attention via avenues like social media.
In Hoboken on Sunday, the organization had deployed eight emergency response vehicles that were responding to what a communications officer called "pockets of need."
On Jackson Avenue, near big piles of destroyed housewares that sat on the curb, Mark Jacoby waited in line at one of the trucks. Jacoby lives in nearby Jersey City, but was in Hoboken to help his mother, who is unable to walk.
"It's been very hard to get stuff," Jacoby said. He was waiting for blankets, but came up empty handed.
Olga Cassagne and Irama Bolano hurried away from the vehicles with several hot meals boxed in styrofoam stacked in their arms. Their sentiments echoed many of those gathered around the trucks that day: They were "very thankful" for the assistance, but admitted that finding it had not always been easy. "We've been walking around looking for them," the women said of the Red Cross trucks.
Disaster relief experts say the stakes for the Red Cross are high, both in how much help the agency is actually able to provide, and also the public perception of its helpfulness, particularly after a post-Hurricane Katrina response that was widely panned.
"What we see in Sandy is the first real test of the Red Cross as an organization since Hurricane Katrina," said Louise Comfort, a professor of public and international affairs at the University of Pittsburgh's Center for Disaster Management. "I think it's still early to tell. Traditionally, the Red Cross comes in and gets stronger in the second and third weeks."
*************************
The Huffington Post is eager for insights from our community, especially people with experience in power, infrastructure and engineering, on the adequacy of emergency preparation in advance of Hurricane Sandy, and the degree to which past disasters have informed adequate planning and construction. Please send a note to sandytips@huffingtonpost.com with insights and suggestions for the important questions that need to be asked of relevant private sector and government officials, and point us toward stories that need to be pursued.
Before You Go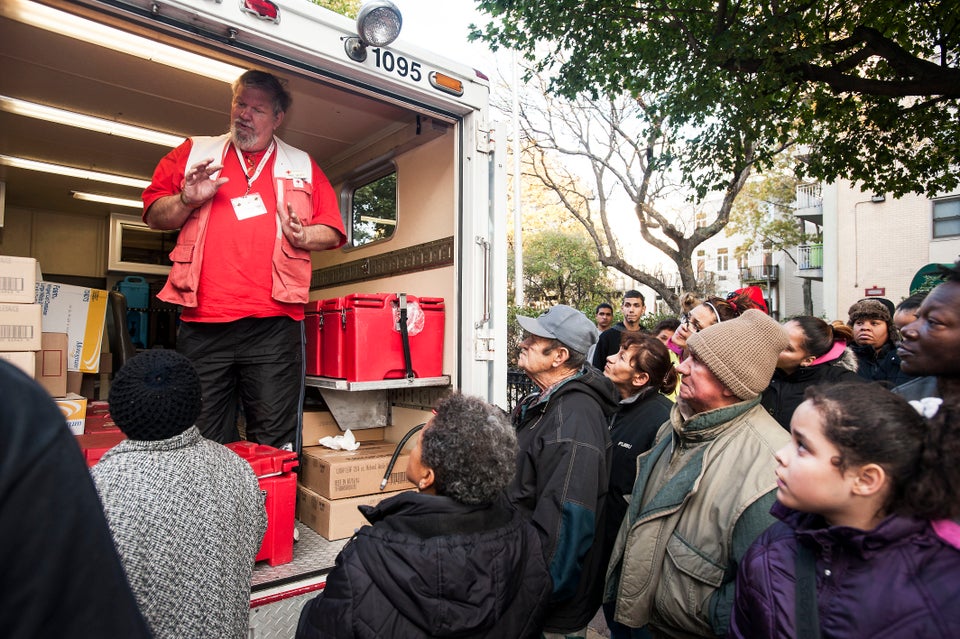 After Hurricane Sandy Red Cross Assists Victims
Popular in the Community