Few might have been able to predict that Ian David Long would walk into a bar in Thousand Oaks, California, late Wednesday night, and open fire on patrons, killing 12 and wounding dozens more before turning the gun on himself.
But it would be inaccurate to say there weren't warning signs. In fact, Long appears to have had the very sort of red flags in his past that might have been used to keep him away from firearms under a 2014 California law. Authorities haven't released the full details of Long's prior involvement with law enforcement, so we don't yet know why the law wasn't used. It's only clear that it wasn't.
Long, a 29-year-old U.S. Marine Corps veteran, lived with his mother in a ranch-style house five miles from the Borderline Bar, the site of Wednesday's shooting. Neighbors reported loud arguments coming from the home over the past year, and said Long could sometimes be heard kicking holes in the wall.
In April, deputies with the Ventura County Sheriff's Office were summoned to Long's house to handle a domestic dispute. Police have said little other than that Long was "somewhat irate and acting irrationally," according to Ventura County Sheriff Geoff Dean.
Deputies requested a crisis intervention team and a mental health specialist, who determined Long was not "qualified to be taken under 5150," said Dean, referring to the California code that allows authorities to involuntarily commit individuals for evaluation when they are found to present a danger due to mental illness. People subject to 5150 holds are generally barred from possessing or acquiring firearms for five years.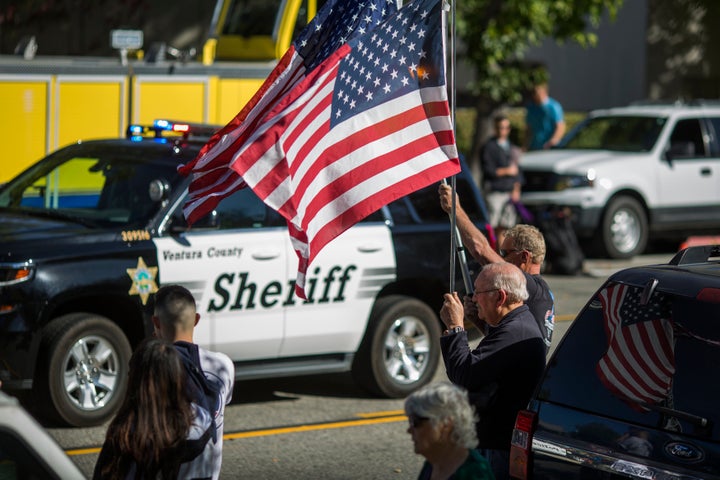 While Long was determined not to qualify for a 5150, there was another option to get guns away from him. Because 5150s are used only in the most extreme cases, California passed another law in 2014, following a deadly shooting spree in Isla Vista, intended to temporarily remove guns from people who pose a danger to themselves or others. California is now one of more than a dozen states with these so-called "red flag" laws on the books.
Just weeks before the Isla Vista shooter went on his rampage, his family called police to check in on him. After finding him "courteous and polite," officers decided it wouldn't be appropriate to issue a 5150 hold, even though he'd posted videos online expressing a desire to commit violence against women. Advocates of the red flag law fought successfully for the creation of another tool to get guns away from potentially dangerous people, even if their behavior might not technically be the result of a mental health crisis.
"When a person doesn't qualify for a 5150 or that doesn't seem appropriate, this is another option for disarming them," said Amanda Wilcox, legislative chair of the California chapters of the Brady Campaign to Prevent Gun Violence.
Under California's red flag law, family members, roommates and law enforcement officers can petition the court to remove firearms from individuals who have displayed violent behavior. A judge will then hold a hearing to review evidence and decide whether to order the gun owner to surrender their firearms and stay away from all guns. Those restraining orders can last up to a year, and can be extended further based on additional evidence.
Advocates of red flag laws often point to encounters like the one Long had with police in April as opportunities for law enforcement to intervene and petition for a gun violence restraining order.
"If they'd used it, it sounds like they could've done a successful petition," Wilcox said.
Authorities haven't said why such a restraining order wasn't obtained. But Wilcox suggested a few possibilities. Deputies with the sheriff's office may not have understood how this process works, or perhaps weren't aware of the law, which has only been in effect since 2016. Alternatively, they might have known about it but determined that petitioning for a restraining order wouldn't have been appropriate given what they knew about Long. It's even possible that officers did file a petition for a gun violence restraining order, only to have it rejected by a judge.
There's also the question of whether officers knew Long was in possession of a gun in April. When law enforcement is called to respond to a domestic dispute, they're supposed to check the California firearms database to see if the person has a gun registered to them, Wilcox said. It's not clear if they did that.
"These are hard calls," Wilcox said. "I don't know all the details and I'm not trying to be blatantly critical of law enforcement, but it looks like [the gun violence restraining order] might have been a tool that could've saved lives."
The Ventura County Sheriff's Office did not respond to a request for comment on how the department uses the state's red flag law.
But the data suggests police in Ventura County make use of this tool only rarely. Between 2016 and 2017, just four gun violence restraining orders were filed in the county, according to data from the California Department of Justice obtained by HuffPost. The state attorney general's office did not immediately respond to a request for more recent data.
"There is a large problem of agencies not being well-informed or well-trained on this law."
In other counties, including Los Angeles, San Diego and Santa Barbara, gun violence restraining orders were filed far more frequently. That may make sense in counties with larger populations, but Santa Barbara only has about half as many people as Ventura. Advocates of red flag laws say some departments have simply been slow to adopt the process.
"What we are seeing in the state is there is a large problem of agencies not being well-informed or well-trained on this law," said Allison Anderman, managing attorney of the Giffords Law Center to Prevent Gun Violence.
The biggest issue with California's red flag law, its supporters say, is that many law enforcement officials and residents of the state don't know these tools are available to them. Advocates like Anderman and Wilcox are working hard to educate agencies about the value of gun violence restraining orders. Organizations like Speak for Safety also provide resources to family members who may be in volatile situations that could call for such petitions.
The slow pace of progress has been especially frustrating for Wilcox. In 2001, her 19-year-old daughter Laura was killed when a mentally ill man entered the clinic where she was working and opened fire. Two others were slain in an ensuing shooting spree, and three more were injured.
The gunman had been visited by mental health personnel numerous times before the shooting, but they never found cause to commit him under the state's 5150 statute ― which meant he wasn't prohibited from gun ownership.
"People with mental illness are not stupid," Wilcox said. "He could hold it together for the evaluation."
California's red flag law was designed specifically for cases like his and Long's, according to Wilcox.
"It's a temporary prohibition," she said. "You can always get the gun back. You can't get a life back."
Related