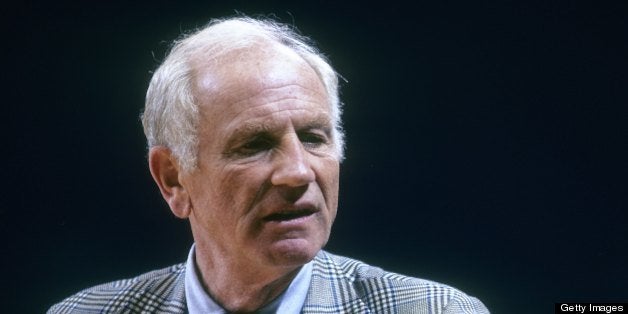 With the end of the NBA regular season, it's only natural to turn attention to the playoffs and the many story lines to be written: Will Miami repeat? Who will emerge from the highly competitive west? and How will both NY teams do? Every postseason in all sports are certain to bring surprises and create legends, often proving useful for business leaders.  There is no better place to start than the 1969-1970 NY Knicks.
 
Even casual fans know about Willis Reed's Game 7 courage setting the stage for New York winning their first NBA championship by beating the Lakers 113-99.  However, few recall that all five Knicks starters averaged more than 10 points per game and over two assists per game throughout the regular season and playoffs, or that in decisive Game 7 Walt Frazier pumped in 36 points.  Reed's inspiration, Frazier's Hall-of-Fame performance, the Knicks season-long balance were all a reflection of coach Red Holzman's leadership.  Holzman's ability to shape a high performance team is as fresh today for a business executive as it was over 40 years ago: "see the ball on defense and hit the open man on offense" in basketball terms, teams flawlessly executing fundamentals produce superior results in business terms.  Holzman offers a model executives are wise to follow -- articulate and manage to basic guiding principles and hold staff accountable for results.
 
Holzman resisted attempts to make himself the center of his universe by saying ''I don't think there is such a thing as a coaching genius, just hard workers.''  His deeds and actions followed these words, allowing him the credibility to build a true team defined by its work ethic. Holzman had high standards and was a tough boss, and once the Knicks fully embraced his system he did what all great leaders do -- empowered his players, most notably by allowing them to design plays in-game, during timeouts.  Just as a team dedicated to hitting the open man could be counted on to run the right plays to score a basket, businesses designed around organizational strengths don't suffer from zero sum political games that often plague companies as the whole is always more important than any sum.
 
As a leader, Holzman's legacy is not merely measured by his two NBA championships, his 696 regular season victories, or his earning a place in the basketball Hall of Fame.  To this day he is credited by the great players he coached, including and beyond Reed and Frazier, for the profound impact he had on their careers and lives.  This roster includes the record-setting 11 time NBA championship coach, Phil Jackson, who considers Holzman his mentor and three term U.S. Senator Bill Bradley.  Some 15 years after he passed away, Red Holzman remains an iconic leader in both basketball and business.
 
Here are the 5 practices he preached:
 
1.  Know what you want to accomplish before you take a leadership role, clearly state your vision and performance standards on day 1 and reinforce them regularly;
 
2.  Maintain laser-like focus on the fundamentals, do not overcomplicate the business, practice to perfection;
 
3.  Closely monitor objective results and more subjective cues, when you know your system has been fully embraced by your work team, let go and empower;
 
4.  A leader who builds a team must also be the humble embodiment of the instilled values;
 
5.  Ruthlessly pursue results by taking a deep interest in developing team members so they answer the bell even when they aren't up to it just like Willis Reed and the 1969-1970 Knicks did.

Now, onto the playoffs.
Calling all HuffPost superfans!
Sign up for membership to become a founding member and help shape HuffPost's next chapter