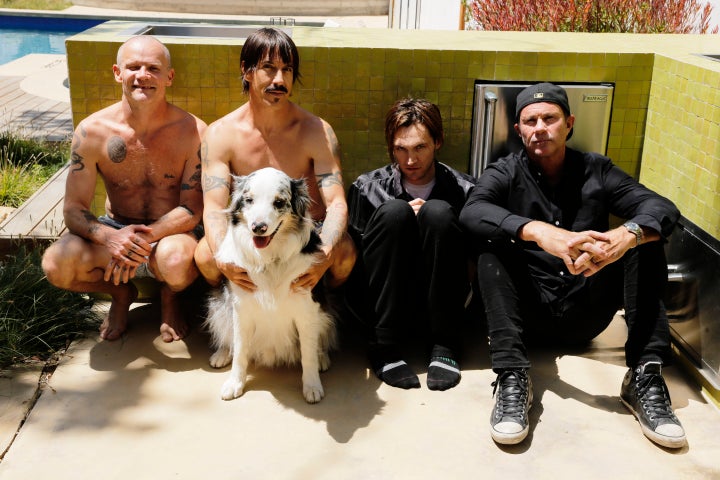 It was about three days out from the show when I received approval to cover the Red Hot Chili Peppers concert in Miami's American Airlines Arena. As a fan who grew up listening to them, despite my naivete regarding the lyrics and their subject matter, I was elated. It didn't matter that I was attending alone: after many years of yearning, I was finally able to see a band that I consistently loved, knew the majority of lyrics to, and bonded with friends over. And I was going for free.
Subsequently driving for over an hour, I arrived. I bypassed the t-shirt stands, debating whether or not to buy a $40 one (I declined, by the way) and made my way to my seats. Here, the excitement grew – my heart felt like it was swelling as I walked closer, closer, and even closer to the stage. "Holy shit, holy shit, holy shit, holy shit," I muttered to myself smiling, like a strange cultic chant. My seat was six rows from the stage, on the side. A man during intermission echoed my thoughts. "This is fucking awesome," he gushed to his girlfriend. "We're, like, basically part of the band."
Founding Peppers member and former drummer Jack Irons was the first opening act. The psychedelic jams were accompanied by a backdrop of old black and white scenes splashed with bright flashes of red, blue and pink. Images featured included ladies in 50's swimsuits, deserts, and an explosion. It would be weird in any other situation, but given that Irons was opening for Red Hot Chili Peppers, a band that embraces quirk, the pseudo-acid trip was incredibly appropriate. With the majority of the songs being instrumental, Irons's set was pretty damn good.
Baby Metal, however, took the cake for opening act weirdness. Three tiny Asian girls in pigtails, black leather and billowy skirts led the set with their band, who donned white face makeup and long white robes. The heavy metal instrumentals paired with cute, Japanese singsongy lyrics were quite the, uh, combination. The set became even more bizarre when the girls appeared onstage to eerie flashing red lights while wearing cat masks. Yet, there were a few people rocking out to it. One guy was singing all the words – like, legit. There were also a few cheers when the band did a quick riff of Peppers' "Californication".
After a few songs, I took an opportunity to use the restroom and charge my phone. It was a true Millennial move – I wanted pictures and videos not only for my article, but for my memory. My stomach was starting to eat itself, so I took the opportunity to wait in line for a pretzel.
The food stand ran out of them, and I dipped out of line when I was five people close to ordering. And regrettably, too – I hopped back in and settled for a hot dog and fries. I was anxiously twitching my fingers together and felt like my bones were hyper-aware, ready to tear out of my skin. Baby Metal finished their set, and it was a waiting game until the Peppers came on. I was dangerously toeing the line – I demolished my hot dog in two bites and waited to pay, shoving fries in my mouth in an attempt to calm down. Finally, I took my card out and presented it to the cashier. Coincidentally, she had problems figuring out the system and called over another employee to help her. At this point, it took everything I had not to throw down a $20 bill and dash to the stage. She had yet another issue, and called her colleague over again. But, at last, the system worked, I dashed to the condiment stand to put a few pumps of ketchup on, and sprinted to my seating area.
Putting my food on the floor (gross, I know, but it was a time of desperation), I fumbled in my purse for my ticket. I heard a few riffs of instrumentals, and knew they were on. I quickly snatched my fries up from a near catastrophe when a drunk girl almost stepped on them and hauled ass, scolding my voracious appetite along the way ("Stupid fatass"). I had to shoo away a couple that decided to sit in my seat, yet I completed the treacherous journey. Onstage was bassist Flea in a bright patchwork outfit, drummer Chad Smith in a red jumper and guitarist Josh Klinghoffer in a dark tee and baggy pants. Luckily, the women next to me stated that they "literally came on 20 seconds ago" and that I didn't miss much. I was a bit irked until instrumentals blended into the opening of "Can't Stop", one of my favorites. Singer Anthony Kiedis galloped onstage in leggings under black shorts, a white tee and creepy mustache. Red lights suspended by strings lowered, flashing to white as soon as the bass started. Kiedis started singing, and the lights sporadically lowered in sections, turning purple, blue, and green. The crowd enthusiastically yelled and sang: the show had begun.
"Snow (Hey Oh)" was next, with lights hanging down in purple and blue, then pink and orange. Aside from the thrashing, jumping and dancing from the performers, the lights were one of the most engaging parts of the concert thanks to their intricate patterns and everchanging colors. Following was "Scar Tissue", where I nostalgically remembered me singing along as a kid during car rides.
"I woke up and went to the beach and swam with the jellyfish and I didn't give a fuck," sang Flea humorously into the mic after "Dark Necessities". A few more songs later, and Kiedis took off his shirt, much to the fan's delight. He walked to the front of the stage, picked up sheets of paper, and in an elaborate crumbling fashion, threw them out. Perhaps this can be a metaphor for what the band did to the music scene: they trashed all conventionality and, while embracing strangeness, made the funk, bass heavy scene their bitch for decades.
"The Adventures of Rain Dance Maggie" kicked off with the lights moving in green to purple waves, much like the ocean. Kiedis's stiff robotic dancing preluded "Go Robot", one of the songs off their newest album The Getaway. Throughout the concert, the aroma of weed was heavy, the lights hypnotizing and Red Hot Chili Peppers remained pure, just pure. A rather humanizing moment came when Kiedis came down on the side of the stage while the rest played. He hugged what looked like to be his son Everly Bear and kissed him on the side of the head. Audience members who had view to this gushed and "aww"ed over the embrace. After briefly talking to him, Kiedis went back onstage.
"Californication" was played with what had to be the most impressive display of lights in the show: red and blue simultaneously crossed over each other in a box formation, suspended very close to the crowd. Show-goers were enthusiastic about the classic as the band was the not only ones singing the tune. They seemed even more hyped during "Tell Me Baby" as the majority bounced up and down, shaking their fists. I closed my eyes, extended my arm, and felt the vibrations of the music pulse through me. I embraced the song, and thought of nothing else but that very moment. I was there. "We humbly bow down to you and are here to serve you," said Flea before "Higher Ground". "Thank you, thank you, thank you, thank you." Funny, because I felt it should be the other way around. It was a humbling statement from such an established band.
"Under the Bridge" came on. I put down my phone, and admired the blue wave of lights. In under five minutes, I experienced an emotional rollercoaster. I cried, I yelled-sang the lyrics, and whooped with happiness when it ended. Perhaps it was the nature of the lyrics (allegedly about Kiedis's isolation from band members due to his sole sobriety), or the fact I was still hungry from the joke of a meal I had earlier. Or maybe it was the fact that I was witnessing one of my favorite bands perform, at last satisfying the craving of fully knowing that yes, their live music trumps any of their recorded music, and that this single night experience of just a few hours blows any other experience I had listening to them on the radio, on Spotify, or elsewhere.
"By the Way" was next, and featured one of the most memorable moments of the night. Flea jumped up on a small platform to the side of the stage and played right in front of us. Bright blue and red lights flashed to the beat. Finishing the song, the band walked off like they were done. We knew they weren't – and I say "we" because the audience became family. We sang, sweat, and danced together. All different ages, races, and personalities came to one location for the same reason. Cell phones lit the amphitheater, and screams were heard. Klinghoffer came back onstage and so did Flea, shirtless and walking in a handstand. The rest came out to perform "Goodbye Angels" and concluded with "Give It Away". iPhone 5 and notebook in hand, I was the drummer, the singer, the bassist, the guitarist and, most importantly, the groupie. I danced like an idiot. I was jumping, I was sweating and I was beaming.
"Peace and love to everybody. Spread love wherever you go…thank you, thank you, thank you, thank you," concluded Flea. I didn't want it to end, but it had to.
"I hope you had as much fun as we did, because we had a fucking blast," said Smith before throwing his drumsticks offstage. The lights went on and the mob slowly filed out. Some were whooping with cheer, and some were way too drunk ("Little piece of shit!" yelled a woman repeatedly while her friend grabbed her arm). As for me, I couldn't stop smiling.
7. I Wanna Be Your Dog (The Stooges cover)
9. The Adventures of Rain Dance Maggie
14. Higher Ground (Stevie Wonder cover)
15. I'll Be Back (The Beatles cover)
Related
Popular in the Community