 The Red Hot Chili Peppers turn 30 this year, and they've found quite a few ways to celebrate. The band is headlining one of Coachella's nights and working on their eleventh studio album. Flea, the group's bassist, teamed up with Radiohead's Thom Yorke to form Atoms for Peace, which recently dropped its debut record. Drummer Chad Smith, meanwhile, lined up a trip to the nation's seat of power, lobbying lawmakers in Washington D.C. for music education funding.
Smith's trip was planned by NAMM, the National Association of Music Merchants, a non-profit advocacy group the drummer has partnered with for years now. In addition to speaking with a number of congress members -- Rep. Marcia Fudge (D-Ohio) and Senators Jay Rockefeller (D-W.V.) and Joe Manchin (D-W.V.) among them -- Smith performed with a middle school jazz band and, of course, made some time for interviews.
HuffPost Entertainment spoke with Smith in advance of his busy couple of days in the capitol. "So far, so good! I took my 8-year-old to the Spy Museum," Smith said of his time in DC. Perhaps inspired by that trip, the drummer remained coy about whether there was any chance Yorke would join the Chili Peppers on stage during their April Coachella performances. "We'll have to see," Smith said about Yorke, who he called a "good friend." "Maybe!"
Ahead, Smith discusses his own history with public school music education, whether the band ever tires of headlining festivals and what the 51-year-old wishes he knew when he was a younger rocker.
What was it like to be trained as a lobbyist?
We talked a little bit, and I'm up to speed. I'm going to arm wrestle each and every one of them, and I'm 6-feet, 200 pounds, so I'm not too worried. Unless if there are some really strong ones, but that's alright, I figure I can cheat then.
But really, I'm here from the artist's standpoint, to tell them my history and my story of how I was involved in the music programs in public schools and how important that was for me. I started playing drums when I was 7, so I was in second grade. All the way from fourth grade through high school. I'm a perfect example of a product of music education in public schools. I'm here to just let them know that it's so important to make it available to each and every kid in the public schools. And it has to be part of the core curriculum, not an elective. They need an opportunity, because I don't know where else they're going to find it. To me, that's just very close to my heart and I just want to give them the right information and speak to them honestly. Hopefully they'll connect with that and see.
What do you think we lose, other than just time to play with instruments, when funding for music education is cut?
In my own personal experience, I've played drums with kids with autism, and that sparks their creative energy and ability to connect. Another way, of course, is just that attendance is higher and graduation rates are higher when kids are involved with music education. They're just smarter. Their math scores are better. You have to count [laughs], you have to count in music, at least to four.
But I'm not going to sit here and start rattling off all these numbers and percentages. These are the basic things that I know that are pretty common sense. When I was growing up, there was marching band, symphonic band, concert band, jazz band -- there was all these programs that, for me, really helped me get through school. I could actually get some good grades in those classes because I was passionate about music and I wanted to go to school because I wanted to play music. It just carries through with your other studies.
Where is the next Duke Ellington or Louis Armstrong or Jimi Hendrix or Bruce Springsteen or Bob Dylan in America if we don't have music programs available to every kid in public school?
The article continues after the photo.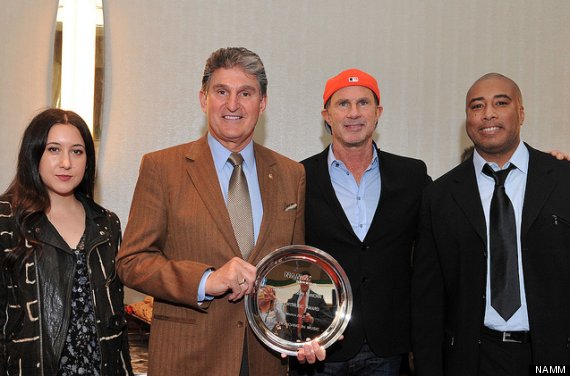 Senator Joe Manchin with Vanessa Carlton, Chad Smith and Bernie Williams after receiving the Support Music Award.
It obviously creates a situation where only kids whose parents can afford to drop money on a drum set or what have you are able to learn instruments.
There is federal funding that is being allocated and we just have to let them know that this is where it can go. This new congress needs to be informed about this stuff. You don't just slash everything right across the board, let's let people know that you can do things the right way.
Did you have any doubts about working with a lobby?
I've been affiliated with NAMM for many, many, many years, and they've done some really great things that I've been involved in, from Little Kids Rock to the percussion program I went to some high schools with. I believe strongly that their hearts and minds are in the right place, and I'm happy to be affiliated with them. They're not coming from a place of, "We need to sell more violins, pianos and guitars," they're coming from, "We need children to have opportunities to play music because it enriches lives."
Was it always drums with you?
It was always drums. I don't know why. I was a little too young for the whole, "I saw Ringo Starr on "The Ed Sullivan Show," I think I just liked to hit things around the house, much to the chagrin of my parents. I don't think any parents in their right minds are like, "Yes! We want little Johnny to play the drums!" because it's quite a loud instrument. But I had very supportive parents. I've been playing the drums since I was 7 and I'm now 86-years-old, so I'm doing pretty good.
I found my passion at an early age and I'm very fortunate, a lot of people don't. But look, it takes hard work. When you find something you love, you want to work at it. God, I could probably be in jail or robbing banks if I didn't have music. It's taken me all around the world and I've done things beyond my wildest dreams. I've been fortunate enough to be in a band that's been together 30 years and now we're in the Rock and Roll Hall of Fame. So you never know what a public music educated kid can turn out to be.
If there's something you wish you knew when you were 20 -- about being a musician -- that you know now at 51, what would it be?
Always stay true to your passion and play from your heart, and do it with conviction and honesty and people will connect with that. Be a good friend to your bandmates and the people that you work with. Don't be a jerk. I sometimes was probably a jerk, but when you're young, that's kind of how it goes. But you learn from mistakes.
What part of it all -- from recording to touring or what have you -- keeps you interested in making music after three decades?
Touring and recording are two different things, and they're both wonderful. We're really lucky that people still want to come out after all these years. I love the actual performing part and connecting with an audience, but also making records is really great, coming up with these songs that I write with my friends in our garage.
Does it ever get a little tiring being the band that has to headline something like Coachella? You can't really just show up and play a smaller stage in the middle of the day at a festival.
[Laughs] We do the more intimate thing a little bit. We play a lot of big places and we're really fortunate that we're able to do all those festivals, the Coachellas and the Bonnaroos and the Lollapaloozas -- We're very grateful that we're in the position to do those and we don't take it lightly at all. But it is really fun to play smaller places. We're doing a benefit for one of our friends that's sick about five days before [Coachella] in a 1,200-person place in Los Angeles. That will be really fun, and we'll just announce it the day of the show and people will come and it's really high energy. It's a different energy than, you know, a 50,000-person gig. But there's no faking it, there's no phoning it in. It's about being real and playing in the moment, and we try to do that every time we play. It means so much to us.
What's the band's view on Flea's work as Atoms for Peace? Will Thom Yorke be joining you guys for any performances or will that remain totally separate?
Oh God, I don't know! That's a good question. Thom comes to see us and obviously we're good friends, but we'll have to see. Maybe! We love Thom, he's amazing. I know that Flea and [RHCP touring percussionist] Mauro Refosco are going on tour with them, but yeah, he's a fantastic musician and I have a lot of respect for him.