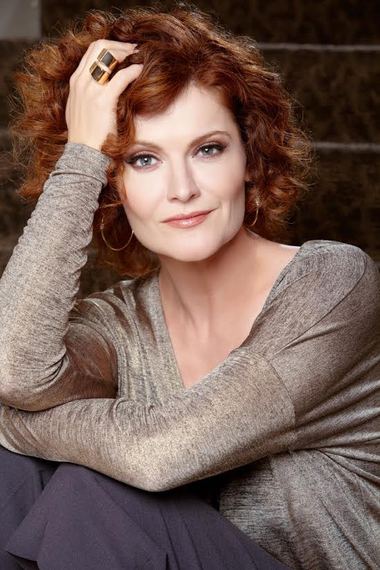 You've seen her on just about every binge-worthy fan favorite show there is. From Sex and The City, to True Blood, to American Horror Story, to Once Upon a Time, to The Sopranos, to The X-Files (and that's just getting started), the fiery on screen force to be reckoned with, Rebecca Wisocky, has been spicing up TV and stealing scenes for a while now. But, it's her resident role as lovable rich bitch Evelyn Powell on Lifetime's juicy Devious Maids that is cementing Wisocky as a household name.
A role up there in the ranks of Joan Collins on Dynasty and Heather Locklear on Melrose Place, Wisocky plays her devious Powell with a delightful roller coaster of charm that can ping-pong from drama to comedy in a second. Her snarky zingers and one-liners always on point, she can always be counted on to give the hybrid soap dramedy it's salacious bite. With her rich and entitled character now having fallen from grace and finding herself in a bit of a financial conundrum, Wisocky is called upon to bring more laughs than ever- and constantly delivers.
After all, after years of honing her craft in everything from theater to every blockbuster television show under the sun, Wisocky has shown just how magnetic she can be. She sat down to tell us a little bit about this season, her love for the cast, and working on all those hit shows!

Devious Maids is now in its fourth season and the stakes seem pretty high. Evelyn just fell from riches a bit. What can fans expect?
Well, for a character that defines themselves by their privilege, she will really be thrown for a loop! You will really see her have a crisis of identity and purpose. I'm not sure she really even understands that it could be possible to not have money, and I think she will have kind of a childlike response to that, which hopefully people will find enjoyable. It was certainly very enjoyable to play! I got a chance to work a lot more with Ana Ortiz this year, whom I just love! And all the rest of the girls, they're so great. I got to work with them in this very new way because Evelyn believes that they are now "simpatico" [laughs] and I'm not quite sure they will agree!
Talk a little bit about the chemistry you have with your on screen husband, played by Tom Irwin. You really always get to stretch your comedic chops in those scenes- are they your favorite?
First of all- I love Tom Irwin enormously. He is such a talented actor and a very generously gifted scene partner. We really lucked out, these roles are so juicy! To be able to play them together for four years has been amazing good fortune. But, I love all the scenes on the show! All of these characters are so different and watching them buff up against each other is so great. We are all really lucky because we truly enjoy the company of another, which is great since we shoot the show in Atlanta so we're mostly separated from our regular lives for long stretches and that chemistry among all of us really shows in the final product.

Marc Cherry has said that the character of Bree on Desperate Housewives was loosely based off of his own mother at times, and your character seems to mirror that that image a little as well. You've even played Bree's mother on Desperate Housewives! Have you ever spoken about this connection and why a misunderstood, icy redheaded antihero is important in the Cherry universe?
Marc Cherry is a fascinating creature whom I love very much! I don't know how specific it was that Evelyn needed to be a redhead. It's a wonderful coincidence. I don't know if Evelyn is modeled after his mother at all, but I very much enjoyed playing Bree's mother in that flashback! That scene served as a way to explain why she is the way she is, and it was very satisfying to play and I think equally satisfying for the fans to see. And I think it's a lovely tie together, because although the character's aren't at all alike, there are similarities- they both are in a great deal of pain and they both operate against their best interest often.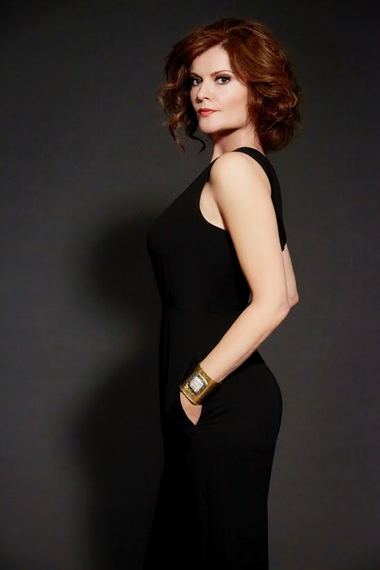 You tend to play a lot of women who are on the villainous side- is that a role you're usually drawn to? Do you enjoy playing devious roles more?
I enjoy playing complicated women! [Laughs] Of course I love playing villains! They often have the most exciting things to do and the stakes are very high, which is very fun to play. And they are usually very complex characters! And remember, very few villains rarely believe that they themselves are villains. They think they do the things they do for perfectly legitimate reasons. So, to find a way into a characters heart and legitimize what could sometimes be atrocious behavior is a rewarding exorcise. So, I do find it quite enjoyable.
You have guest starred on every binge-worthy fan favorite show from Sex and The City, to True Blood, to American Horror Story. What was your favorite show to guest star on and what show would you love to guest star on?
Oh, I can't answer that! Each one of those shows were so amazing and exciting! And you have to remember that I'm a fan as well! So, when I went and did The X-Files, I could not believe my good fortune that I would be sitting in the same room as those two! That just made me giddy! So, the fact that people enjoy watching these shows too, of course I'm not surprised! My very first job was Sex and The City, and all of those ladies couldn't have been nicer. Oh, and American Horror Story, to be able to get a chance to do a couple of scenes with Dennis O'Hare- who is one of the best actors of his generation, and to get a chance to work with that art department? It was surreal. There are such incredibly talented people working on that show. That arc was incredible, and I would love to do more for that series. What other show would I love to do? That's such a hard question. I'm dying to do a period piece. Everyone says I don't look like I belong on the planet in 2016 anyway! [Laughs again] I would love to do Game of Thrones! Or, you know what? I would love to be a guest judge on RuPaul's Drag Race! I just want to meet fun people and do interesting and challenging things!
What else do you have coming up next that fans can look out for?
I don't know how much I can actually say, but I come from the theater and miss it a great deal and I think there's an opportunity coming up to do a play in the Fall with some very smart, funny people. So I'm really excited for that.
Knowing Wisocky, she can sure be counted on for always nabbing impressive roles as whatever she seems to go near turns to gold! But, as for now, fans are just happy to see as much Evelyn Powell on Devious Maids as possible!
Devious Maids currently airs at 9/8c on Lifetime.
Calling all HuffPost superfans!
Sign up for membership to become a founding member and help shape HuffPost's next chapter